CLEVELAND ― U.S. Sen. Bob Corker (R-Tenn.) had the unenviable job Tuesday of trying to reassure a group of foreign diplomats about America's welcoming attitude to outsiders, hours before the GOP formally nominated one of the most stridently nationalist presidential candidates in recent history.
Speaking before dozens of ambassadors and local business leaders at Cleveland's Severance Hall, Corker pitched the city as a great place to do business.
Without touching on immigration politics or mentioning GOP presidential nominee Donald Trump by name, Corker highlighted that he shared international concerns about a rising xenophobic trend in U.S. conservative politics. But he said he'd use his role as chairman on the Senate Foreign Relations Committee to urge the federal government to become as welcoming as Cleveland.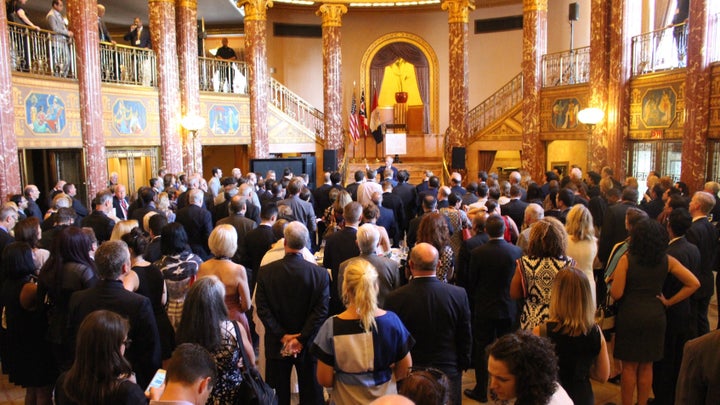 "We're going through a period of isolationism where people want to retrench, and that's the opposite in my opinion of what a great nation needs to do," Corker said. "That's the opposite of what the world needs to do."
Corker told the crowd he'd spoken with two ambassadors before taking the stage and commented that "this convention is something ― it's probably unique to your country."
"And it reminded me," he went on, "that this convention is unique to our country."
By tradition, ambassadors from foreign governments visit both the Republican and Democratic conventions to get a sense of the presidential nominees and the political process.
The Republican National Committee helped organize Tuesday's event, along with Global Cleveland, a nonprofit organization that offers services to immigrants who move to the city. Like many other midwestern cities hit by the decline of manufacturing, Cleveland has worked to recruit immigrants.
Local leaders hoped that emphasis on diversity would encourage foreign investment in the city.
"Bring your manufacturing companies here," Cuyahoga County Executive Armond Budish, a Democrat, told the crowd of roughly 80 ambassadors, consular officials and business leaders. "We have a great workforce."
Diplomats responded with predictable finesse when asked whether the prospect of a Trump presidency worried them. 
"We are very interested in seeing how this campaign unfolds on both sides," Swiss Chargé d'Affaires Daniel Hunn told HuffPost. "Hopefully the relationship will remain the same as it is now. It is a very good relationship."
François Nkuna Balumuene, the Congolese ambassador to the U.S., responded with similar caution.
"We don't know what the foreign policy of Mr. Trump is," Balumuene told HuffPost. "He is talking about first America ― first America and then second, I think, the world. We'll see. We're observing."
Trump has routinely made wild statements that would presumably unnerve some foreign governments, like calling for a blanket ban on Muslim visitors or referring to Mexican immigrants as "rapists" who are "bringing crime" and "bringing drugs."  
A consular official from the Mexican government attended the event, but declined to comment, saying he was not authorized to speak publicly.
Heather Hodges, a retired U.S. ambassador who last served in Ecuador and attended Tuesday's event, declined to comment on Trump or the RNC, but praised Cleveland's approach toward outsiders.
"I think it's important for cities like Cleveland to reach out to the world, and it would be great if we could have more immigrants from around the world come to Cleveland," Hodges told HuffPost. "But immigration is an area controlled by the U.S. Congress and unfortunately they haven't done enough to make more immigration to the United States possible."
Correction: A previous version of this article incorrectly attributed a quote to Ambassador of Switzerland Martin Dahinden instead of Daniel Hunn.
Calling all HuffPost superfans!
Sign up for membership to become a founding member and help shape HuffPost's next chapter
BEFORE YOU GO
PHOTO GALLERY
9 Other Absurd Things Donald Trump Has Said About Latinos