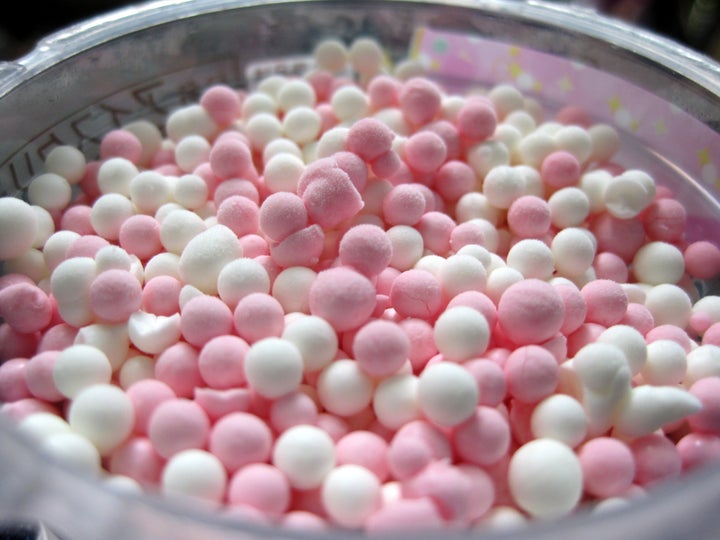 That, anyways, seems to be one lesson to be gleaned from the revelation, first reported by the Wall Street Journal and then, an hour ago, by the AP, that the maker of Dippin' Dots ice cream had filed for bankruptcy yesterday.
Here's the AP story, by Brett Barroquere:
LOUISVILLE, Ky. -- Once the self-proclaimed "Ice Cream of the Future," Dippin' Dots is seeking federal bankruptcy protection, a move the company said is aimed at staving off foreclosure on more than $11 million in loans.

The Paducah, Ky.-based company filed for Chapter 11 reorganization Thursday night, asking U.S. Bankruptcy Judge Thomas H. Fulton to allow it to use cash collateral to continue operations while the case plays out. The company said in a filing that allowing it to use the cash collateral and stay functioning will not harm creditors, including its largest single creditor, Regions Bank, which is owed $11.1 million.

Alabama-based Regions Bank sued Dippin' Dots in February, alleging the company defaulted on multiple loans. The suit is pending in McCracken County Circuit Court.

Steve Heisner, director of administration for Dippin' Dots, said Regions gave the company 48-hours' notice that it intended to foreclose on the loans. That move forced Dippin' Dots Inc., to file for bankruptcy while looking to refinance the debt, Heisner said.

"We are hopeful and believe we will be successful," Heisner told The Associated Press. "There is no thought, intent ... that our operations will be significantly different than they are today."

The company "has no alternative borrowing source and to remain in business, the (company) must be permitted to use the cash proceeds described herein to pay general operating overhead and administrative expenses," its attorneys said in court documents.

Heisner said the bankruptcy affects only the manufacturing and national sales arm of the company. The franchise end of the company will not be affected by the proceedings, he said.

"The dot, it's going to be there," Heisner said. "There's no doubt about it."

A Regions Bank spokesman did not immediately return a message seeking comment Friday afternoon.

Heisner said when the economy soured in the fall of 2008, Dippin' Dots, like many businesses took a hit.

"It was just a difficult economic time," Heisner said. "That's the only way I know how to express it."

Dippin' Dots, which sells cryogenically frozen beads of ice cream, markets itself to stores, as well as a number of amusement parks across the country, theaters and malls.

In the bankruptcy filing, the company listed about $20.2 million in assets and more than $12 million in liabilities. Dippin' Dots listed $27.7 million in income through September, $26.7 million in income in 2010 and $33.8 million in 2009.

Curt Jones, a microbiology graduate of Southern Illinois University in Carbondale who now lives in Nashville, Tenn., created the ice cream beads in 1988. After having to sell a car and raid savings to keep going, he grew the business to nearly 2,000 locations across the country, from mall kiosks to amusement parks and stadiums. The ice cream is stored at 40 degrees below zero and sold at 20 below zero.

Jones, who dubbed Dippin' Dots the "Ice Cream of the Future," resumed daily control of the company in 2009, with the aim of restructuring it to maintain profits even if sales dropped. In making the move, Jones dismissed President Tom Leonard and Operations Vice President Dominic Fontana. Leonard had run luggage maker Samsonite before joining the company.

The company had made no mention of the bankruptcy on its website or Facebook page as of Friday afternoon.
And a great New York Times piece on Dippin' Dots from this summer helps flesh out today's news with some background on the spherified ice cream market over the past few years. Apparently, Dippin' was the first company to develop the technique for capsule-shaped, liquid-nitrogen-flash-frozen ice cream. But the company lost a series of patent disputes with other manufacturers of similar products, cutting steeply into Dippin' Dots' market share. Not to mention the fact that the market was never all that big to begin with. Because the ice cream had to be held at 40 degrees below zero, it was hard to find Dippin' dispensaries outside movie theatres, amusement parks and posh bar mitzvahs.
Related
Popular in the Community