Francesca Zambello, the new general and artistic director of Glimmerglass, has ambitious plans for the 35-year-old opera company in Cooperstown, New York.
Appointed in March as successor to Michael MacLeod, Zambello's first decision was to change the name to Glimmerglass Festival because, as she says, "I think a festival puts its arms around many different activities, and I want people to understand the breadth of our offerings."
But Zambello, who is artistic adviser to San Francisco Opera and has directed at top companies here and abroad since her 1984 Houston Grand Opera debut, is a realist. She knows that U.S. charitable giving is down, and all arts organizations must attract new donors and ticket-buyers if they want to thrive, or--in some cases--survive.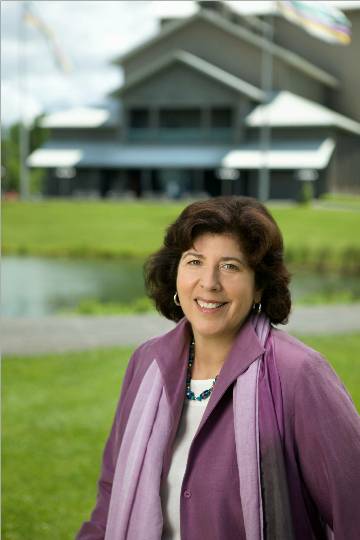 "
Photo by Claire McAdams/Glimmerglass Festival.
"My goal," Zambello tells me in a phone chat, "is to attract as many people to our productions as possible. I think we all need to reenvison ourselves, and there are several ways that each artist or company can do that. I personally think the Met's route with their HD broadcasts is very vital--a good use of technology--but where I fit in with Glimmerglass is the grass-roots approach. You've got to have a mission that is clear and attractive to a wider audience than just the opera cognoscenti."
Longtime opera fans, though, will have plenty to savor in 2011 as Zambello presents Carmen (sung by Ginger Costa-Jackson) and Cherubini's rarely performed Medea (sung by Alexandra Deshorties). She also plans a double bill of one-act premieres: John Musto and Mark Campbell's Later the Same Evening, staged by Leon Major, and Jeanine Tesori and Tony Kushner's first opera, A Blizzard in Marblehead Neck, commissioned by Glimmerglass and directed by Zambello.
But one exciting innovation is Zambello's decision to stage an American musical each season, performed without amplification and with a full orchestra of 36-40 players, which will buck the Broadway trend of universal body mics and chamber orchestration. For her first season she will direct Irving Berlin's Annie Get Your Gun, starring Deborah Voigt in the title role and Rod Gilfry as Frank Butler, Annie's sharpshooting rival.
"Musicals are our American art form," Zambello observes, "and they have the same popularity that Verdi and Puccini enjoyed. Every gondolier could sing their arias the way that here in the U.S. everyone can hum 'Edelweiss.' And Glimmerglass is very much about celebrating that which is American. Also, most American singers came to opera because they sang musicals in high school and college, or in church. That kind of connection is very powerful. I hope we'll bring in new people who will buy a ticket to Annie Get Your Gun and enjoy it, and then buy a Carmen ticket."
Zambello's love of theater began during her childhood. A Manhattan native, she spent her youth backstage at Broadway houses or summer stock companies while her mother, actress Jean Sincere, was working. (TV fans take note: Ms. Sincere now plays the ancient librarian on the hit show, Glee.) Zambello's father, Charles Summers, began as an actor and stage manager but eventually became a business executive who moved his family to Kansas, then Europe. Yet amazingly, by her teen years, Zambello knew she wanted to direct. "I loved the live part of it," she admits. "That's what keeps me going because a live performance is not like anything else; even when you capture it on video, it's not the same as being there."
A 1978 graduate of Colgate University, who also attended Moscow University and speaks five languages, she learned her chops in the eighties as assistant to legendary opera director, Jean-Pierre Ponnelle. "He was invaluable to me," she says, "and he gave me a lot of advice, most of it very practical such as, 'All your work with the performers has to be done in the rehearsal room, because once you get on stage, it's hard to get their attention again.' He knew it was important to spend several weeks in the rehearsal room because you need that time to create relationships and bonds...and that's the time for discovery and also the mistakes."
From 1984 until 1991, Zambello headed Milwaukee's Skylight Opera Theatre, an experience she recalls fondly. "Skylight runs year round, and that was my period of growing up as a director while putting on eight shows a year. I shared responsibility with Stephen Wadsworth, and we were close colleagues and co-artistic directors. I didn't know how lucky I was until now when I look back on what Verdi calls 'the galley years,' and what's so great about that was directing all the time, and planning the shows, and casting people, and raising money--all those things taught me a lot. 'Low-budget' is often the inspiration for creativity."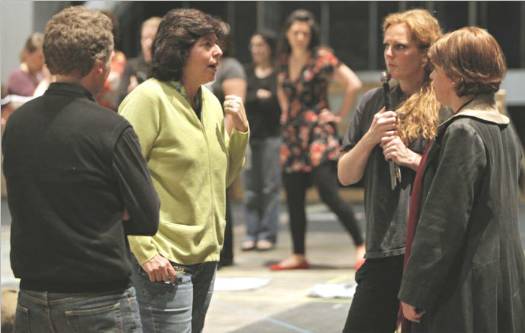 At rehearsals for San Francisco Opera's May 2010 Die Walküre. Left to right: Christian Räth (associate director), Zambello, Eva-Maria Westbroek (Sieglinde), and Nina Stemme (Brünnhilde). Photo by Cory Weaver/San Francisco Opera.
When I ask Zambello why she was once called "the most controversial opera director of her generation" (Time), she laughs. "I had my share of controversy early on," she says. "I was one of the first people ever to be booed on stage at the Met for a [1992] production of Lucia that many people now think was genius. I think it was way ahead of its time. But I view myself as someone who's a storyteller. I'm very much geared to the audience, especially as I've directed pieces with real longevity."
In recent years she has staged the world premiere of An American Tragedy, Cyrano, and Les Troyens for the Metropolitan Opera; La Boheme at Royal Albert Hall; Carmen and Don Giovanni at the Royal Opera House; and War and Peace ("a career highlight"), Billy Budd, and William Tell for the Paris Opera. She brings the same meticulous attention to Broadway and touring productions (The Little Mermaid and The Little House on the Prairie) that she gives to Wagner's Ring, which she will stage again next spring at San Francisco Opera. When we spoke, she had just finished directing Salome at Washington National Opera, a company to which she often returns.
"In Washington," she remarks, "you are given the time to rehearse, and [quality] only comes from proper rehearsal time, which is not about expensive technology but about people power. That's what I try to focus on as a director, and everything I've done there--Salome, Porgy and Bess, the whole Ring except Gotterdammerung, Billy Budd and Fidelio--gave me what I needed. I think what people respond to are performances that are in harmony with each other, and where the sum of the parts is greater than the individual."
One day Zambello hopes she'll be asked to direct Der Rosenkavalier, La fanciulla del West, and Elektra, none of which she plans to produce at Glimmerglass. For now, though, she's focusing on the needs of her new artistic home. "I'd love to get more people, even from abroad, to visit New York State--there's so much to do and see, and people don't really know the region. Between nature and culture, I am charmed by the amazing juxtaposition of the Alice Busch Opera Theater next to a corn field and cow pasture. We have a rural setting that was beautifully celebrated by James Fenimore Cooper." (In fact, Glimmerglass was Cooper's name for Otsego Lake on whose shore the opera festival takes place.)
Zambello also hopes the new Artist-in-Residence Program will attract the best young singers, and she's pleased that Deborah Voigt has agreed to tackle this offstage role. "Many opera companies have summer programs, but I wanted to give singers the best experience they could audition for. Along with performing opportunities I wanted to offer them a leader who'd be there as a mentor. I wanted someone who had been through young artist programs (as Debbie went through the Merola Program in San Francisco and was also an Adler Fellow), so the kids will have access to hands-on knowledge. And I also wanted the artist to challenge herself or himself in some way, and do something outside their regular box."
The Glimmerglass Festival opens July 2, 2011, and continues through August 23. Along with the productions mentioned here, Deborah Voigt will perform a special cabaret on July 29, and Nathan Gunn will give a concert on August 12. For information, contact www.Glimmerglass.org.
Calling all HuffPost superfans!
Sign up for membership to become a founding member and help shape HuffPost's next chapter