"I'm a big, big scaredy-cat when it comes to horror movies," admits director Jane Clark. "I never even really went to horror movies, except movies like Scream - and even that, I'm covering my eyes through half of it."
It's a strange confession, considering Clark's latest project -- the slasher film Crazy Bitches -- finds her adeptly guiding a cast of the LGBT community's favorite indie stars through the genre. Following seven sorority sisters who are systematically picked off one-by-one during a weekend reunion in the mountains, the flick debuts Thurs., June 26, as part of San Francisco's Frameline Film Festival.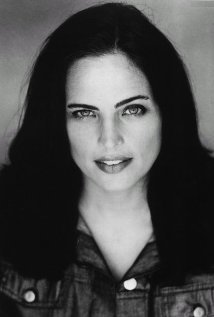 Clark says the film's evolution had nothing to do with a passion for horror films. Instead, she simply wanted to reunite with a cast of friends, nearly all of whom were involved with her previous film, the critically acclaimed but challenging Meth Head.
"Meth Head was very, very hard on me emotionally -- on everybody," shared the director, who wrote, directed and edited the gut-wrenching story based on a friend's personal experiences as he spiraled into drug addiction.
"It was an emotional drain and a physically grueling shoot," Clark said of Meth Head, which garnered awards at a host of 2013 film festivals and can now be rented online. "After that, I wanted to have a good time, and I thought [Crazy Bitches] would be a good way to do it."
So with limited experience in the horror genre, Clark dove into research -- which forced her to bite the bullet and view classics like The Exorcist, The Omen and The Shining. As she started to outline the plot, she did so with actors in mind.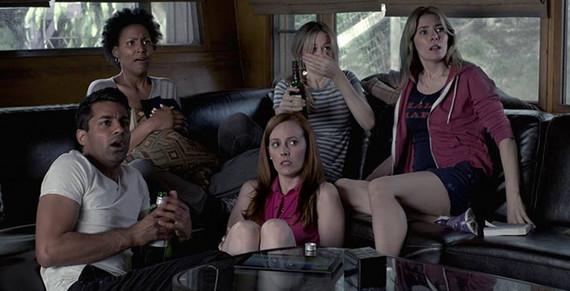 She immediately penned in Meth Head veterans Cathy DeBuono, Victoria Profeta, Blake Berris, John W. McLaughlin and Candis Cayne, whose role becomes a first for the transsexual actress. Other alumni -- like gay heartthrob Wilson Cruz and actresses Necar Zadegan and Thea Gill -- were included as well but, unfortunately, unavailable when shooting began.
"I had some concerns when people dropped out and we had to bring new people in," Clark confided about filling roles she intended for others. "I didn't know if we were all going to mesh."
It's clear from viewing the film, though, things worked out just fine. The cast shares an onscreen chemistry which conveys a true ensemble rather than any one character -- or actor -- overshadowing the rest. Likewise, LGBT themes are deftly woven throughout, enhancing rather than overpowering. Also notable, perhaps because it was written and directed by a woman, female characters are better actualized and more believable than the horror genre's stereotypical archetypes.
"By the time these characters are eventually killed, I wanted viewers to actually feel something for them," said Clark, who landed acting gigs on TV shows like Private Practice, Grey's Anatomy and Chicago Hope before making the jump to directing.
Of the finished project, she acknowledged Crazy Bitches is everything she hoped it would be -- and more. In addition to being exactly the fun, light shoot Clark needed after Meth Head, it introduced her to all new performers she hopes to work with again. "Everybody stayed friends," she says of the cast, "There was a real camaraderie."
The most unexpected outcome, according to Clark, is her newfound appreciation for horror films. She said, "Since [Crazy Bitches], I've gotten a little bit hooked!"
"I thought the joy was going to come from working with the actors," she stated, "But this is a really fun genre. I've got to admit, there's something a little cathartic about coming up with these murders and killing these people off!"
"Crazy Bitches," directed by Jane Clark and starring Liz McGeever, Nayo Wallace, Andy Gala and more, screens 9:30pm, Thurs., June 26, at San Francisco's Victoria Theatre. Get details here.
Related
Popular in the Community