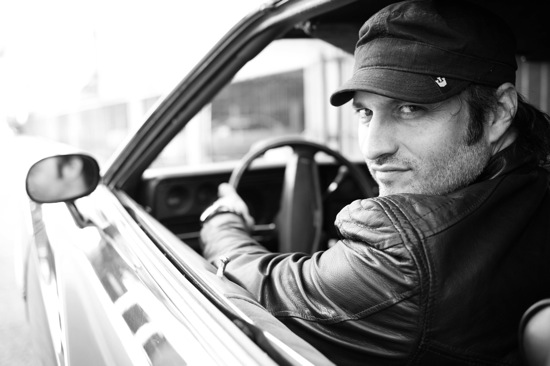 Moviemaker Robert Rodriguez is known for modernizing sexy-slick cinematic style, redefining a "Latino Cool," and pushing the envelope through digital innovations, as evidenced in films like El Mariachi, Sin City and From Dusk Till Dawn. He prides himself on exemplifying true independent filmmaking. Even while working on studio films, Rodriguez never wavers in his pursuit of absolute creative freedom.
Yet, Rodriguez's grand arrival into Hollywood was limited to metaphor. From the start of his burgeoning career, he remained committed to residing in the state where he grew up and still calls home: Texas. Hailing from a large family of ten siblings, Robert and his brothers and sisters inherited an unswerving work ethic from their parents -- Dad a traveling cookware salesman. The ten siblings grew up to become fiercely independent entrepreneurs, as well as leaders in their respective fields.
Rodriguez: I originally thought I would just be a filmmaker/cartoonist slash artist, work out of my home, I didn't need very much to get by. I could do my cartoon strips and some local commercials. I didn't want to have to go to L.A. and knock on doors. I wanted to stay in Texas and be near my family, and just be happy.
Rodriguez's commitment to remaining an "outsider" safely distanced from Hollywood has provided him considerable independence, influencing both how he taps into his creativity, as well as applies it through the craft of filmmaking.
Rodriguez: George Lucas told me, "You are going to think outside the box just by being outside the box." And it was true. If I were in L.A., I would have seen how "everyone else" made a movie. I would have known right away that I was doing it the "wrong way." But there's no one "right way" to do anything. Because here in Texas, you're going to innovate ideas by thinking different and not find anyone telling you "no." When you think about it, Hollywood is more imitative than innovative. They almost have to see someone do it successfully first. They react to someone doing it. If you're outside of that box, you'll think outside the box. Automatically.
Rodriguez's success is definitely plotted somewhere on the map of Texas. But there is more to it than location. Rodriguez's drive for autonomy navigates his every turn, from project development through to innovative plans for distribution. Rodriguez proposes that the traditional format of film production, the one most assume they must tackle in order to navigate Hollywood, is really a structure of limitations that prohibits many brilliant filmmakers from achieving success: Getting a film's team assembled, talent attached, a film constructed and a finished product up on the screen.
Rodriguez: Back then you were told making a movie meant you had to have a large crew, a 100k plus budget... a system and lists of requirements that in reality just set the independent filmmaker, especially one of limited means, further and further back. So I re-thought all that.. and treated them more like the home movies I was making when I was twelve, where I built the stories and system out of what I had readily around me. From that came El Mariachi. And it's changed independent filmmaking forever by changing what people thought was possible.
Rodriguez suggests that the process of filmmaking is what he enjoys most, as opposed to oft-anticipated box office reports.
Rodriguez: I had so many hobbies that I chose movies as my profession, since within that I can do the photography, draw storyboards, write the music and score, write scripts, and photograph the movie. I suppose if moviemaking disappeared tomorrow, I'd go do something else that utilizes a lot of my creative energies.
Through applying his many talents to filmmaking, Rodriguez minimizes costs, keeping him on the good side of studios and financiers.
Rodriguez: I think filmmakers sometimes shoot themselves in the foot by asking for as much money as possible for their budgets. It will ultimately limit you because the picture becomes a huge risk. I ask for as little as possible and that's what the revolutionary part is. Because in exchange for a lower budget, you can have ultimate creative freedom. That's why I do so many jobs on my movies, still. Not to be rebellious or to be uncollaborative. It's actually an answer to "How do I save money?" Because less money means more freedom.
Rodriguez confronts the myth that he doesn't play well with others. It's only part of a well thought-out business plan.
Rodriguez: That's a big misconception. Look up collaboration in the dictionary. It's two or more people. It doesn't say 500. Making a movie is like running a marathon. You don't want to gain 500 pounds before you run the marathon, you'll pass out. People have these huge budgets and huge crews. That's not collaboration. That's chaos. You're eating too much. And you're not going to make it.
Rodriguez's collaborations with other film artists have proven successful, including a long-standing friendship with Quentin Tarantino (Grindhouse) and a co-directing collaboration with Frank Miller, commencing with Sin City in 2005. In the name of creative freedom, Rodriguez went so far as to resign from the Directors Guild of America in order to maintain a co-directing team with Miller, challenging the "one director to a film" union rule. The long-awaited sequel to Sin City, Sin City: A Dame to Kill For begins filming this summer (starring Jessica Alba, Rosario Dawson and Mickey Rourke), as well as Rodriguez's follow-up to his 2010 film Machete, titled Machete Kills starring Danny Trejo. Strong Latino talent attachments have been announced for Machete Kills, including Demián Bichir, Sofía Vergara, and a return for Michelle Rodriguez and Jessica Alba. Rodriguez continues to give Latinos key roles in his films, as he has since his first star-cast picture Desperado.
Rodriguez: As a filmmaker and writer, you end up making stories from your own identity, so for me it's probably going to have Latin actors in it. Back on Desperado, I didn't want to have this problem in Hollywood where they go: "We can't cast Latin because we've never cast Latin before and we're afraid to be first." So you had to be first in a lot of these things. It's what broke through barriers, but you're just following your heart. Because you want to see those faces on the screen, you want to open up the movie world. What was innovative back then is fortunately now more the norm.
The way Rodriguez chooses to live and imagine his films bleeds into the films' content.
Rodriguez: If there's a unifying theme to my movies, I'd say it's freedom. In Once Upon a Time in Mexico, (the third film in Rodriguez's El Mariachi trilogy) the closing lines were even about that. Salma's character asked Antonio what he wants in life, he responds, "To be free." She says "Simple." He says, "No."
Rodriguez confronts complex topics through his movies--questioning societal norms from the inside. He holds exploitation films in high regard for their role in examining a social issue relevant to a filmmaker, leading him to re-invent "Mexploitation" in American cinema with Machete.
Rodriguez: I want to be doing something that's worth while in some way...Let's talk about something that we talk about every day and let's put it in a movie that's fun so people consume it and they get two things at once. They get something that they probably won't even see on the news... with all the different three-dimensional viewpoints. But are also entertained and it's a crazy fun movie and they get to watch it and show their friends and laugh...that's primary. The next one [Machete Kills] is pretty explosive. That movie is going to talk about what no one will talk about, but in a way that is so entertaining."
Violence is a key component of many of Rodriguez's films, but the director is quick to point out that it's only included with the purpose to amuse.
Rodriguez: It's all about tone. Tone is everything. Tone is the difference that makes something either a violent movie or a comedic action movie. I used to be a cartoonist. I mean, in Machete, someone gets his intestines pulled out, but the audience is roaring because it's outrageous and staged like a comedy set-up and payoff. And because it's not realistic. I've never done realistic violence. My stuff is more like Bugs Bunny cartoons.
With two sequels in pre-production, Rodriguez is also plotting his next maneuver, a television network for Latino programming, the El Rey Network. He's mentioned repeatedly that the "proof of concept" for El Rey spans the 20 long years of his career. His network could be the missing piece in the puzzle of Latino media. Corporate sponsors have pockets full of cash looking to unload if they can target the rising U.S. Latino population, while media makers with unique Latino voices are ready and waiting to produce content. Yet, besides Rodriguez's films and a handful of other rarities, the mainstream American film market is lacking well-told and well-produced Latino-themed films that feature a largely Latino cast. One wonders, what is the disconnect?
Rodriguez: We don't have an outlet. We don't have a place to go. If a Latin filmmaker goes to make a movie that's in his or her image... they quickly realize, "Who is going to buy it? Who is going to distribute it? I don't have ten buyers I can go to and have them bidding against each other. I'm wasting my time really." And then that film doesn't get made and those filmmakers never see the light of day, and we need them. So we need El Rey.
The El Rey, a forum for Latino-themed content featuring Latino American characters, could incite strong viewer demand, and if so, in turn provoke Hollywood to shift the content they seek to distribute.
Rodriguez: I tell people...you keep going on the road less traveled in a positive direction. Most people won't start because they already see that there is nowhere to go. So, by having our own distribution, that's a big piece of the pie. That takes care of a lot of the stuff for years people were protesting about, which was not having an outlet to get more representation. They don't have anything to protest now. Now we can just concentrate on making content.
Rodriguez's next collaboration looks to be with a future generation of moviemakers, those able to produce ultra-entertaining, low-budget media in the spirit of creative freedom.
Rodriguez: The problem is us and how we usually think about ourselves. We have so many positive attributes...but we think they are a negative, because we don't see it in media, and that knocks you down. And then it's very hard to get up. Then you starting thinking that you're independent because you have to be, because you're on the outside. You know what? Change your mind; change your thinking...and realize you're independent because you want to be. That's a huge difference. It will give you a lot more confidence when you realize "I'm independent" means "I depend on no one." That kind of thinking is essential to creating change in the face of adversity. Don't just accept that we're not seen as more prevalent in the media. Do something about it.
In the continued spirit of uniting leading Latino voices in the Arts, I invited Estevan Oriol to photograph Robert Rodriguez in Beverly Hills. The beautiful actress and VotoLatino.org Co-Founder Miss Rosario Dawson ('Sin City: A Dame to Kill For') stopped by and gladly joined Rodriguez in front of Oriol's lens.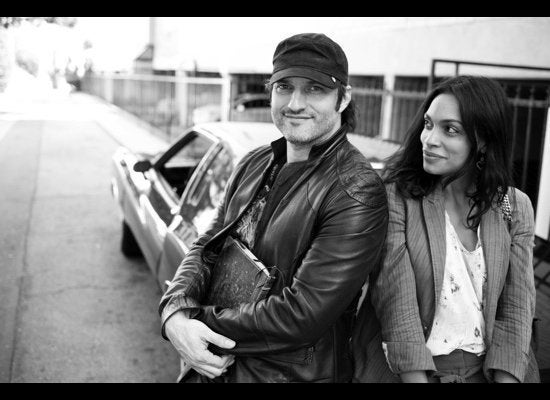 Robert Rodriguez [& Rosario Dawson] Shot by Estevan Oriol
Popular in the Community