It's time to cancel the "made-for-TV" education non-reality series that for the past few years has starred characters the likes of Joel Klein, Michelle Rhee and, fresh on the scene, New Jersey Gov. Chris Christie.
For the past few years Americans have been barraged by news stories, magazine articles and even a movie that suggest the ills of education can be solved by cutting budgets, sweeping out teachers, attacking unions and turning public schools over to private providers.
After playing leading roles in this space, Rhee and Klein have moved on to positions outside of the District of Columbia and New York City, but they continue to use their high profiles to perpetuate these tired story lines. Unfortunately, this plot does not thicken. Instead, it's unraveling and getting worse for our public schools and for our children.
With the release of new federal data, Rhee, whose claim to fame was sweeping out teachers and staff as chancellor of public schools in the District of Columbia, has been served a reality check. According to the federal civil rights data, 42 percent of teachers in the District of Columbia have two years or less experience. Just across the Potomac River in the Fairfax County (Va.) Public Schools -- one of the nation's largest districts with 173,000 students -- just 10 percent of teachers were in their first two years.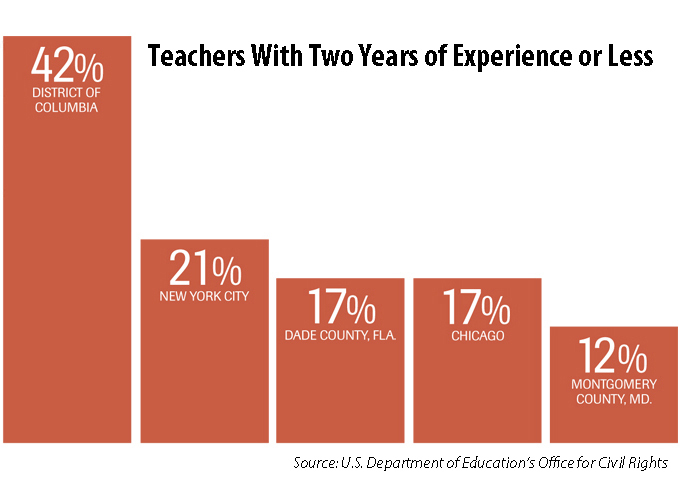 Rhee's "sweep" approach may have helped land her on the cover of Newsweek with a broom to represent how she was sweeping out dusty old teachers, but where did it get the D.C. schools? Anyone who understands true transformative education reform recognizes it's not about sweeping out but extending a rope to support and further engage the students and teachers who are the most critical elements of the education reform movement. Yet, in a form of parody that you can only find in the movies, Rhee continues circling the map earning millions for a "students first" agenda.
On another set, Joel Klein, the former New York City Schools chancellor, who, along with Mayor Michael Bloomberg, has been moving the deck chairs by closing public schools, pushing kids out of schools to bring in charters, and firing teachers - all in the name of school reform with a business model.
According to the data, 21 percent of New York City's teachers have two years or less classroom experience. We all know that it's hard to keep good teachers in urban schools, but when leaders take on teachers as enemies rather than take them in as allies, this kind of high turnover is a predictable outcome. In contrast, the Montgomery County, Md., public school system, which has worked closely with teachers over the years and narrowed academic achievement gaps, had just 12 percent of teachers with two years of experience or less.
Opportunity is lacking in other ways. Let's look at access to Advanced Placement courses. At the 720-student Robert F. Kennedy High School in New York City, students could choose from among seven AP classes. That's pretty good. But in Abraham Lincoln High School, a New York City school with 2,520 students, there were just two AP courses.
The truth is that these data, from 2009, point to a sad truth in America's schools that is often left out of the Klein and Rhee non-reality show. We should applaud the Department of Education and Assistant Secretary Ali for her persistence and efforts bringing these data forward. As Ali summed it up in a recent press conference: "The promise of fundamental fairness has not reached whole groups of students who will need opportunity to succeed to get out of poverty, to ensure their dreams come true - and indeed for our nation's economic prosperity."
For the past few years, the demand for new episodes in education reform have been driven more by politics and profiteering than by sound practice and policy to the peril of our children's right to an opportunity to learn.
In a parallel episode in history, we had Arkansas Gov. Orval Faubus in 1957 playing to the locals and television cameras on segregation before Daisy Bates and the nine young advocates pushed the issue and President Eisenhower stepped in and protected Arkansas' Little Rock Nine and their right to an education.
It is now time for parents, grassroots partners and young advocates to seize the cameras and televise a new revolution. It's time to direct the education reform script by pushing the federal government to truly protect every child's right to an opportunity to learn.
Unlike Gov. Faubus and his prime-time moments that were directed only at Black students, today's made-for-movie education reforms are hurting all Americans -- White, Black, middle income and poor.
So, here is a story line for a new, substantive reality series in education reform:
Klein, Rhee and Bloomberg and other market reformers should leave education reform to the education experts, the likes of Jerry Weast, Montgomery County's outgoing superintendent, Linda Darling-Hammond from Stanford University and the countless parents, teachers and students who would love to see a new chapter in education reform.
Parents, students and advocates should begin to craft policy proposals that reflect their community's education reform values and principles - and rather than just discussing them, hold local school board officials, city council members and legislators accountable for presenting these proposals for a vote. This must be coupled by a groundswell of community organizing to elevate all voices until these proposals become the culture and law of the land.
The U.S. Department of Justice should investigate current state education budget and tax cuts to ensure they do not violate students' state constitutional right to an equal opportunity to learn -- the New Jersey Supreme Court's recent rebuff of Gov. Christie's proposed budget cuts gives us evidence that cuts in others states with less engaged court systems also may violate their constitutional rights - specifically, cuts in New York where Gov. Andrew Cuomo cut over $1 billion from the education budget.
The federal government should use its current regulatory, spending and policy guidance authority to constructively create a federal right to an opportunity to learn. Let's invest war savings to address four major core areas: ensuring all students have access to high-quality early-childhood education and are literate by third grade; enforcing current ESEA maintenance of effort provisions to ensure equitable funding by states and localities; providing supports to recruit and retain highly effective teachers; and ensuring that all students receive a college- and work-preparatory curricula with meaningful opportunities to not only attend but complete college.
What happens in our schools is not a big-screen phenomenon but reality for millions of children and families at some of their most critical life junctures. We will serve the nation better and more honestly by portraying who has -- and does not have -- the opportunity for a high-quality public education. That is a far cry from making stars out of those who play to the media by beating up on teachers, belittling public schools and embracing solutions that help few at the expense of many.
To produce transformative educational reform, we must roll the closing credits for self-invested "reformers" and have parents, students and grassroots advocates take their rightful positions on the stage.
So, if you're ready to be a producer of lasting change, join us in this national call for, "Action!"

Popular in the Community