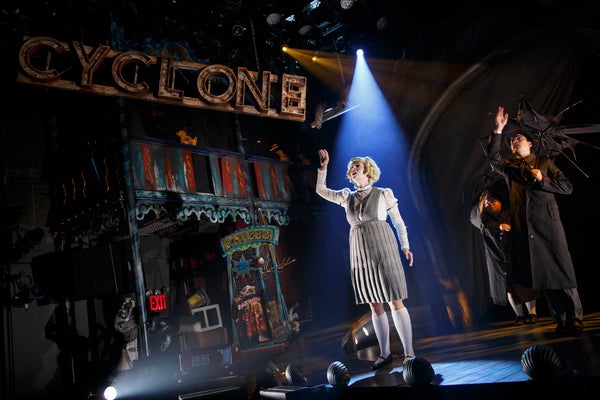 It is the job of a director to put his/her stamp on material in some way. Sometimes, with some material, I think an almost invisible imprint is advisable; occasionally, especially in the case of a revival, you want to see the show you have in your head. But sometimes a show feels so shaped by the director that, once seeing it, you feel that there could not have been one without the other. Last year, I saw three off-Broadway shows in particular that I thought were really propelled by the brilliant visions of their directors.
Indecent: I am a big fan of Rebecca Taichman's work, as I've previously written. But I think Indecent (which she co-created with Paula Vogel) is perhaps her strongest effort. The production at the Vineyard opened with the actors standing in a row, arms at their side, with sand spilling from their sleeves. It was a haunting and ingenious image that stayed with you throughout the show and well beyond it.
Ride the Cyclone: For years, I've been hearing Rachel Rockwell's name. People kept telling me how great her work as a director and choreographer was. Ride the Cyclone could have felt like a fringe musical, but it did not. Part of that was the lavish production (particularly the clever set by Scott Davis) it was given at MCC. However I believe Rockwell deserves a large chunk of the credit. The vision for the numbers was all very character specific and well-thought-out. The actors were not directed to be hammy or too winking. There was a sly sincerity behind the joke that might have been missing in a lesser production.
The Band's Visit: This slight musical, made from a 2007 Israeli film of the same name, was truly elevated by David Cromer's vision. Everything was staged perfectly in the beautiful Atlantic Theater Company production. It would have been easy for a director to do more with the underlying material, to heighten it theatrically, but that would not have served it well. Instead The Band's Visit was a rare musical where you learn more in the silences than you do when voices are fully raised. That is a credit to the whole team, but especially to Cromer.
Of course these are not the only shows I saw where I thought the director deserved praise. Indeed that is true of many shows I liked last year, but these stick out even now. It's not surprising that all three might make it to Broadway, with Indecent beginning previews on April 4 at the Cort. The Band's Visit (which, even with Cromer's efforts, does need work) is expected to open on the Great White Way in the fall, though there has been no official announcement. Ride the Cyclone is an unknown, but with backing by Broadway producer Kevin McCollum, I wouldn't be surprised to see it on a bigger stage.
Calling all HuffPost superfans!
Sign up for membership to become a founding member and help shape HuffPost's next chapter
This post was published on the now-closed HuffPost Contributor platform. Contributors control their own work and posted freely to our site. If you need to flag this entry as abusive,
send us an email
.