An Iowa man's mummified body was found in the waters of Lake Michigan on Saturday, his diving gear and empty oxygen tank still attached.
But the shocking thing about the discovery of Dirk Kann's body on the lake floor is that he died 13 years ago, and his body was still intact.
Kann disappeared in September, 1999 while exploring the dangerous Lakeland shipwreck 225 feet below the water's surface. When the dive went wrong, Khan and his friend, Greg Olsen, shared oxygen from Khan's tank as the two men frantically swam toward the surface, The Daily Mail reports.
Sadly, Kann, 52, never made it out, and officials spent years trying to find his body.
"We made numerous attempts through the years to try to recover him with technological advancements. We used some of that to go down there, but his remains weren't found until Saturday," Door County Sheriff Terry Vogel told Fox 11. "He still had his diving gear on, in fact."
PHOTO of Lakeland (Story continues below):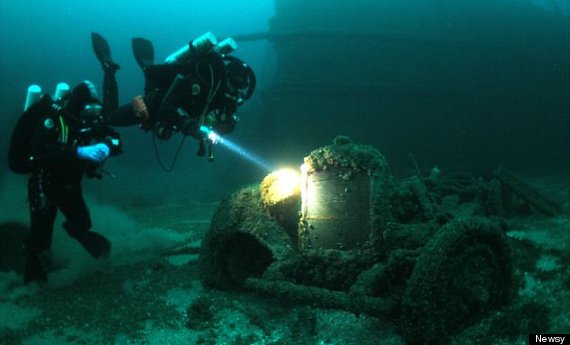 During the dive, Olsen realized that his oxygen tank was quickly losing air, so the two men had to make an early return to the surface. As the divers were sharing what little oxygen remained, Kann lagged behind in an attempt to decompress, the New York Daily News reports. Decompression is necessary when rising from deep waters, to prevent the build-up of nitrogen bubbles in the blood.
Olsen never saw Kann again, until Saturday afternoon when sport divers happened upon him. The perfect combination of pressure, oxygen and cold temperature at that depth mummified and preserved Kann's body, ABC News reported.
Kann's wife Rose told the Daily Mail that the family is "relieved" to finally have found the hero's body, but she was having difficulty speaking about it.
Lakeland is a popular but challenging dive destination, featuring a steamship that sunk in 1924 while carrying a load of cars.
Support HuffPost
The Stakes Have Never Been Higher
Related
Popular in the Community