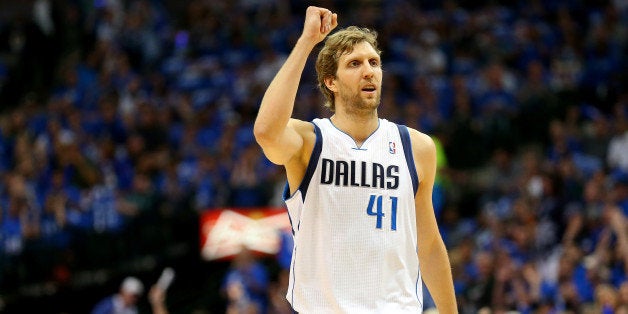 In a day and age when superstar athletes often jump ship for other franchises, Dirk Nowitzki has played out his career for one organization, remaining a Dallas Maverick even as his salary decreased. When the 36-year-old native of Germany recently accepted a three-year, $25 million offer, he became the fourth-highest paid player ... on his own team.
It's not that Nowitzki hasn't had other offers. On July 3, he passed up the most money in league history, turning down $97 million maximum bids from the L.A. Lakers and the Houston Rockets.
Nowitzki isn't hurting for cash -- he's made more than $200 million in his career. But his team loyalty and willingness to take a pay cut are certainly a contrast to choices made by personalities like LeBron James and Carmelo Anthony.
"Money isn't something I play for," Nowitzki told ESPN Dallas in 2013. "(Mark) Cuban has taken care of me for a long, long time. I always tried to pay him back by hard playing and being here for this franchise, so I don't think we're going to fight over money. I want to compete over these last couple of years. That's going to be the goal." Cuban and Nowitzki.
Cuban, the longtime Mavericks owner who inherited Nowitzki on the roster when he purchased the team in 2000, admits that he and his star "have grown up in the NBA together."
"There are so many [examples] I can't count," Cuban told The Huffington Post via email. "From hanging out at his first All-Star games, to our annual summer trips, to everything he has done for this organization."
Nowitzki's reasoning for taking a pay cut is pretty simple: He wants a shot at a second NBA championship. And he's turned down lucrative offers before. In 2010, when he was eligible for a $96 million maximum contract from the Mavs, he instead signed for $80 million. The decision ultimately paid off because it allowed Cuban to maximize the roster -- and that year the Mavs won their first and only title in franchise history, led by Nowitzki, who captured Finals' MVP honors.
Off the floor, Nowitzki is the rare superstar who stays away from marquee endorsement deals and commercials. He has had just one sponsorship in his career, with Nike, when he surely could have boosted his brand with more. His eagerness to help the community is also inspiring. In 2005, he started the Dirk Nowitzki Foundation, which promotes health, physical activity and education for children around the world. As a result, UNICEF last year made him their German ambassador.
"Dirk is just as amazing off the court as he is on," Cuban said. "I can't begin to tell you how much I respect and appreciate who he is as a person."
Email me at jordan.schultz@huffingtonpost.com or ask me questions about anything sports-related at @Schultz_Report and follow me on Instagram @Schultz_Report. Also, be sure and catch my NBC Sports Radio show, Kup and Schultz, which airs Sunday mornings from 9-12 ET, right here.
Calling all HuffPost superfans!
Sign up for membership to become a founding member and help shape HuffPost's next chapter