How do you get more American than blue jeans? How about making them in America, for starters. That's what the eco-friendly fashion company Dirtball is doing with its new line of denim, which will be made entirely in the USA.
The blue jean has a green twist, as well. Dirtball CEO Joe Fox brags that the jeans are eco-friendly since they're made out of recycled water bottles (and cotton). The Green Jean just hit its $40,000 funding target on Kickstarter.
Here's a quick preview from the company's website: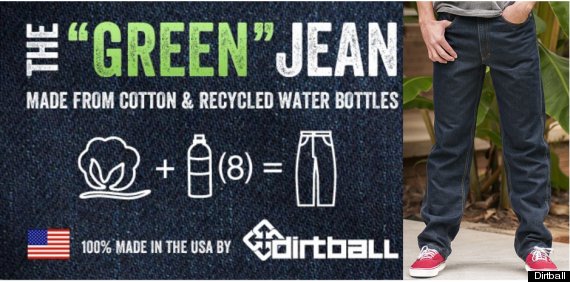 A former racecar driver, Fox decided to make his idea for an eco-friendly clothing line a reality in 2008 after having a few too many drinks at a bar, he said. He estimates that with every 100,000 pairs of jeans made, Dirtball -- which also makes shirts, hoodies, socks, polos and shorts -- saves about 900,000 water bottles from being dumped into landfills.
The majority of Dirtball's products are also made within 200 miles of its headquarters in Hickory, N.C., allowing the company to cut down on shipping costs, Fox told The Huffington Post.
"By lowering cost, that means I have more money to put towards labor. And labor means I get to hire Americans... I'd rather hire people to make a shirt than pay a company to transport my goods and use more oil," Fox told HuffPost.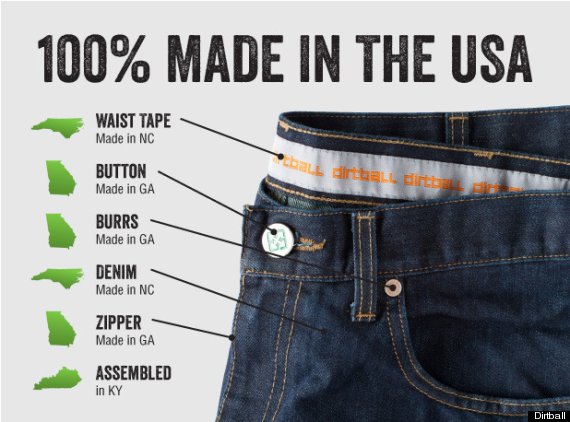 Although some apparel companies are doing one or the other -- utilizing recycled bottles or manufacturing products domestically -- Dirtball is the only company doing both, according to Fox. Patagonia, for example, uses recycled plastic soda bottles for some of their products, saving about 86 million soda bottles from being dumped in landfills over the last 13 years, according to the company's website. Meanwhile, Levi's and Glenn Beck's 1791 clothing line both offer jeans made in America.
Still wondering how in the world plastic water bottles could possibly be turned into jeans?
"That's easy," Fox said. The bottles are first gathered together and taken to a processing plant to be washed, de-labeled, and ground into flake-like squares. Those squares are then melted, separated by color, and eventually put through a giant spaghetti stringer-like machine that yields the ideal shape and size material. Around eight to 10 recycled bottles go into each pair of jeans, making up almost a third of the material used.
Before You Go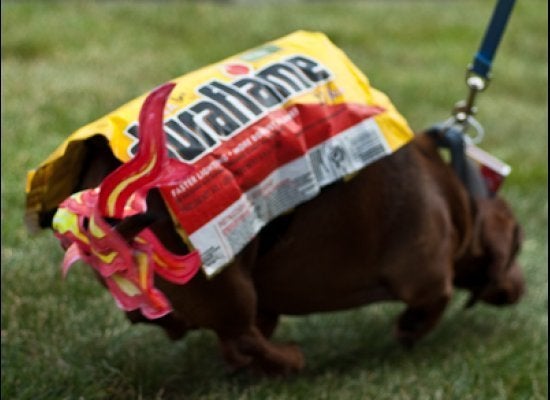 Ten Products Surprisingly Still Made In America