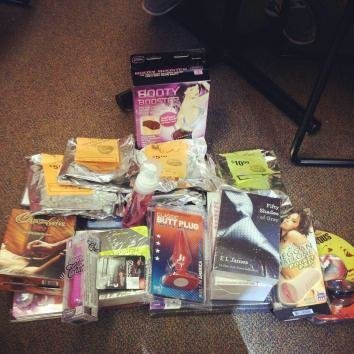 After strong backlash, the Union Activities Board at North Carolina State University is scaling back its "Dirty Bingo Night" scheduled for Tuesday, the prizes for which originally were to include sex toys, lubricant and a copy of Fifty Shades of Grey as some of the prizes.
According to UAB president Lauryn Collier, the event was planned to include prizes like edible undergarments, a Fifty Shades of Grey book and game, six vibrators, four so-called surprise packs, three dildos, a toy cleaner, lube, a sex game, a book on sexual positions and an anal plug. Collier said the UAB wanted to "find an innovative and entertaining way to talk about sex and sex education, particularly on a college campus, which deviates the norm and expected."
None of the "Dirty Bingo Night" funding came from taxpayers. The UAB receives $15.13 per student each year to help fund student activities and, compared to other events on campus, the expense for "Dirty Bingo Night" is minimal. Collier told WTVD the total cost of the program's prizes amounts to one penny per student.
Still, event organizers are now going to ensure that student fees don't pay for any of the controversial prizes.
"We are currently in the process of securing funding from those entities to completely do away with student fees even remotely funding this event," Ryan Doggett, leisure and entertainment chair of the UAB, said on Facebook.
Calling all HuffPost superfans!
Sign up for membership to become a founding member and help shape HuffPost's next chapter