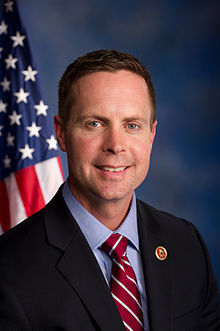 On climate change, Rep. Rodney Davis' actions certainly speak louder than words.
We'll give small bit of credit to the first-term congressman from Illinois' 13th District for publicly acknowledging that "climate change is real." He even added in a candidate questionnaire:
Many factors contribute to changes in climate, both man-made and natural. Regardless of your views on global warming, we should all agree that reducing our dependence on foreign oil and cutting air pollution without doing economic harm to our citizens will benefit our national security, environment and public health.
Ever hear the saying, talk is cheap? Rep. Davis hasn't followed up his words with actions. In fact, he's done just the opposite -- voting at virtually every opportunity to block action on climate change. Maybe he doesn't want his constituents to know his voting record.
He supported the Whitfield bill to block the Environmental Protection Agency (EPA) from issuing standards to control dangerous carbon pollution from power plants, the Cassidy veto bill giving other federal agencies power to overrule those EPA climate pollution limits, and the REINS bill (of which he was a co-sponsor) to make it next to impossible to ever put in place any health or safety standards, regardless of the problem being addressed.
Davis also voted against the Schakowsky amendment to recognize the scientific fact that greenhouse gas pollution is contributing to climate change. That's outright climate denial. And Davis voted for an amendment to prevent federal agencies from assessing the costs and dangers of climate change.
But to be sure, one group likes this DirtyDenier$ lawmaker--the right-wing House GOP leadership, for he's been a reliable champion of their radical anti-health and anti-environment agenda. In reward, the National Republican Congressional Campaign put him in its 'Patriot Program', intended to help him raise campaign cash, and his largest donations, $427,000, come from so-called Leadership PACs set up by congressional colleagues. Davis' campaign also has taken in $92,500 from oil & gas interests, $90,500 from mining interests and $67,000 from utilities.
Our advice: Rep. Rodney Davis is far out of step with most Americans who want clean air, land, water and for the government to do something about climate change. And he needs to show some leadership by embracing his own words by taking action on climate change.
REAL LIFE. REAL NEWS. REAL VOICES.
Help us tell more of the stories that matter from voices that too often remain unheard.