Dirty Heads and Slighty Stoopid might be touring together for the first time this summer, but they have more than music on their minds during the Everything is Awesome Tour. 
The Southern California-based bands are not only set on getting fans out of their seats during the shows, but they want to raise awareness for a pair of worthy causes as well. 
Dirty Heads has teamed up with Oxfam to raise awareness around world hunger and poverty, while Slightly Stoopid has partnered with the Surfrider Foundation to help conserve the coastline in California and beyond.  
"When we wrote the song "Sound of Change", we felt that would be a cool name for the album," said Jared "Dirty J" Watson of Dirty Heads.  "Then we kind of got to talking, and the discussions were like, "Yo, if we're going to talk about change, maybe we should start working with an organization that walks the walk and talks the talk."
"We're fortunate to have a platform, and we have very loyal fans. People are willing to listen to what we have to say, so we've decided to put our money where our mouth is and are actively working on something to help affect change."

Sounding Off on Coastal Conservation
To help raise awareness about coastal concerns on the Central Coast and Southern California, Slightly Stoopid invited both the Isla Vista and Santa Barbara chapters of Surfrider to participate in the event. 
With 50,000 members and 90 chapters globally, Surfrider is a non-profit, grassroots organization dedicated to preserving beaches, waves and the ocean.   
"The ocean is one of the most important commodities we have on this earth," said Slightly Stoopid's Miles Doughty. "From recreational use, to needing it for food, for culture, it's just something you really have to protect."
Doughty said Surfrider is an easy organization to back because much of the Ocean Beach-based group grew up surfing.  
Their latest music video for The Prophet was shot overlooking the beaches near San Diego, and when their current tour wraps they're planning to play a surf expo in Tahiti later this year.
Mark Morey, chair of Surfrider's Santa Barbara Chapter, says the "stakes are high" closer to the Santa Barbara Bowl where the Refugio Oil Spill occurred on May 19, with as much as 143,000 gallons of crude spilling from a Plains All American Pipeline onto the Gaviota Coast. Morey said the chapter is working to ensure Plains All American is held accountable for the "grossly negligent act," as well as protect the same scenic coastline from being lost to development.
"Preaching to the choir only gets you so far," Morey said. "Working with this band gives us greater visibility to raise awareness in groups that are outside of the environmental community.  No one wants dirty beaches.  But if you knew how tenuous their position was, you might be motivated to act."
Morey added that concert and festival invites from bands such as Slightly Stoopid, allows non-profits like Surfrider to reach a broader audience despite a lack of resources.
"We have to choose our battles due to limited resources," Morey said. "That is why recruiting volunteers is critical. If our capitalist system wasn't so focused on destroying the planet for money, our job would be much easier."
With a tour schedule that still includes stops from Live Oak, Fla., to Puerto Morelos, Mexico, Doughty admits he no longer surfs as much as he used to. But earlier this week, during a rare day off in Southern California, he was able to carve out some time to surf with his daughter.

Those moments, he said, are what inspire the group to work with organizations like Surfrider to ensure the coastline remains intact for the next generation.
"Surfrider has done a hell of a job," Doughty said. "It's not an easy thing to do, kind of taking on the corporate world. We're stoked to have them come to shows, and promote awareness for their organization with the youth of today. They're the ones who are going to be taking over this country, and have to deal with what's going on at our beaches."
Sounding Off on World Hunger
Dirty Heads has been working with Oxfam, a global confederation of 17 organizations "working to right the wrongs of poverty, hunger and injustice." Oxfam has helped Nepal's Sindhupalchowk region bounce back from the April earthquake that killed more than 9,000 people and injured another 23,000 by constructing shelters for the homeless, as well as providing agricultural tools, hygiene supplies and emergency kits.
"When we met the Oxfam family we saw how active they were, and you can really see where the help is going," Watson said. "I think there's a lot of talk in charity, and you never know how much actually gets done. With Oxfam, we know what gets done because they're very open with what's being done and very passionate about it."
Dirty Heads has held VIP ticket fundraisers to benefit Oxfam, and is in discussions with the organization about selling branded merchandise or promoting products that raise awareness about world hunger and poverty.
According to the Oxfam website, more than 20.7 million people directly benefited from Oxfam programs last year, including more than 660,000 villagers who now have access to savings and loan opportunities. Additionally, more than 240,000 activists have urged companies to fight climate change and support farmers through these programs.
"At Oxfam America, we often say that 'music can change the world,' and we know that's true," said Bob Ferguson, manager for Oxfam America's creative alliances and music outreach.
"I have seen the direct line between a band's fans being engaged at a concert and a hunger-related bill passing a Congressional vote, or water and sanitation being delivered to an earthquake stricken region. Music is an art of passion, and music fans are passionate about being helpful and kind. When musicians and music fans partner with Oxfam to turn that passion and kindness into action, the impact can be powerful and really can change the world."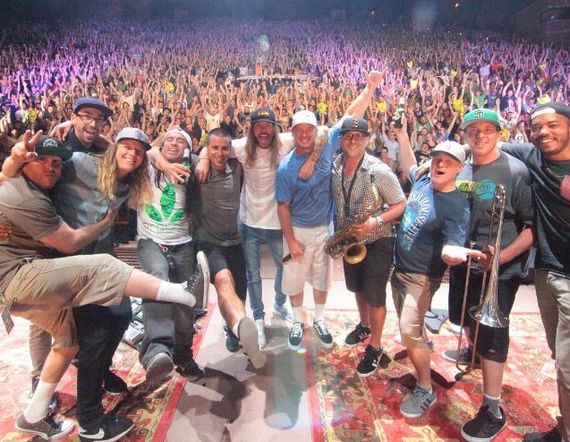 The two bands at a recent show in Colorado. Photo via @slightlystoopid.
In terms of touring for the first time together, both of the bands' frontmen said it's been a blast and they're excited their tour schedules finally aligned.  
Until this year, the Southern California bands with similar roots had never toured together, and had only played on an occasional festival lineup. 
"When you tour with Slightly Stoopid, it's like summer camp," Watson said. "... Everybody knows we're just out there trying to have fun, party and keep the fans happy. It's been cool. We've been getting up there, playing music with them, doing a couple songs, and it's been really fun. "
Doughty couldn't agree more. 
"It's been fun traveling together, spreading our music to the world," Doughty said. "We both come from Southern California, and there's just a culture and a vibe about it. ... It's definitely been a humbling experience, playing with these guys and raising awareness for some of the causes we're passionate about."  
REAL LIFE. REAL NEWS. REAL VOICES.
Help us tell more of the stories that matter from voices that too often remain unheard.