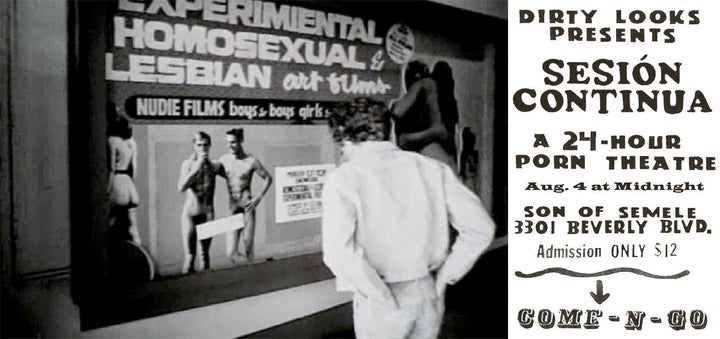 Queer non-profit and experimental film collective Dirty Looks is set to blend the history of gay male erotica with modern day notions of pornography in a pop-up 24-hour porn theatre in Los Angeles on August 4 beginning at midnight.
Hailing from New York City, Dirty Looks now operates primarily on the West Coast. The organization's 24-hour porn theatre experience, called Sesión Continua, is intended as an homage to early gay pornography and the theaters that showcased the art form.
According to Dirty Looks Creative Director Bradford Nordeen, pornography was historically one of the first places that many gay men saw themselves represented in media.
"We started Sesión Continua a couple years back, during our first year in L.A.," Nordeen told HuffPost. "Two of the most consistent contributors to Dirty Looks, Karl McCool and Clara Lopez Menendez, were both very engaged in early gay pornography. It's the first form of gay self-representation in film, really. When you're talking about gays documenting their own lives before the 1980s, you're talking about a handful of experimental films and a ton of porn."
Check out an extensive interview with Nordeen below and head here for more information on the event.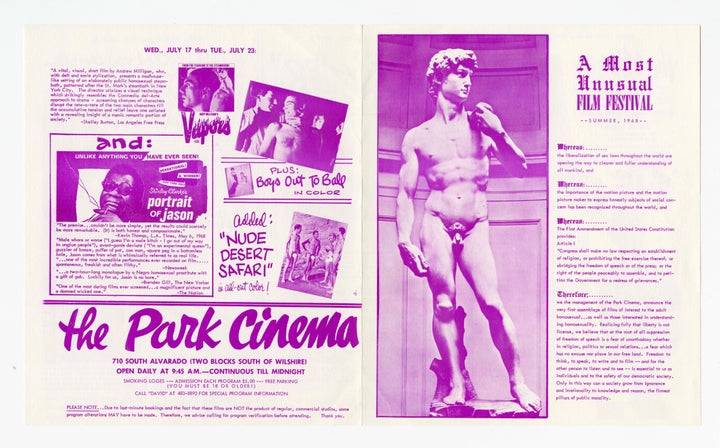 HuffPost: For those unfamiliar with the organization, can you tell us a bit about Dirty Looks?
Bradford Nordeen: Dirty Looks is a non-profit that I started in 2011 in New York City, initially as a monthly film series. We used flyers and graphic design to look kind of like a party so that people unaccustomed with or wary of experimental cinema felt comfortable or curious to check out what was screening. Being nerdy can be cool too… Over the years we've expanded to include performance, publishing, festivals, and more unruly events like this one.
Programmatically, we present experimental film and video from the past alongside newer artworks to show that the historical content is often still as vital and relevant as the day it was made. I think when you look at representation in the LGBTQ community, we're at a moment where it's three steps forward, two steps back. Visibility has really come at a cost; our visual culture, which was historically quite charged or innovative, has been dampened in a lot of ways ― and it's important to study this.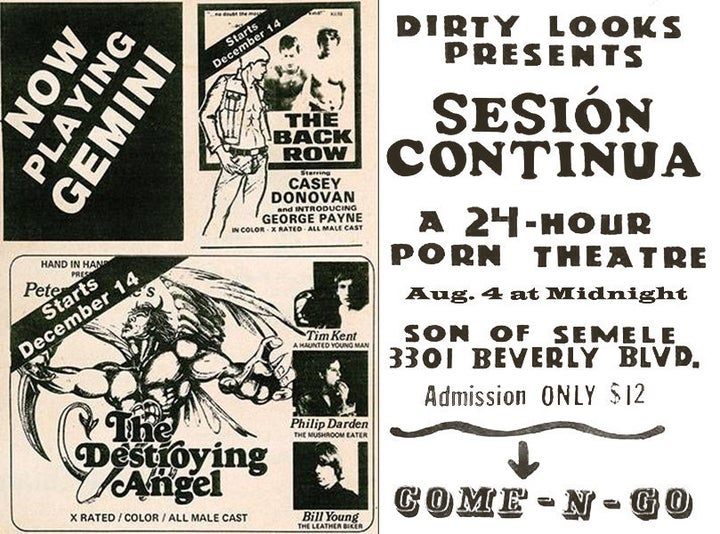 Tell me more about 24-hour porn theater pop-up. What works are you planning on screening?
So Clara Lopez and I created this format (24 hours, unlisted program, pre-VHS productions, small underground theater) as an homage to theaters like The Park and Coronet in Los Angeles, who started screening porn out of financial desperation, really. But the cinephiles behind the programming would pepper stag titles with Warhol films, or Jack Smith or Shirley Clarke. Titles that couldn't really find dedicated screens elsewhere could actually move tickets in a different context. So, without really naming any specific titles, we're showing some really early gay porn "deep cuts" and experimental fare that would have screened at one of these theaters.
This context really impacts the way that both works read. And very early gay porn had a fascinating dialogue with experimental film ― it was illegal to make pornography within the L.A. county, mind you, and you had people like Kenneth Anger elevating erotic imagery to the highest form of filmmaking imaginable with something like "Scorpio Rising," which was getting busted as a nudie. Porn has evolved in a way that we forget that explicit cinema wasn't always made to jerk off to, but it was cinema. We're bringing it home, in a way…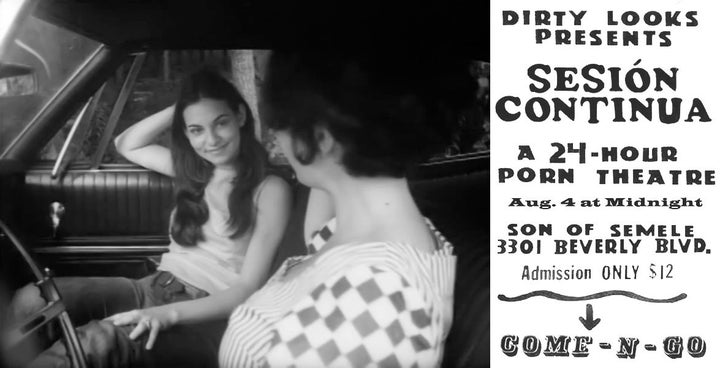 Why are classically queer film festivals like this so important?
There's a bill for The Park Cinema that we found when we were doing preliminary research for Sesión Continua at ONE National Gay & Lesbian Archives and reproduced in our first Dirty Looks Volume. It's for "A Most Unusual Film Festival — Summer, 1968" and it reads, "the liberalization of sex laws throughout the world are opening the way to clearer and fuller understanding of all mankind and the importance of the motion picture and the motion picture maker to express honestly subject of social concern has been recognized throughout the world… We the management at the Park Cinema, announce the very first assemblage of films of interest to the adult homosexual… as well as those interested in understanding homosexuality. Realizing fully that liberty is not license, we believe that at the root of all suppression of freedom of speech is a fear of unorthodoxy whether in religion, politics, or sexual relations… a fear which has no excuse nor place in our free land. Freedom to think, to speak, to write and to film — and for the other person to listen and see — is essential to us as individuals and to the safety of our democratic society. Only in this way can a society grow from ignorance and irrationality to know and reason, the firmest pillars of public morality." I mean, that 50-year-old statement still defiantly addresses the needs of our contemporary moment, don't you think?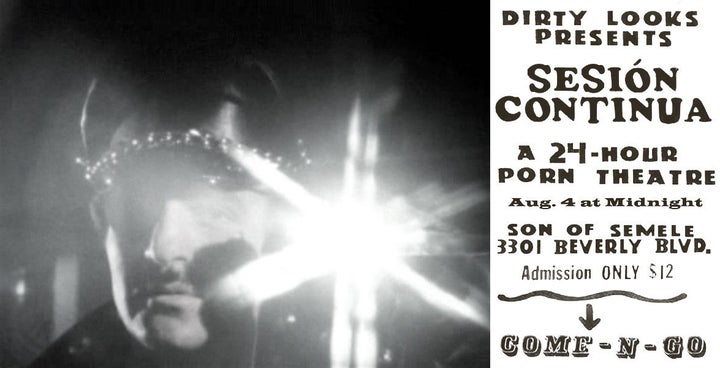 What do you want people to take away from this event?
This is our third year doing the program and we try not to repeat films, which means we've kind of worked through either the cornerstone titles or the ones we knew going into this project. This year I've found myself working with Joe Rubin, an esteemed historian and archivist who distributes films through his company Vinegar Syndrome, to assemble a program of exceptional and overlooked gems. I sent him a really early working list of titles that I was thinking of including and he ripped it to shreds. I love that! The films that he countered with feel like really important works that have been lost to the ebb and flow of fashion and to a dismissive moral tide that dismantled a burgeoning film genre in the early 1970s. Joe argued against screening some of the more fluffy, candy-colored titles because, "there's no reason anyone should be bored if they enter the theatre at any point during the 24-hours." And from the works that remain on my list and those things he's brought to my attention, it's really going to be our most consistent and thrilling program, yet. I think some people really see rigor and porn as being antithetical, but they're not.
And the format is very theatrical - asking viewers to watch porn in public again, as opposed to binging it at home in secret, by purchasing a come-n-go ticket from our box office, sitting alongside other potentially aroused spectators. We try to frustrate the contemporary, consumer-based notion of porn by not listing our line-up. Instead of buying the ticket to the thing they know, our movie-goers are presented with the screen images by surprise. Each year there's a few people who stay for the whole day, though, the first year, someone was critical of this approach, questioning why she should pay to enter a "grab bag" program. If I'm doing my job right, she's going to come in and end up staying for hours, because this year's line-up has already blown the roof off of my pre-conceived notions of hardcore cinema and the potential for lesser known productions to push the aesthetic traditions of eroticism on screens. I'm very excited to see it unfold with an audience!
Sesión Continua takes place in Los Angeles on Aug. 4 beginning at midnight. Head here for more information.
Popular in the Community