In 2014 the hip-hop artist, Future, suffered a major loss in transit to a show in Dubai. Oddly enough, it's not what you'd expect. He didn't lose a life of someone he loved but rather Future lost his friend and his own freedom.
DJ Esco was arrested for marijuana possession and was barred in a Dubai prison for 56 nights but Future's "jail" was much more metaphoric. In DJ Esco's arrest his belongings were confiscated, including the hard drive that held the past two years of Future's musical recordings.
Somehow Future side stepped the gravity of the situation that is sure to end any other musicians career and in return he responded with arguably one of the best bodies of work that the music industry has seen in a long time. By "bodies of work" I don't mean a mixtape, I mean 30 songs spread across three mixtapes, all released within the past nine months.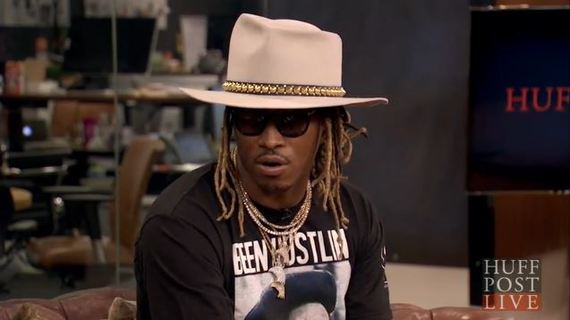 To say Future's been on a rampage is a vast understatement, but to say his approach wasn't geniusly strategic would actually be a completely normal understanding, you know why? Because he did NO PROMOTION.
Today Future added to his musical museum with a project very out of the ordinary, an album, Dirty Sprite 2. If you're a urban music fan you're aware of the speedy album release, shock factor tactics that most of these artists have subjected themselves to as of recent. Don't get me wrong, the technique has been fruitful for many. Artists in the likes of J.Cole, Drake, and Meek Mill all reached BillBoard's #1 spot with their latest album releases (which Meek currently holds) all off that very method. But none released essentially 3 albums for free before such, strictly for the appeasement of their fans and love of the art.
In fact it's Meek that said the only artist he listens to currently is Future himself in a recent BreakFast Club Power 105.1 interview. Drake still had to make a last-minute call to his tour mate Future just to become the ONLY feature on his newly released project.
To say Future is an enigma in the way he approaches his profession is a fair assessment but to describe him as the king of unmeasured success would be a much better description. He moves like an independent artist, releasing worthy content even despite his signature to a major record deal with Epic Records.
Future's recognition generated 174k downloads on his Monster mixtape on Hotnewhiphop.com alone. Granted, the tape was free but he's managed to create a following that's surpassed the promotional gimmicks many artists hang their hat on today.
Since Future's power run he's only done two interviews, both swarmed soon after with the headlines involving his past relationship with his ex-fiancee Ciara. I just hope he's remembered for his contributions, not the controversy. We're speaking about a man from the inner city Atlanta streets whose chosen not to live vicariously through the #1 records written for major players like the queen Beyonce in Drunk in Love and even Ciara's claim to recent fame in the record Body Party. Music is definitely an art of perception and resonance, but even despite his underground trek, Future seems to have grabbed the masses.
Future's album DS2 is now available on iTunes and Spotify.
Popular in the Community