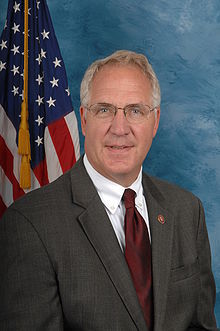 Why is Congressman John Shimkus smiling? Maybe it's because over the course of his career he has raised more than $500,000 from the oil and gas industry. These dirty polluters account for one of the top five industries contributing to his campaign war chest.
It's not just dirty money that earns Congressman Shimkus today's Dirty Denier award, it's his opposition to reducing dangerous carbon pollution. With the ink barely dry on the EPA's Clean Power Plan, he issued the following statement:
"Without a doubt, this new front in the War on Coal will raise electricity rates - especially in the Midwest - and cost hundreds of thousands of good paying jobs nationwide. This rule will be all pain and no gain for American energy consumers and job seekers."
On top of the dirty votes, Shimkus also has a number of unscientific thoughts on climate change. Here's one statement: "When we breathe in, we breathe oxygen. When we breathe out, we breathe out carbon dioxide. Carbon dioxide is not a toxic emittent." And another: If we decrease the use of carbon dioxide are we not taking away plant food from the atmosphere?"
Our advice: We wished Shimkus cared enough to dump his dirty votes and campaign contributions and unscientific theories in favor of protecting the whole earth.
REAL LIFE. REAL NEWS. REAL VOICES.
Help us tell more of the stories that matter from voices that too often remain unheard.