Ten protesters, most of whom have disabilities, were arrested Thursday in the Denver office of Republican Sen. Cory Gardner after staging a sit-in that lasted nearly 60 hours. They are part of a larger network of activists who believe they are literally fighting for their lives in their efforts to stop the Republicans' health care bill.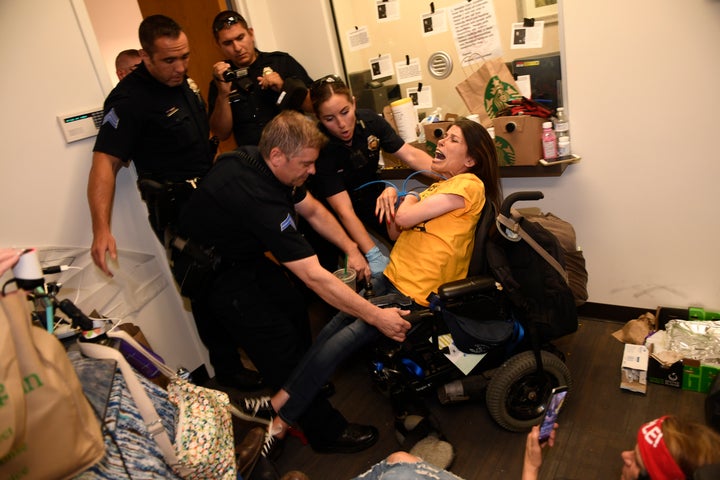 The activists are members of ADAPT, a national disability-rights organization, which staged a similar protest in the Washington office of Senate Majority Leader Mitch McConnell (R-Ky.) on June 22.
Like the group in D.C., the Denver activists were protesting the Senate's Better Care Reconciliation Act, which would cut $772 million from Medicaid and leave 22 million more people uninsured by 2026. The bill would also create large tax cuts for the wealthy.
Gardner is one of nine Republican senators who have publicly opposed or raised concerns about the GOP bill, which would need nearly every Republican's support in order to pass.
The protesters, which included four people who use wheelchairs and two with cerebral palsy, arrived Tuesday and sat in a 15-by-12-foot room for more than two days.
"It's been really hot and cramped in here, but we're not leaving until we get a commitment that Sen. Gardner will vote no," Carrie Ann Lucas, 44, an attorney with the state of Colorado, told Vox on Tuesday before the arrests.
On Wednesday, after protesters slept in their chairs or on the wood floor, inflatable pool toys were brought in to cushion their discomfort.
They chanted, "Rather go to jail than to die without Medicaid!" while Denver police stood in the doorway of Gardner's office and ordered them to leave.
In a Facebook video created by Now This, you can hear an officer question the protesters' motives and tactics.
The group then points out how the bill could affect that officer.
"God forbid you get shot on the job or something, and you're disabled," says one unseen protester. "Will the cops take care of you the rest of your life?"
The Better Care Reconciliation Act proposes significantly slashing Medicaid funding, which 70 million low-income children, parents, the elderly and disabled Americans rely on. The House has passed a similar bill, which it called the American Health Care Act.
"The American Health Care Act caps and significantly cuts Medicaid, which will greatly reduce access to medical care and home and community based services for elderly and disabled Americans who will either die or be forced into institutions," Bruce Darling, an ADAPT organizer, wrote in a statement before the June 22 protest in McConnell's office. "Our lives and liberty shouldn't be stolen to give a tax break to the wealthy. That's truly un-American."
ADAPT isn't alone in its fight. In fact, the disability community is coming out in droves to create a resistance. There have been protests in Kansas, New Orleans and New York, where activists chanted, "No cuts to Medicaid! Save our liberties!" (Watch the video below.)
The protests may be having an effect. Earlier this week, McConnell agreed to postpone a vote to advance the health care bill.
"You've had this whole community of people with disabled children or disabled adults who really got activated," Sen. Mark Warner (D-Va.) told Vox on Wednesday. "They've really made a big difference."
Keep fighting the good fight, guys.