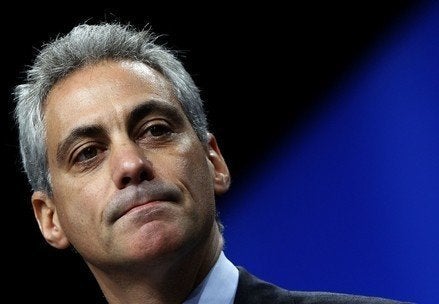 Special Olympics Chairman and CEO Timothy Shriver personally accepted an apology from White House Chief of Staff Rahm Emanuel on Wednesday, days after comments surfaced in which Emanuel used the word "retarded" to describe a proposal made by a group of liberal Democrats.
According to a joint statement from Shriver and five other disability advocates who attended a meeting at the White House, Emanuel "sincerely apologized for his mistake and the pain it caused in our community." Emanuel also committed to signing an online pledge to make the word obsolete.
"We are thankful to Mr. Emanuel for meeting with us today and hearing our concerns," the statement said.
"Our community has earned the right to be respected instead of ridiculed. We have suffered injustice for generations and we are demanding that it end," the advocates said. "This is another small step on the road to a country that accepts the gifts of all."
Emanuel invited Shriver and the other advocates to meet with him after his months-old remarks came to light in a Wall Street Journal article this week and infuriated members of the disability rights community.
According to the report, last August Emanuel met with liberal groups at a weekly strategy session that highlighted the issue of health care reform. Emanuel used the term "f---ing retarded" after hearing from a group of liberals that they planned to run television ads against the more conservative, reform-averse members of their own party.
Former Alaska Gov. Sarah Palin called on President Obama to fire Emanuel this week. Palin, who has a son with Down Syndrome, wrote on Facebook on Monday that Emanuel's slur was the equivalent of using the "N-word."
"Yes, Rahm is known for his caustic, crude references about those with whom he disagrees, but his recent tirade against participants in a strategy session was such a strong slap in many American faces that our president is doing himself a disservice by seeming to condone Rahm's recent sick and offensive tactic," Palin wrote.
She added: "Rahm's slur on all God's children with cognitive and developmental disabilities -- and the people who love them -- is unacceptable, and it's heartbreaking."
Before Wednesday's meeting, Politico reported that Emanuel's earlier apology to Shriver in a phone conversation had not been accepted, contrary to a White House statement that it had.

"Tim didn't accept his apology," Special Olympics spokeswoman Kirsten Seckle said. "Tim can't do that. He can't accept an apology on behalf of all people with disabilities."
A Special Olympics official told the Huffington Post on Wednesday that all six of the people in Wednesday's meeting accepted Emanuel's show of contrition.
Accompanying Shriver at the White House meeting were Andrew Imparato, president and CEO of the American Association of People with Disabilities; Peter V. Berns, CEO of The Arc; Hannah Jacobs, a disability right advocate; Julie Petty, former president of Self Advocates Becoming Empowered; and Ricardo Thornton, a Special Olympics athlete
According to the Special Olympics statement, Emanuel also promised to look into Congressional legislation that would remove the word "retarded" from federal law.

Nick Wing contributed reporting.

Popular in the Community