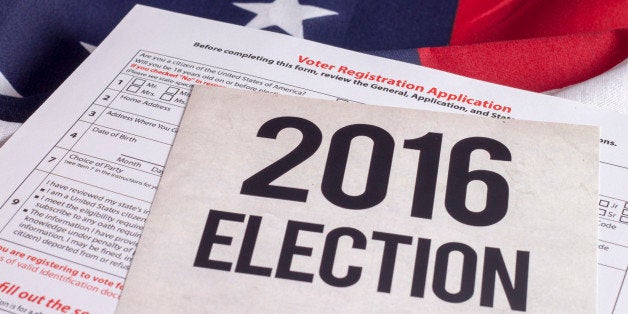 As the 2016 election cycle intensifies and candidates appeal to minority voters, one group is being left out. Candidates make frequent pleas to women and persons of color for their support, but they rarely mention what happens to be the country's largest minority: people with disabilities.
Three disability activists are working to change the narrative and bring greater visibility to the disability community's interests and voting power. #CriptheVote, a campaign launched by disability activists Alice Wong, Andrew Pulrang, and Gregg Beratan, intends to "engage both voters and politicians in a productive discussion about disability issues in the United States." These three energized activists took the time to talk with me about the mission of #CripTheVote.
Q: How did you come up with the idea of #CripTheVote?
GB: The three of us, and in fact many in the disability community, have watched this election get underway and have been astounded at the absolute silence on disability issues. At one point we had over 20 candidates and none of them were speaking to the disability community other than to mock us. The community has been talking about this for months on spaces like Twitter and Facebook, and #CripTheVote was just a way of amplifying all of those voices that were being ignored. The hope is that it will force the political establishment to engage, not only with our issues but with our community.
Q: Some disability activists and people outside of the disability community have expressed criticism about the use of the word "Crip." Can you explain the significance this word to you and why you chose to use it?
AW: There were a few reasons for this choice: first, it's a riff off of Rock the Vote, which was a successful campaign in the 1990s that activated young voters; second, short and memorable hashtags are ones that have the greatest potential for dissemination on social media; and third, it personally reflects my politics and perspective on disability in society. I hope many groups will use the hashtag even if they don't necessarily identify with it because the overall objective is political: "Cripping" something is to infuse and disrupt normative structures, landscapes, and meanings. By "Cripping the vote," we're changing the political landscape with our presence until we're no longer "the Other."
AP: I respect and (I think) understand some peoples' objection to using Crip and Cripple. There is a long, very theoretical and philosophical reason to embrace these terms, but I think it is simpler to say that using them indicates a degree of militancy, emotional investment, and group identity that "disabled" or other "softer" terms can't convey. It indicates we aren't tiptoeing around these issues.
GB: We understand the concerns with the word "Crip," [as] not everyone in the community feels ownership of the word, and outside the community it is still seen as a slur. For us the pejorative version may be directed at a specific subset of our community, but it harms us all, and reclaiming it as a positive falls to us all. The discomfort many feel with the word has actually led us to some wonderful conversations about disability and language. On the whole we have been thrilled with the reaction to the hashtag. We have had participation from all ends of the political spectrum. We wanted to keep it nonpartisan because whoever gets elected, we need them to take on the very serious concerns the community has.
Q: What are some of those issues?
GB: Disabled unemployment is twice that of nondisabled people. We are more likely to live in poverty and be incarcerated, we face much greater difficulty accessing healthcare, and are the only group for whom educational segregation is legal. The disability community is far more likely to experience violence than the nondisabled community and yet politicians routinely scapegoat us as the perpetrators of violence. Despite court rulings saying we have a right to live in the community, at least 38 states still have institutions. We are routinely discriminated against in employment and are in fact the only group of people the federal government exempts from receiving the minimum wage.
Q: Now that the first two chats are over, how do you see #CripTheVote developing throughout the rest of the 2016 election season? What are you most excited about doing with the campaign?
AW: With feedback from the community and from our chats, we're receiving a lot of great ideas. In addition to continuing Twitter chats before major debates and live-tweeting RNC and DNC conventions and Election Day, we might be able to mobilize the community using social media to achieve some tangible results such as convincing a debate moderator to include a policy question about disability issues.
GB: We're working on a number of things at the moment: working to get a question into the next debate, [and] a survey of the disability community to offer a better understanding of what disabled people's priorities are in this election. We are also intending to hold a virtual Rally as well as live tweet conventions. We are hoping that many of the things we do will be driven by the disability community as a whole.
Q: Shifting to a campaign focus, what do you see as the most problematic way that disability is (or isn't) included in political campaigns at this point? How do you see #CripTheVote helping to change that?
AW: Disability policies go far beyond healthcare and entitlements, [so] the disability lens can be used in almost every issue and topic area. It's important that we see things from an intersectional perspective and realize that we can't silo certain issues. What matters to people with disabilities cross-cuts with many other minorities or marginalized groups.
GB: The most problematic thing about the way the campaigns approach disability is that it's either non-existent or superficial. Some of the campaigns have put up policy pages but even those rarely extend past expressions of support for Social Security Disability (SSDI) and Supplemental Security Income (SSI), funding the Individuals with Disabilities Education Act (IDEA), and ratifying the Convention on the Rights of Persons with Disabilities (CRPD). Others have actively demonized us, calling us frauds (in relation to SSDI) and blaming us for mass shootings.
AP: At this point, the problem is not that candidates ignore disability. The problem is that they don't talk about disability issues enough for people to notice. [Specifically], when candidates list groups of Americans who strive for equality, they have tended not to mention disabled people. They'll say, "African-Americans, LGBTQ, women" and leave out disabled. [Also], candidates may mention a disability-related issue, but they don't have time to explain them, and most voters and reporters probably don't see the connection.
Q: What do you think is the most important thing that politicians and their staff could learn from engaging with #CripTheVote?
AP: They all need to develop detailed, comprehensive disability policy platforms. They all need to reach out directly to disability groups to communicate their policy ideas. And they all need to ask the disability community what we care about and what we do and don't want them to support. Also, hire disabled people in their campaigns to coordinate disability policy and outreach.
AW: Disabled people have a lot of expertise with programs, policies, and services. Our lived experiences along with our overall knowledge can be of use to politicians and their staff if they want to know the 'real deal' about Medicaid or special education, or employment for example.
Q: How can temporarily able-bodied allies participate in this movement? What should they know?
AP: Listen and read about these things. If your interest in disability is connected to a family member who is disabled, use that connection to ask candidates to ask disabled people for feedback. Ask your own questions as, say, a parent, but then tell candidates to ask your disabled son or daughter, too.
Q: How would you like to see #CripTheVote continue after the 2016 elections?
AP: As we have seen, a President can't do much without Congress, the makeup of Congress is influenced by State Legislatures, and a ton of day-to-day disability policy is made and administered on the state level. It's important to focus on Midterm elections and on local elections.
AW: It would be fun and gratifying if this hashtag lives on and is used by grassroots organizers, individuals, and anyone else that wants to continue the work and maybe extending outside of the United States. By being decentralized and diffuse, social activism's strength is that it evolves over time and no single person 'owns' the hashtag. It can be used by anyone and morph into other meanings beyond its original intention.
Q: What would you personally want to see happen for #CripTheVote to go above and beyond to be successful?
AW: I would love the opportunity to host a Twitter chat with a candidate from both parties. Giving people with disabilities a chance to have a dialogue with a candidate focused on our issues and concerns would be a sign of success for #CripTheVote.
GB: We're tired of disabled people being a political afterthought. We are the nation's largest minority. We just want to make sure disability issues find their way into this year's election in a meaningful ways.
AP: It would be great to get debate moderators to ask disability-related questions. It would be great to have candidates participate in #CripTheVote conversations. I'd love to see support coalesce around two or three specific disability policy ideas that candidates would have to come out for or against.
REAL LIFE. REAL NEWS. REAL VOICES.
Help us tell more of the stories that matter from voices that too often remain unheard.