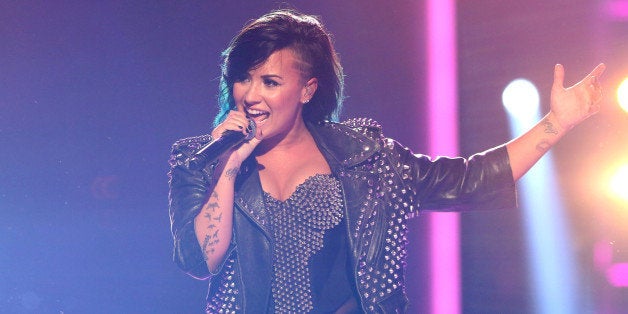 October 17. The day I was waiting patiently for, for 107 days. To be more specific, the Demi Lovato concert at the Mohegan Arena in Uncasville, Connecticut. To set the record, normally I do not go to concerts, or fangirl obsessively for months upon months just for one event. I did it not just because I love her music, but because her message stands out to me, on a hugely personal level.
As many know, Demi Lovato, is a warrior. Her main message to the Lovatics is to stay strong and to push like the true fighters we are. At the concert, however Demi had a request. She said to us, "Everybody knows my story. This is time for everyone else's to shine." As the night went on with lovely musical acts from MKTO, Christina Perri, Bea Miller and the lovely Spencer West, who lost both of his legs due to a rare childhood disease and gave us an inspirational speech before Queen Demi's performance.
That made me think beyond the music. This summer, I had gotten my cecostomy tube placed, and that's when I hit rock bottom. I had over 30 doctor appointments, was trying to readjust to a lifestyle where a hunk of plastic was sticking out of my side and answering questions from people who asked why a young girl (me) was hobbling around with a cane? The derogatory comments brought me down, and dipped me to the lowest point I've ever been in my life. Rarely leaving my house, it started breaking me down. When I went to the beach I was called a "real life blow-up doll," and on the one jog I went on, I got called "the real-life American Horror Story freak show" by a group of men in a car. This totally destroyed any dignity I had left.
I had no motivation. I dragged myself to go to SAT practice classes, dealt with the stares and the cries of sympathy, which I appreciated greatly, but also hated. I knew in the long run doing these things would benefit me, but overall the hassles it caused was not worth my time. After a while my days were "Sleep, clean my tube, sleep more, SAT prep, eat dinner, more sleep." But one day it all changed -- when I received my Demi Lovato tickets in the mail, something I worked hard to buy. This was going to be my first real concert. That is when her warrior speech hit me.
The day after I got her tickets, I pushed harder than I ever had before. I worked hard on my AP summer assignment, started school, walked without my cane and made a complete 360 before school started. Going to one of her shows was a goal on my bucket list for a very long time. I wanted to be heathy again before her concert so I could simply enjoy my night in Connecticut with my best friend and idol.
Demi's message of being a warrior is what motivated me. If she could go from fighting her own battles with self-harm and an eating disorder, to having two world tours within a two year span is crazy. She showed me, even at your lowest, you need to fight to get what you want, because you are worth it and are not just your disability. I am not just a teen with a chunk of plastic on her side, who can't use the bathroom like a normal individual, I am Erin Marie Whitten -- a 17-year-old girl who is in AP classes, applying to colleges and living the life I think I deserve.
REAL LIFE. REAL NEWS. REAL VOICES.
Help us tell more of the stories that matter from voices that too often remain unheard.