WASHINGTON ― Wonder the goldendoodle is retired, but he still made an appearance at the Supreme Court on Monday to show support for Ehlena Fry, the 12-year-old for whom he once worked as a service dog.
The dog wasn't actually in the courtroom as the justices considered Ehlena's case ― a disability rights dispute brought by her parents after their school district refused to allow Wonder to come to school to serve as their daughter's aide.
Ehlena and Wonder are still close, and their reunion outside the courthouse showed just how large a role the pup has played in the girl's life.
"He was a great helper to me and my family and he did a lot of things," Ehlena, who has cerebral palsy, told a group of reporters gathered in the Supreme Court's front plaza on Monday. "He made me independent."
Ehlena's mother, Stacy Fry, called Wonder "the bridge" that helped her daughter rely on herself rather than others.
The sixth-grader and her service dog are the human and canine faces of Fry v. Napoleon Community Schools, a civil rights case from Michigan. The Supreme Court has been asked to determine whether a student with disabilities who was discriminated against must first "exhaust" all other administrative avenues before suing for damages in federal court.
A pediatrician prescribed Ehlena a service dog when she was 5 so that she could "live as independently as possible," according to court filings. And so Wonder entered the picture to help her do just that ― he assisted her with day-to-day tasks like using a walker, going to the bathroom and picking up items off the floor.
But Ehlena's school wouldn't allow Wonder to help her during school hours, and instead arranged for a "human aide" to assist her in ways school officials thought the service animal couldn't. This accommodation, the school said, was perfectly acceptable to meet Ehlena's educational needs. But her parents thought it amounted to discriminatory treatment, partly because it limited her ability to be independent.
Even after the Department of Education determined that Ehlena's school was violating the ADA and related statutes, the school didn't admit liability for shunning Wonder. Instead, it offered to allow the service dog in the school.
But things had gotten so bad that Ehlena's parents decided to place her in a neighboring school that was more accommodating ― Wonder even made the yearbook there. They later sued the prior school district over the social and emotional harm Ehlena had experienced for nearly three years.
The justices spent the better part of an hour on Monday weighing whether the family's lawsuit complied with the letter of the law. Two lower courts had determined that the Frys' complaint should be dismissed because they hadn't tried to work things out with the school district before suing.
Generally speaking, this "work it out" requirement is known as exhaustion, a principle that allows parties to resolve disputes in an administrative forum ― like a school, which may have subject matter expertise and be quicker at finding solutions ― rather than a court of law, where litigation could take years.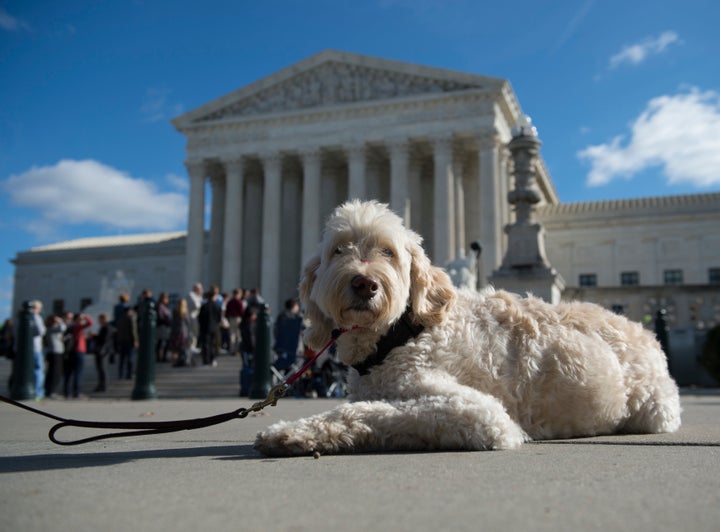 Some members of the high court, including Chief Justice John Roberts and Justice Stephen Breyer, seemed to worry that a ruling in favor of Ehlena might encourage parents to skip this initial step of working with the school and simply go straight to court whenever their child is denied rights that may be available under disability law.
"That would seem to gut the carefully written procedural system" Congress set up for kids who need special educational plans, Breyer said. The school's lawyer, Neal Katyal, agreed that "local education experts" should get a first crack at this kind of case.
But Ehlena's lawyer, University of Michigan Law School professor Samuel Bagenstos, emphasized that his client is only seeking compensation for the damage done rather than any further accommodations. After all, she is already in another school.
"What we have said is the injury my client experienced is not a denial of education, but, for example, the humiliation that she experienced when she was forced to go to the toilet with the stall door open and four adults watching her because defendants did not trust her to use her dog to transfer to the toilet bowl," Bagenstos told the justices. It was this type of "emotional distress" that led Ehlena's parents to sue, he added.
Reunited with Wonder outside the Supreme Court after oral arguments, Ehlena wasn't privy to all the legalese going on inside the courtroom, but she was confident of her chances.
"I think we will win," she said.