What talents lie behind those with physical impairments that confine them to a wheelchair, or those with intellectual disabilities that limit life activities such as work and living independently?
The answer lies in an amazing education and awareness program that took place in Houston recently; one that had those attending thinking about the infinite possibilities of the creative soul within.
ReelAbilities Film Festival Houston, part of a national film festival that originated in New York was much more than a film festival -- it was a vivid and joyous display of the abilities and talents of those whom society might label as "disabled," giving the audience an idea of the incredible innate potential in each individual. The event included educational programs in schools and in businesses.
City organizer Jewish Family Service Disabilities Services' (a local social service agency) and the Alexander Institute for Inclusion teamed up with lead sponsor, Texas Institute for Rehabilitation and Research (TIRR) Memorial Hermann to celebrate talent, foster inclusion and eliminate the stigma of disabilities.
For months the adults in the Celebration Company, an employment program funded by the Alexander Institute, poured their hearts and souls into creating works of art. Their masterpieces were then displayed at a local art gallery, including an opening night reception, where most pieces quickly sold out. Funds from products they make, such as these art pieces and various other holiday products give them a salary and an income, as well as a place to go each weekday where they find friendship, skills based training and meaningful work.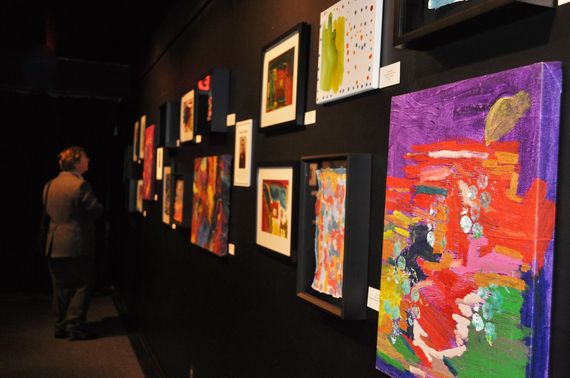 Beaming with pride was Melissa Shapiro who, like many, had several artworks on display with red dots indicating they were already sold.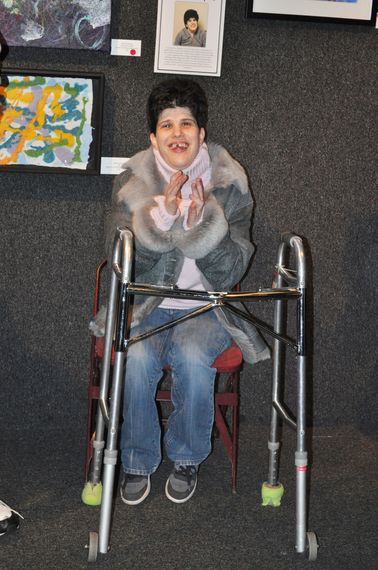 Joining her was Harry Samuelson and many other friends from Celebration Company watching the crowd admire their work.
Samuelson, who recognized me by name from many years ago when our paths had crossed before, came up to me as I viewed his art.
"Do you like it? Samuelson asked. I responded that it was beautiful artwork, to which he responded nodding and beaming. "I thought you would."
Advisory committee member Sara Selber expressed what so many in the audience were thinking.
"These artists paint from a place that is truly from deep within and their work is from the heart," Selber said. "They possess an innate ability that many others may never experience and inspire us to reach a new level of understanding pure and raw passion for the simple joy of creation. Art has a way of reaching all of us."
On closing night, audience members saw that dancing was an expression of joy for even those with physical limitations. A presentation of hip-hop wheelchair dancing, led by dancers Jerry Foote and Robin Carlson from Dance Force Productions was a spirited display of movement to music from wheelchairs. The group included Haley Cornelius, Miss Wheelchair Texas, complete with a tiara, and Ryan Hundemer, coach of the wheelchair dance group, the Hotwheels.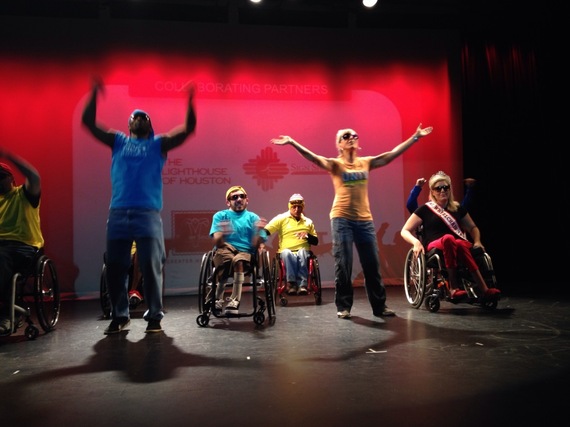 The performance was so joyous; those in the audience couldn't help but dance along in their seats. That included the evening's co-chairperson, Vikki Evans.
"The entire crowd was wowed and inspired," Evans said. "They got everyone moving along with them."
Accompanying the dancing was Houston based rapper Rocko Narvias, who wrote an original rap song for the show. Some of the lyrics gave food for thought on how we view others who are challenged in some way: "We were all born from a mother, born from a father/into a world of possibilities, a blessing in disguise/ skies the limit to infinity, it's a decision in our minds/ something special we will find- that love is really blind/no judgment in my heart."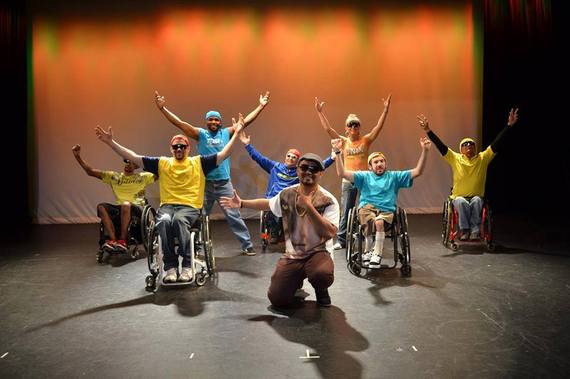 Afterwards a film, Musical Chairs, was shown, highlighting the artistry of ballroom wheelchair dancing.
Events such as these remind us to focus on abilities rather than seeing limitations. What an eye-opening experience that was for all.
Photos courtesy of Meredith Segal and Sara Speer Selber
Related
Popular in the Community