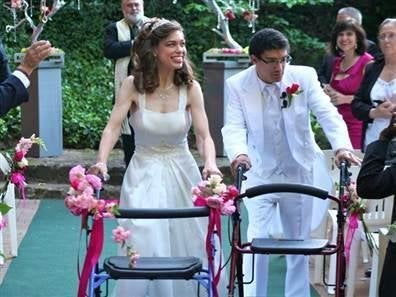 Defying the odds, Nicole Brobeck and Curtis Braxton have found their happily-ever-after. Last week, the disabled couple from California enjoyed a fairy-tale wedding thanks to the generosity of strangers, TODAY reports.
According to their wedding website, Brobeck and Braxton met in 2007 as participants in a living skills program for disabled adults. Brobeck, 28, who has cerebral palsy, said she found Braxton both sweet and funny.
Before long, a friendship developed and they began spending hours talking on the phone.
Braxton, 33, has hydrocephalus and a seizure disorder. Both he and Brobeck have mild cognitive impairments and neither can walk unaided.
But nothing could prevent their love from blossoming.
"Mom said that once I got my first kiss from Curtis that we never stopped kissing. So for 5 years now, he has been my best friend, my love and soon to be husband," Brobeck wrote on the couple's wedding website before the big day.
Braxton proposed last Valentine's Day. For Brobeck, it was a dream come true.
"Ever since I was a kid, I always kind of wanted someone to come and take me away to his kingdom, probably to escape all of the reality and heartbreak I was going through day after day," Brobeck told TODAY.
"I liked the fact that when he looked at me, he didn't see my disability first and vice versa," said Brobeck of her new husband.
The couple tied the knot this month, thanks in large part to an outpouring of generosity from strangers. Vendors donated thousands of dollars worth of fresh flowers, photography services, table linens, a wedding cake, a honeymoon hotel stay and more after being moved by the couple's story.
"Our feeling is that those kids deserve what they're getting," said flower broker Jon Gomez, who played a central role in organizing donations. "I kind of fell in love with this little girl…She calls me her fairy godfather."
Brobeck's mother, Cheryl Young, who shares a home with the couple in Concord, Calif., said the wedding was a "beautiful and magical" affair -- a testament to the love her daughter has found.
"Love is exactly what it's always been and it's there for anyone whose heart is open," Young told TODAY. "There is no disabled love. There is only true love. And they have it."
The Braxtons are one of several newlywed couples this year who have shown that love can break all boundaries.
In February, The Huffington Post reported that Dana Johnson, a 100-year-old woman, married her 87-year-old sweetheart. Also that month, Larry Bushnell and Columba Rosaly tied the knot despite a daunting language barrier that initially required them to communicate using an online translation service.
To read more about Nicole Brobeck and Curtis Braxton's wedding, visit the couple's wedding website here.
Related
Popular in the Community