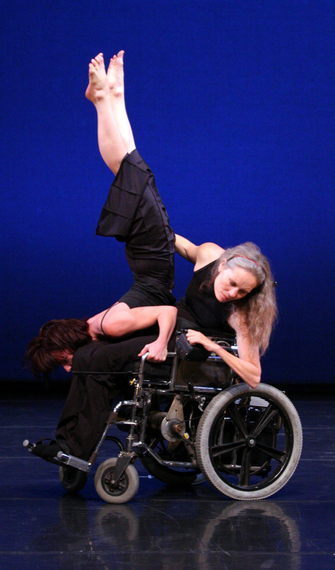 AXIS Dance Company's Judith Smith and Sonsheree Giles. Photo by Trib LaPrad
"We count, we dance, we love, we make love, we are human!" So proclaims Fabled Asp -- which stands for Fabulous/Activist Bay area LEsbians with Disabilities: A Storytelling Project. Fabled Asp is a multimedia online archive that documents forty years of activist history and creativity. Disabled lesbian activism is a radical assertion of self in the face of societal stigma and marginalization. The project illuminates the myriad ways disabled lesbians have been moving against invisibility through civil rights actions, theater, dance, sports, and visual arts.
Since the founding of Fabled Asp in 2010, they've been recording oral histories that capture these rarely-heard stories. This community collaboration has so far collected over 80 stories about disabled lesbian history and culture, using audio-booth dialogues in collaboration with StoryCorps, video documentaries, art and film pieces, and digital stories.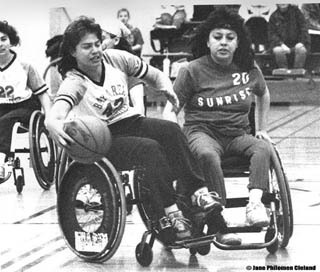 Over the past four decades, disabled lesbians of the San Francisco Bay Area have claimed their worth and their beauty in a culture that rarely showcases their images. The project illustrates the richness of disabled lesbian artistic expression, featuring physicality, performance, and visual art. There's the wheelchair basketball teams the Meteorites and East Bay Pirates, the theater groups Wry Crips and Fat Lip Readers Theater, AXIS Dance troupe whose disabled and non-disabled members move together, and an art and mixed media project The Lineage Project. A memorial quilt honors twelve disabled lesbians who were poets, singers, artists, politicians, and activists.
The political history includes the ways disabled lesbians participated in the national fight to implement federal legislation on disability rights and access. In describing that history, Fabled Asp declares, "We stepped and rolled out of the shadows to demand and design changes in attitudes, laws and physical access." In 1977, they were among those who protested for enforcement of Section 504 of the Federal Rehabilitation Act by occupying the San Francisco federal building for 28 days. They sent representatives to Washington D.C. to testify at a time when people traveling in wheelchairs had to be loaded on planes via cargo equipment. Beginning in the 1980s, lesbian activists created a groundbreaking special needs model for San Francisco's Gay Pride Parade, including sign language interpreters, access lanes, and audience spaces designed for people with special needs.
This is a movement based in visibility, self-love, and community solidarity. Wry Crips theater proclaims: "We gave the world and each other a new and expanded appreciation for the physical power and grace of our bodies, the verbal wit, intelligence, and emotional range of our political analysis."
You can explore the Fabled Asp website with its rich collage of video, audio, text, and photographs. They also have a DVD that gives further in-depth access to the project's archives of stories and art.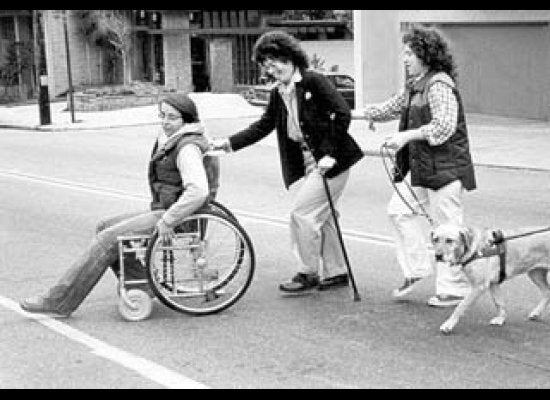 Disabled Lesbian Activism and Art: SF Bay Area
Support HuffPost
Every Voice Matters
Popular in the Community