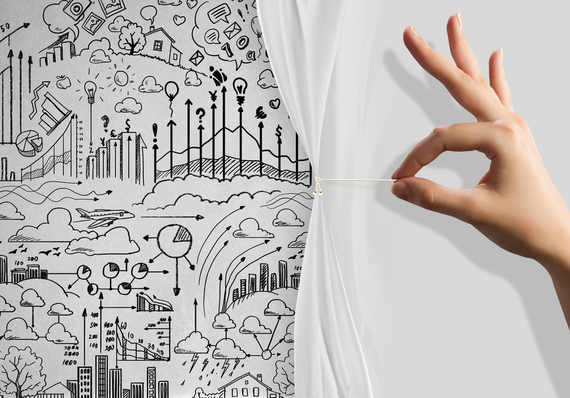 As a young child, The Little Prince was one of my favorite books. My father worked for the United Nations World Food Programme so we moved a lot--from Tanzania, to England, to Rome, to Ethiopia, to Uganda, and on. Like the book's narrator and the eponymous Prince, I was perpetually an outsider in a new land. It was a bewildering state of being, but also one that was full of curiosity and wonder because I was so often seeing things for the first time. Having too many preconceived notions could get me in trouble, like the time I took home a jar full of mosquito maggots I found in a thick green puddle in Addis Ababa because I thought they would turn into frogs like the tadpoles I found in a pond in Surrey. Familiarity breeds, if not contempt, then at least conjecture.
These days, I keep, taped to my desk a photocopied illustration from The Little Prince that looks like a hat, but that is actually, the narrator tells us, a boa constrictor digesting an elephant. It reminds me that, in order to truly see things for what they are, in all of their beauty and ugliness, we must look closer; suspend assumptions; ask better questions. This, I believe, is a lesson that all of us working to end extreme poverty, fight inequality and injustice, and fix climate change must particularly take to heart. And, seeing and understanding the world as it is isn't good enough; not when income and wealth inequality are growing; the earth's vital signs are trending towards emergency levels; and too many people remain disconnected from economic opportunity. We have to develop the creativity and the guts to make meaningful change. Yet, frequently, we spend more energy on admiring problems--writing verbose papers about impending doom and debating untested theories about the causes of disaster--than on fixing them. And, we announce aspirations as though they are news. But, aspirations are not news. Results are news. Which brings me to a quote that is often, though questionably, attributed to The Little Prince's author Antoine de Saint-Exupéry: "A goal without a plan is just a wish."
Last year, more than 190 world leaders committed to 17 Sustainable Development Goals (SDGs) aimed at ensuring the health, safety and future of the planet for everyone on it. These goals had the potential of being more than mere wishes because they were built on the promising successes of the Millennium Development Goals that cut extreme poverty in half. And, they provided clear targets for countries to adopt and adapt to their own priorities. But, the first SDGs report card reveals that the benefits of development are not showing signs of being equally shared by all. One of the biggest challenges for addressing this is scant access to disaggregated data addressing the particular circumstances and needs of vulnerable groups, such as children, youth, people with disabilities, people living with HIV, older people, indigenous people, refugees, and ethnic minorities. Without this data, we are not seeing the whole picture. We might be seeing a hat instead of a boa constrictor digesting an elephant. And this means that there is no way of knowing that our interventions are not leaving the most vulnerable people even further behind. We can only make assumptions about what will work. Disaggregated data is the foundation for equity.
I have heard firsthand all of the reasons why communities, cities, and countries avoid disaggregating data and publishing it: It makes them look bad, it makes the disparities seem intractable, it's just too hard. There is truth to all of these assertions. At Living Cities, we have wrestled with them too. For example, despite the fact that we are an organization working to connect low-income people in American cities to economic opportunity, for much of our history we had a race-neutral mission statement and approach. We didn't name the reality that the majority of low-income people in the United States are people of color. And we certainly didn't ask the questions that needed asking in order to close racial opportunity gaps. This is not a failure that is unique to us. It is one that is shared by many in the social-change sector. In fact, it is the status quo. But, that must change. It can change. Now, in the United States, Black Lives Matter has articulated a vision and agenda for economic justice that is rooted in the experiences of Black communities, but that 'recognizes a shared struggle with all oppressed people.' The Government Alliance on Race and Equity supports jurisdictions across the country to eliminate racial inequity, including by being more data-driven. And, PolicyLink and the Center for Health Equity and Place are working to create the economic, social, and physical characteristics needed for healthy communities with a focus on the unique needs of low-income communities and communities of color. All of these efforts have disaggregated data at their core. Beyond what we are seeing in the US, there are many exciting examples of countries improving their data capacity, from Indonesia to Rwanda to Mexico. Living Cities is inspired by all of these efforts and we are undergoing an organizational change process that will apply a racial equity and inclusion lens to all of our programs, policies, and investments as well as working with partners to to make publicly disaggregating data course-of-business for us. When I speak to others who are doing this kind of work, they are quick to say how hard it is, but they also can't imagine going back. The promise of lasting impact is too great. They are already seeing promising results. Now, imagine what would happen if all of the world's leaders committed to fast-tracking and growing this emergent data movement into a revolution around the globe.
Through embracing the SDG's and taking them seriously, world leaders can do something transformational. The adults in The Little Prince have lost their desire and ability to be attentive, engaged, and curious about the world. They repeat actions passively, mechanically. We must all, as global citizens, expect more from our leaders. Let's call on them to see the world anew, to face it as it is and to dare to imagine it as it could be. Let's call on them to work harder to get the data that is required to achieve the vision of the SDGs. Join the movement here.
This post is part of a series produced by The Huffington Post to mark the occasion of the one-year anniversary of the adoption of the Sustainable Development Goals (SDGs, or, officially, "Transforming Our World: the 2030 Agenda for Sustainable Development"). The SDGs represent an historic agreement -- a wide-ranging roadmap to sustainability covering 17 goals and 169 targets -- but stakeholders must also be held accountable for their commitments. To see all the posts in the series, visit here.
Related
Popular in the Community