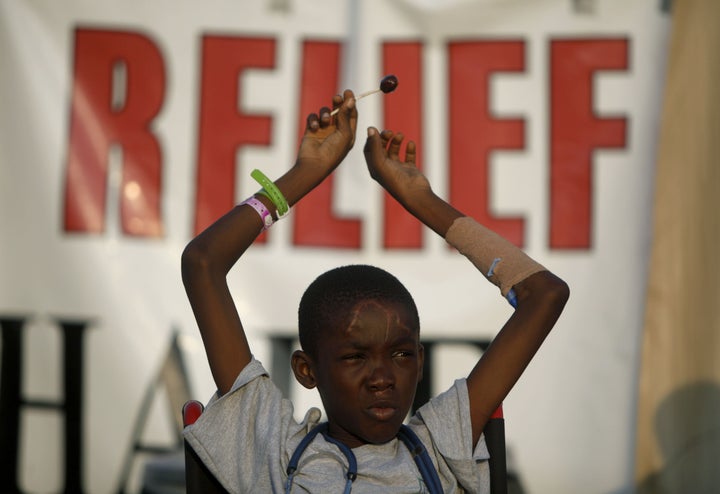 When a 7.0 magnitude earthquake ravaged Haiti six months ago, it shook more than the island nation to its core. In the quake's aftermath, survivors and concerned citizens used online and mobile technologies in unprecedented ways to support a relief effort. The uptake of technology innovation as part of the Haiti earthquake response also exposed shifting fault lines in the terrain of information-sharing in humanitarian emergencies.
The technologies that came to the fore in Haiti are not new. They include everyday technologies -- mobile phones, online mapping tools, GPS, and social networking. What is new is their use in the humanitarian context at the scale seen in the global response to Haiti's catastrophic quake.
The increasing use of cell phones is changing both how information is shared, and who is sharing it. Take, for example, funds raised from individuals donating to the Haiti relief effort. Donations via mobile phones are growing rapidly and account for an increasing share of total giving. Americans donated more than $32 million to the American Red Cross Haiti relief effort via text message, an exponential increase over the $190,000 contributed by text message in response to the American Red Cross' 2008 appeal after hurricanes Gustav and Ike, both of which hit Haiti. Outside of the U.S., Vodafone's Red Alert mobile giving campaign raised more than €5.2 million ($8 million) for Haiti relief.
Yet the humanitarian technology revolution in the Haiti earthquake response went far beyond fundraising. "Crowd-sourcing" technologies enabled concerned citizens and survivors of the earthquake alike to become important sources of information. They posted details about missing persons via Google's PeopleFinder, uploaded information about the location and needs of survivors, some still trapped in rubble, via the information clearinghouse Ushahidi, and helped map the Haitian capital through the Sahana Foundation's OpenStreetMap project, to name a few.
Innovative services like these can be an important extension of traditional communications services that play a critical role in disaster recovery. The UN World Food Program, which provides satellite communications systems in emergencies that enable relief groups to coordinate the delivery of supplies, is building a new platform to integrate disparate sources of data in emergencies. Similarly, the new UN Global Pulse program is leveraging emerging technologies to increase access to actionable information that policymakers can use to help protect vulnerable populations.
As these programs demonstrate, citizen-driven communications in humanitarian relief need not be at odds with the traditional purveyors of information in emergencies. Disaster relief 2.0 technologies can supplement the efforts of the established humanitarian relief players. Conversely, grassroots groups can benefit from the institutional knowledge and quality control that UN, government and larger non-profit groups bring to bear.
Steps in the direction of this increased information-sharing are evident. Last month, the Thomson Reuters Foundation hosted an 'Information As Aid' roundtable that gathered a number of humanitarian technology players together with OCHA, the UN agency responsible for coordinating humanitarian assistance. OCHA has highlighted the importance of taking the lessons learned from the use of social networking technologies in Haiti, and making them systemic and scalable. Similarly, the U.S. State Department is actively championing the role new technologies can play as part of diplomacy and disaster assistance in Haiti and beyond.
The lessons in technology innovation from Haiti present an opportunity to reconsider how the world responds to a humanitarian crisis. To ensure that this revolution succeeds, the traditional aid providers and a new generation of grassroots technology and aid groups must work together.
Adele Waugaman manages the United Nations Foundation & Vodafone Foundation Technology Partnership, which recently published New Technologies in Emergencies: The Role of Information and Social Networks. Daniel B. Prieto is a Senior Associate at the Center for Strategic and International Studies (CSIS).
Popular in the Community