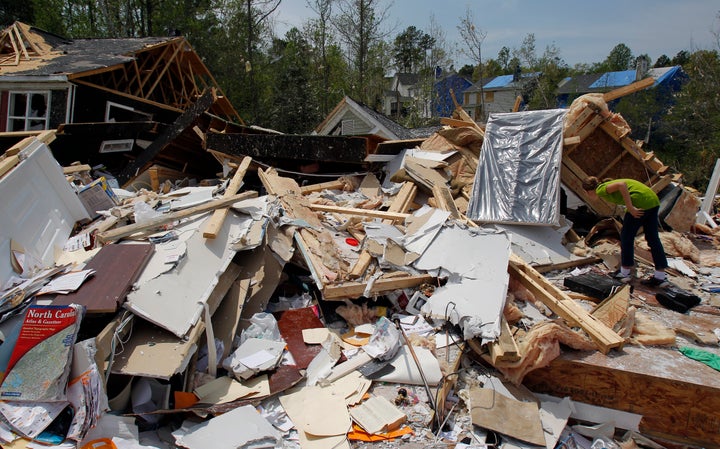 This year's record-breaking tornadoes, floods, droughts and wildfires will cost the country tens of billions of dollars in economic losses -- and these estimates are expected to climb as the Mississippi flooding and severe drought in Texas continue into the summer.
Economists disagree about the precise figures -- with the estimates varying by billions -- but most agree that $10-15 billion in losses are conservative calculations. Severe weather in April alone -- the month when record-breaking tornadoes tore through much of the Southeast and killed more than 300 people -- cost the country $12 billion in economic losses, according to Steven Bowen, a meteorologist with the Impact Forecasting team of Aon Benfield, one of the world's largest insurance brokers.
The cost estimates for the flooding in Louisiana and Mississippi range from $3-9 billion, and the ongoing Texas drought, which began in November and has caused more than 10,000 wildfires across the state, has so far cost between $1.5 billion and $3 billion in crop and cattle losses.
As the flooding and drought continue, government agencies say that it's impossible to predict the long-term economic impact of the losses, which include thousands of homes and buildings destroyed by the tornadoes, casinos and ports along the Mississippi temporarily closed, millions of acres of grazing land scorched by the fires and 1 percent of the country's cropland currently submerged in water.
"It's too early to say what effect this [the flooding] would have on the national economy," the Department of Agriculture stated in a report on May 11. "Regardless, it probably will not be extensive given the estimated percentage of land affected."
But even as the long-term effect remains unknown, the short-term impact is clear: Individuals and small businesses are absorbing the bulk of these losses, as states, government agencies and insurance companies help foot nature's bill.
April's tornadoes are expected to wipe thousands of mom-and-pop shops off the map. This region already had a high rate of small business failure, and before April's disasters between 6,000 and 8,000 small businesses in Alabama, Tennessee, Mississippi and Georgia were expected to go under within the year, according to a report by Dun & Bradstreet, a research company that tracks small businesses. After the tornadoes, the number jumped to at least 10,000 shops.
"Small businesses are definitely going to bear the brunt of this," Byron Vielehr, President of Global Risk and Analytics division at Dun & Bradstreet told HuffPost in a telephone interview.
The businesses won't fail immediately, said Vielehr, but when they do it could produce a spike in unemployment and a loss of about a billion dollars in sales, just from these tornado-stricken small businesses alone.
The situation of small farmers and ranchers in Texas is similar. After enduring the driest seven months on record, farmers and ranchers are being forced to abandon a cycle of wheat crop and sell off herds.
Texas produces 20 percent of the country's beef, and cattle ranchers are being slammed by the combination of scorched land unable to support grazing, and high feed and hay prices, both of which were driven up by the drought and the fires.
"For a rancher, at this point he's going to be losing about 30 percent of the income he would have averaged in the past," said Bill Hymen, executive director of the Independent Cattlemen's Association, the second-largest coalition of ranchers in the state. "And that's not just this year but going forward because of dwindling seed stock," he added, referring to the process of fewer cows leading to the birth of fewer calves in the future.
As is the case in all industries, when a rancher has less pocket money, that creates a ripple effect in the local economy -- with Hymen noting that ranchers, who know it's likely that the drought will continue through the summer, are buying less and will ultimately pay less in taxes next year.
Along the Mississippi and Atchafalaya rivers, a portion of small businesses and farms will likely follow the same course as the businesses that fell in the tornadoes path. Closed ports and casinos, too, are losing millions of dollars each day in lost river traffic, trade and gambling.
Closing the Mississippi river itself causes even more economic damage. On Tuesday, the Coast Guard closed a 15-mile stretch of the Mississippi upriver of New Orleans by Natchez Port, a decision which could lead to losses of hundreds of millions of dollars each day, said Eric M. Holthaus, researcher at the International Research Institute for Climate and Society. The Coast Guard said that this closure is expected to last only a few days, but Holthaus also imagines a nightmare scenario in which the Port of New Orleans -- the seat of our country's agricultural exports and a handful of oil refineries -- has to be closed.
"I would be talking about trillions of dollars at that point," he said.
As long as the Port of New Orleans stays open, which it likely will, the Federal Emergency Management Agency, commonly known as FEMA, said that right now there is plenty of money in the $2 billion emergency fund to aid the states hit hardest by the natural disasters.
FEMA has already approved about $38 million in future storm and tornado rebuilding assistance, including $9.4 million to Mississippi, $80 million to Alabama, $6.6 million to Georgia, $5.9 million for Tennessee and $16 million for Arkansas. For the flooding, FEMA has so far approved more than $11 million, including $1.4 million for Tennessee, $9 million for Missouri and $785,000 for Mississippi. As the flooding continues, the FEMA contribution is expected to rise, and these figures don't include other public assistance that the regions will receive, either from the federal or state level. Insurance companies, too, are paying out, and April alone produced hundreds of thousands of insurance claims.
Still, insurance companies and federal agencies aren't feeling the hit of $10-15 billion in losses as acutely as individuals, towns and small businesses.
"If you're a small town in western Texas that's lost anything, that town is going to suffer regardless of how much insurance money they get in the end. Less money in the community will mean that all unrelated jobs will take a hit," said Holthaus, who said that the same holds true for communities affected by the tornadoes or the floods.
"During a recession is a bad time for a disaster to hit," he said.

REAL LIFE. REAL NEWS. REAL VOICES.
Help us tell more of the stories that matter from voices that too often remain unheard.