Article and Photographs by Adam Straughn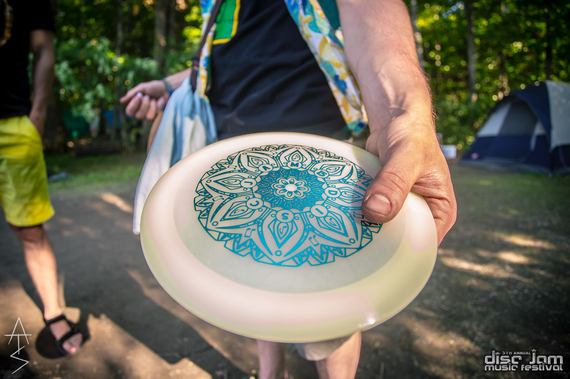 Another cycle around the sun, and here we are once again on the verge of festival season! In the United States, the past decade has seen a meteoric rise within the music festival scene, resulting in an over-saturation that makes it more challenging for some events to stand out from the crowd. To stay afloat amidst the flood of new events, festivals must offer something completely unique -- something that keeps bringing audiences back each and every year. A prime example of what exactly that means comes in the form of Disc Jam Music Festival, which blends the traditional festival with a competitive disc golf tournament in partnership with Innova Disc Golf, one of the leading brands in a rapidly growing sport. While many festivals charge upwards of $400 for a standard musical experience, Disc Jam Music Festival lets attendees listen to 4 days & nights of music, campout on the grounds, and play disc golf all weekend recreationally -- all for the low price of $200. There's even enter a tournament to win cash and prizes!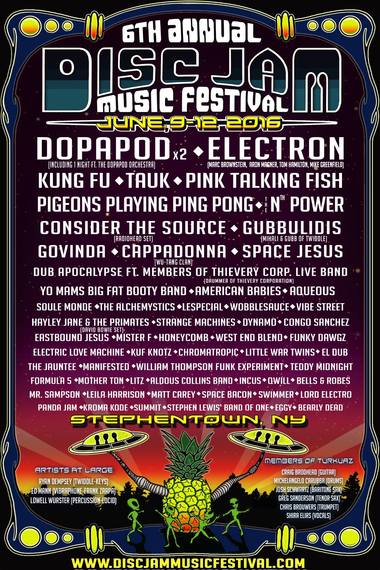 For those who have never played disc golf, it's a lot like regular golf except that in place of hitting a small ball into a hole, you hurl a variety of weighted discs into a series of baskets, usually placed throughout a forest. Instead of fairways, greens, and sand pits to avoid, you have walking trails to navigate through with trees, and shrubs to steer clear of when you are tossing your disc. For some, disc golf is merely a recreational activity to enjoy nature with the company of friends. But for those with a bit more of an edge, tournaments offer a competitive environment; Disc Jam's tournament being one of them! After playing a few rounds myself at last year's event, it was easy to understand how it can be a game for all skill levels. I'll admit I'm not the best player, but I still had a great time enjoying the sport. You can learn more about disc golf in general, where to find a course, and even how to set up a course yourself at InnovaDisc.com. I definitely encourage all to give it a try at least once, and if you are interested in joining one of the tournaments you can here.
Perhaps the best part about the disc golf course at Disc Jam Music Festival, is that you can hear the music from the main-stage as you play and the soundtrack this year is surely one you don't want to miss. Offering over 90 acts from funk and jamtronica to bass heavy electronic music, the event spans a wide array of genres assuring that there is a little bit of something for all music fans.
In the Northeast, Disc Jam has been a staple to the scene for over half a decade and for many it kicks off the festival season. The event itself brings together a family of not just concert-goers, but musicians and staff members alike. Many of the artists on the bill for Disc Jam are regulars that come back to play year in and year out. Artists like Dopapod and Wobblesauce for example, have played every single year since its inception in 2011 while a cast of veteran acts (including Kung Fu, Electron, and Pink Talking Fish), have played the festival for consecutive years. A new-comer to what many call the "Disc Jam Fam", is the legendary Cappadonna, an original member of the Wu-tang Clan who will be performing with a live band made up of members or Turkuaz, The Nth Power and Honeycomb (a beatboxer from Western Massachusetts who has collaborated with many acts including Twiddle, Space Jesus).
Behind the success of Disc Jam is Tony Scavone, a native of Worcester, MA who started event promotion around 2002, and has always been a well-known face in the New England music scene. After he started booking events for his friends at venues like Tammany Hall in Worcester, Tony quickly started taking on more and more events, eventually starting his own festival that recently moved to its new location in Stephentown, NY. Aside from holding a few Disc Jam affiliated events each year, Tony now books events at Electric Haze, also in the Worcester area.

I managed to get Tony to sit down for a few minutes despite his busy schedule and asked him about how Disc Jam came to be, how it has grown, and what he has in store for the Disc Jam Family this year!
What inspired you to fuse Disc Golf with Music? Why did you think this would be successful?
I wanted Disc Jam to stand out from the rest. It seems like every week another festival pops up with an amazing lineup of music and I knew I it would be difficult to compete with all of them, so I had to set myself apart from the pack. At the time, I had been playing a lot of Disc golf with friends, so the idea actually came pretty naturally. Meanwhile, trying to convince these friends to come to festivals became more and more difficult as their weekends were mainly reserved for playing disc golf and entering into tournaments. I had to ask myself "how could I get these guys to come to my shows?" I decided I'd throw a disc golf tournament and just combine it with a show in 2011 and thus, Disc Jam was born!
What is it about Disc golf that you love?
Disc golf is one of the fastest growing outdoor activities! It combines elements of trail hiking with individual athletics that a very wide range of people can participate in. Some players are so good they turn professional and make their careers out of the sport. Many others enjoy the time spent in nature and with friends. If you've never played, try it with a group of four and I promise that you'll never laugh so much while also being utterly frustrated yet self motivated to become "better" all within the first 9 holes! But be warned, disc golf is very, very addictive!!
How have you viewed the growth of your event?
The growth of the festival has been steady. We have outgrown every venue we've been on for the past four years until we finally found what we hope will be our final home in Stephentown, New York. We expect to see the same increase as we did last year, which was about a 20% jump from the previous years total. If we get amazing weather that could potentially double. We hope to keep bringing the same quality experience in the coming years, which consists of staying true to our roots and staying innovative at every turn.
What else makes Disc Jam unique in this music scene?
I think the most unique thing of course is that we combine both Disc Golf and music and meld it into one spectacular weekend for everyone. We also bring in the Disc Jam artist collective and Flow Tribe which brings a really unique vibe to our festival that not many others can bring. All of this, combined with a family friendly environment, creates an atmosphere that makes for a great event all around.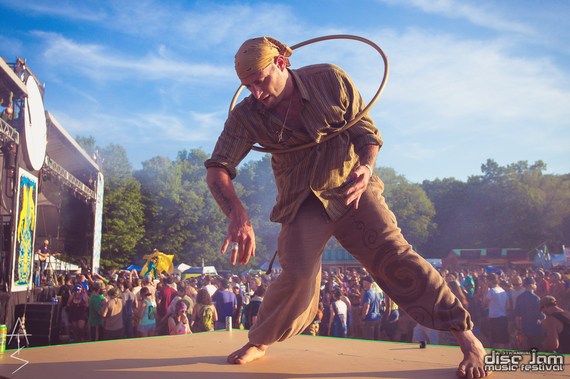 Who are some Disc Jam veterans, which veterans are back this year, who are some of the new-comers?
We have Dopapod and Wobblesauce back this year. They have both played all 6 Disc Jams. Kung-Fu, Dub Apocalypse, Aqueous and Lespecial are all in the 4 to 5 year range. We have upwards of twenty bands that have played three times including the Nth Power which will be here for their third consecutive year. We also have Electron, Soule Monde and Pink Talking Fish returning for their second year in a row as well as many others. We are excited to bring on Pigeons Playing Ping Pong, Govinda, Yo Mama's Big Fat booty band and TAUK for the first time. We also have a very special set with Cappadonna of Wu-Tang featuring a live band backing him up that consists of members of Turkuaz, The Nth Power and Beat-box extraordinaire Honeycomb!
What are you personally most excited for?
The reunion of friends and festival family that make the trek annually. experiencing all the great things that will take place with all of these people is what makes this festival so awesome. Also, I look forward to all the collaborations and sit-ins that take place between both artists and musicians all weekend. There is potential for some very cool things to happen and we have some surprises in store for the Disc Jam Family this year!
Check out the recap video from last year's Disc Jam Music Festival!
Video by Collective Visions LLC.
Popular in the Community