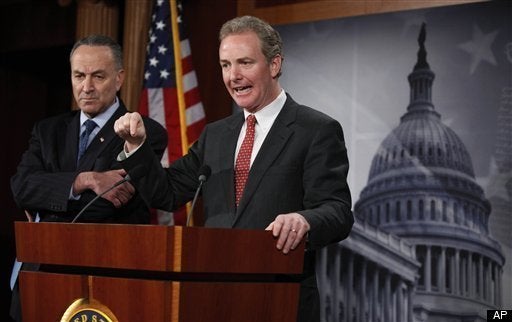 UPDATE: The House of Representatives passed major reforms to campaign finance law on Thursday following a heated debate over whether an exemption granted for the National Rifle Association had sullied the final product.
The final vote was 219 to 206 in favor of the DISCLOSE Act, with only two Republicans -- Rep. Mike Castle (R-Del.) and Joseph Cao (R-La.) -- crossing party lines. The bill would provide tough new disclosure rules for groups that invest in the election process. In addition to forcing all 501c4 groups to stand by the ads they sponsor during elections (with the CEO of the organization literally forced to appear in the spot), the law would also require groups that met certain criteria to reveal who was funding their election activity.
The latter provision sparked intense pushback from a host of business groups, led by the U.S. Chamber of Commerce. House Democratic leadership had granted an exemption from that particular element of disclosure for the NRA. But after fierce objection to the carve out, the bill's author, Rep. Chris Van Hollen (D-Md.), expanded the loophole to include other organizations as well.
The legislation was pulled from consideration late last week when passage became uncertain. House leadership made impassioned pleas to their colleagues on Thursday morning (see below) before heading to the floor this afternoon to finally vote.
The bill will now head to the Senate where Sen. Chuck Schumer (D-N.Y.) will try to shepherd it through that chamber. He will need to recruit at least one Republican co-sponsor for it to defeat a filibuster.
Upon passage, the following statements were offered:
President Obama: "I congratulate the House of Representatives on today's passage of the DISCLOSE Act, a critical piece of legislation to control the flood of special interest money into our elections... The House bill is not perfect - I would have preferred that it include no exemptions. But it mandates unprecedented transparency in campaign spending, and it ensures that corporations who spend money on American elections are accountable first and foremost to the American people. I urge the Senate to act swiftly on its version of the bill, and I look forward to working with both chambers on prompt enactment of final legislation."
Rep. Chris Van Hollen: "Today - in the face of opposition of hundreds of special interests - the House of Representatives has passed landmark legislation that will provide unprecedented disclosure and transparency in America's elections... I applaud my colleagues for supporting this bill, which addresses the very serious threats to our democracy created by the Supreme Court's decision in Citizens United, and I and look forward to the Senate taking up the legislation in short order."
U.S. Chamber of Commerce: "The Democratic majority in the House jammed through a piece of legislation that clearly violates the Constitution, as well as basic principles of fairness and equity. The Supreme Court calls it 'viewpoint discrimination,' and every first-year law student knows that it's illegal."
Republican National Committee (RNC) Chairman Michael Steele: "The DISCLOSE Act is just another round of political gamesmanship designed to expand the influence of big labor and liberal special interests while discouraging other groups from engaging in political debate. It is regrettable that Democrats are more focused on blatantly stacking the electoral deck ahead of the midterms than they are about creating jobs and reducing the debt."
DNC Chairman Tim Kaine: "The Supreme Court's Citizens United decision reversed decades of campaign finance progress. It handed incredible power to special interests and their lobbyists. The Court's ruling would give oil companies, insurance companies, Wall Street firms, and other special interests the opportunity to influence political campaigns without requiring that corporations disclose or take responsibility for their political speech. Today, Congress took a big step toward making sure the voices of American voters are heard and restoring transparency to the political process."
In a meeting before their colleagues on Thursday morning, House Democratic leadership raised the specter of former Bush confidant Karl Rove upending their reelection hopes as a catalyst for passing a new round of campaign finance reform.
Speaking before the House Democratic Caucus, House Speaker Nancy Pelosi (D-Cali.) Majority Whip James Clyburn (D-S.C.), DCCC Chair Chris Van Hollen (D-Md.) and Rep. Earl Pomeroy (D-N.D.) each spoke before their colleagues about the need to pass the DISCLOSE Act, the legislation designed to fill in the gaps in election disclosure laws created by the Supreme Court's Citizens United decision.
The most impassioned pitch, according to multiple sources in the room, came from Van Hollen, the author of the bill. The Maryland Democrat urged his colleagues to not let criticism of parts of the final product -- mainly the exemption carved out for the National Rifle Association -- deter them from supporting a once-in-a-decade chance at reform.
Driving the point closer to home, the congressman hinted that many in the room would find themselves in electoral trouble this fall should the bill not pass.
"They talked about the flood of money that Karl Rove, his group [American Action Network] and special interest allies are hoping to amass in order to beat Democrats this fall," said one Democratic aide in attendance.
"I don't think I've seen him that impassioned," said another.
Clyburn, who has been lobbying members on the issue for days, followed Van Hollen and also brought up the possibility of Rove meddling in different races across the country. Pomeroy spoke about ads running without disclosure in North Dakota. Pelosi, meanwhile, noted a massive ad campaign run by PG+E in California that failed in part because the state disclosure laws are stringent enough that the public was aware that the energy company was behind the effort.
The tactics used by leadership to push DISCLOSE over the final hurdle were based as much on political fear as philosophical persuasion. But they seemed to have a rallying effect. Van Hollen, who has been on the phone with many colleagues (including a Tuesday night tête-à-tête with his increasingly skeptical Republican co-sponsor, Delaware Representative Mike Castle), received a standing ovation for his speech.
And minutes after the caucus meeting ended, a leading member of the Congressional Black Caucus (which has been noncommittal on the bill) penned a "Dear Colleague" letter offering her support and urging others to do the same.
"The DISCLOSE Act ensures that shadowy special interests and sham organizations are not able to hide their funders, and is critical if we ever hope to keep our constituents informed on who is trying to influence their vote," wrote Rep. Shiela Jackson Lee (D-Tex). "This bill breaks the "locks and chains" of 'big money" in our democratic process of elections. I would submit this is the time to move forward."
A vote is expected on the bill early Thursday afternoons. Aides predict it will pass, noting that leadership doesn't tend to consider legislation for which they don't have majority support.

Calling all HuffPost superfans!
Sign up for membership to become a founding member and help shape HuffPost's next chapter