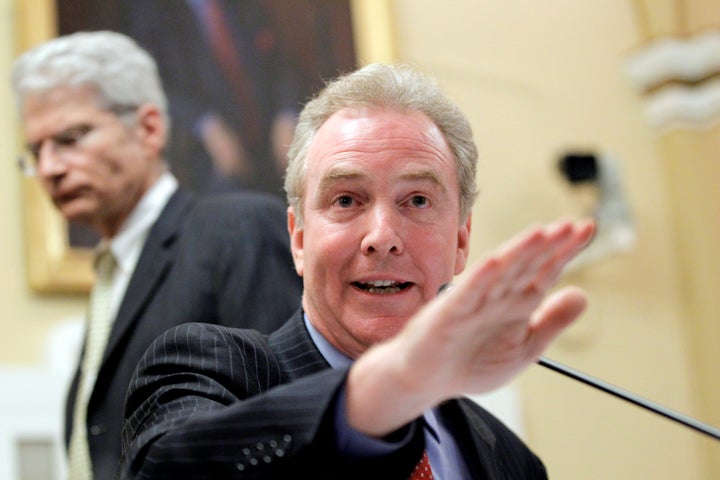 WASHINGTON -- Amid growing concern over the growing influence of super PACs, congressional Democrats are set to introduce new legislation designed to bring an increased level of transparency to campaign-related expenditures.
Rep. Chris Van Hollen (D-Md.) will introduce in the coming weeks an updated version of the DISCLOSE Act, the legislation aimed at increasing transparency in election spending that failed to pass Congress, in September 2010, by a single Senate vote. Senate Democrats will introduce their own version of the legislation after the House moves first. The two bills are likely to differ slightly in language, though those differences aren't immediately known.
"There is still work being done on a bill in the Senate," said one Senate Democratic aide. "It will be high on our priority list," added another.
The bill has been redesigned to account for the rise of super PACs and to make more transparent what is widely regarded as a dangerous proliferation of largely anonymous spending during the 2012 election cycle. According to ProPublica, super PACs have so far spent nearly $20 million on campaign activities in the first four presidential primary states alone. That total does not take into account the money spent that super PACs neglected to report.
"As you know, I think the outside super PACs and others is so disgraceful that I'm ashamed of the United States Supreme Court in their decision on United," Sen. John McCain said Wednesday, in reference to the 2010 Citizens United decision that opened the door to unlimited spending by corporations in elections.
The new DISCLOSE Act, like the original version, would not attempt to challenge legal rulings and put actual curbs on such spending. But it would require timely disclosure by super PACs and 501(c)(4) organizations that spend money on campaign advertisements. It would require lobbyists to disclose their campaign expenditures to these groups. It would force corporations to disclose campaign expenditures to their shareholders. It would force super PACs to reveal their top five donors in each ad. And it would require that the heads of these groups literally "approve" an ad's message at the end of each one.
"We need to restore accountability in our elections," Van Hollen wrote in a Dear Colleague letter announcing his plans to introduce the legislation. "The American people have a right to know the source of the money that is being spent to influence the outcome of our elections. They should be told who is behind the millions of dollars in campaign ads and they should receive this information in a timely fashion."
Like the first version of the bill, the new version has exemptions. Organizations that meet certain criteria in terms of membership and the number of states in which they operate would not have to disclose their donors. This caveat was initially included to placate the National Rifle Association, which had pledged to whip votes against any measure that compelled it to reveal the source of its funding. Officials working on the updated version determined that the same language would be necessary to include in order to get any legislation passed.
But the DISCLOSE Act 2.0 does drop some language from the original version. According to Fred Wertheimer, president of Democracy 21 and a consultant on the bills, the new legislation will not include a provision that restricted government contractors and domestic subsidiaries of foreign companies from making independent expenditures.
The removal of the provision turns the bill into a less muscular attempt at campaign finance reform. But given that there are more Republicans in Congress now than there were when the first bill was put forth, some believed including those restrictions would likely doom the updated version's passage.
"This is a more powerful bill to oppose," said Wertheimer. "This is a clean disclosure bill that would apply across the board the same way to everyone ... This will be the major campaign finance legislative effort in 2012."
Whether that's good enough to pass is uncertain. While the leading Republican presidential candidates have sounded the alarm over the rise of super PACs, in addition to arguing for the need for timely disclosure, they have still benefited from the money the groups have spent in support of their campaigns. And the appetite does not necessarily exist to curb super PACs among those in Congress.
The initial DISCLOSE Act passed the House of Representatives by a 219 to 206 vote with only two Republican lawmakers offering support. Both of those lawmakers –- Reps. Mike Castle of Delaware and Joseph Cao of Louisiana -- are no longer in Congress. It ultimately failed to pass the Senate by a single vote, with all 59 Democrats backing the measure but no Republicans offering support.
Popular in the Community