 WASHINGTON -- A bill that would have forced unlimited secret campaign spending out into the open was blocked by Republican leaders because they see the "immediate financial advantage" that secret money is giving GOP candidates in the 2012 election, one of the bill's Democratic sponsors charged on Wednesday.
The vote against the Disclose Act represented a remarkable turnaround for Republicans, who have long supported disclosure as an alternative to campaign donation limits. In fact, 14 of the GOP senators who voted against debate on the bill this time around supported a nearly identical bill in 2000.
"A great number of our colleagues abandoned positions that they had held very clearly and very publicly for a long time," said Sen. Sheldon Whitehouse (D-R.I.), who was joined by Sen. Jeff Merkley (D-Ore.) at a press conference to announce next steps after Republican senators blocked debate on the bill Monday, and then again on Tuesday.
Both senators said they knew of several Republican colleagues who would have voted in favor of the disclosure bill were it not for enormous pressure applied by Senate Minority Leader Mitch McConnell.
"There is considerable difficulty within the GOP over the position that leader McConnell has obliged them to take," Whitehouse said. "I have been told by colleagues: 'Look, we know you're right, but give us the chance to try to work this out within our caucus.'"
Whitehouse said his GOP colleagues have described having told McConnell: "You're leading us off the cliff here. This is a crazy place for us to be, defending secret unlimited money. We're one scandal way from owning this mess."
Merkley described what he called "enormous discomfort by a number of my colleagues across the aisle."
"Democrats can call this bill whatever they want, but they can't conceal its true intent, which is to encourage their allies and discourage their critics from exercising their First Amendment right to speak their minds," McConnell said on the Senate floor on Monday.
McConnell has a point that one consequence of new disclosure laws might be to reduce donations, as huge corporations now donating considerable sums to political groups might stop if they had to make their spending public to shareholders and customers.
But to suggest that transparency inhibits free speech is an unusual argument to make, given the longstanding Republican and Democratic commitment to the principle that secrecy breeds corruption, and that transparency is the antidote. And while the Supreme Court's Citizen United decision shattered limits on corporate spending on political campaigns, it specifically asserted that there was no right to do so anonymously.
"When people say it's not about the money, it's about the money," said Whitehouse. "If you take a look at where the money is going -- the secret money -- it's going by a factor of many multiples to Republicans," he said.
"The immediate financial advantage of that in this election is, I think, the motivating force here."
Two former Republican senators, Chuck Hagel and Warren Rudman, made the traditional Republican argument in favor of disclosure in a New York Times op-ed on Monday. But they did not address why all their current colleagues oppose it. Neither was willing to be interviewed by The Huffington Post.
The Disclose Act would have required any independent group that spends more than $10,000 on campaign ads during an election cycle to file a report identifying any donors who gave $10,000 or more.
Whitehouse said he thinks some Republican senators may still come around. Likening the battle to the biblical battle of Jericho, he noted: "It wasn't on the first trip around that the walls came tumbling down."
Both Whitehouse and Merkley called attention to one aspect of the disclosure fight that hasn't gotten a lot of attention: The fact that some secret money may be coming from abroad.
As for next steps outside Congress, Merkley said, "We need to have a massive citizens' movement."
Merkley also called for increased corporate accountability and enforcement of IRS rules to prohibit political spending by groups with anonymous funders.
Whitehouse said that "the only logical thing to conclude" about entities that spend large amounts of money in secret to influence elections is that their motives are "not good for America" and "not good for the American people."
CORRECTION: A previous version of this article incorrectly referenced the "2010" election, which is obviously difficult to influence at this point.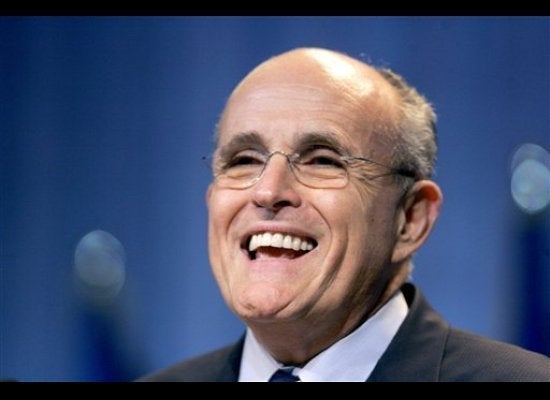 Out-Of-Touch Politicians
Popular in the Community