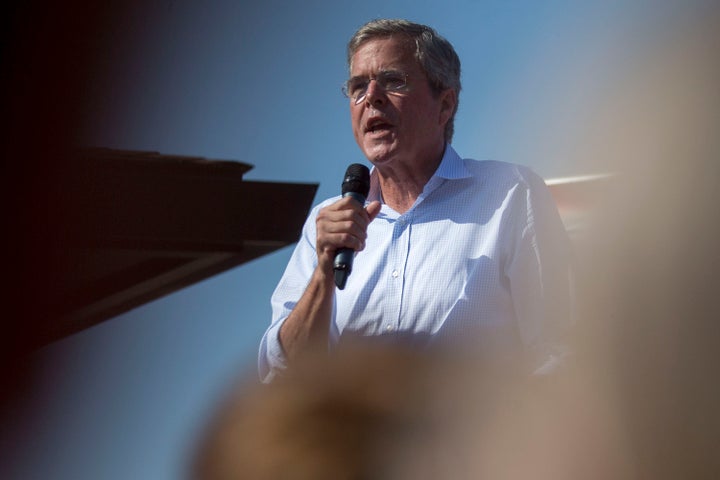 WASHINGTON -- Super PACs, the political action committees fueling the early presidential advertising wars, are supposed to transparently disclose where their money comes from. But sometimes, that's not what happens.
Take Tread Standard LLC's $150,000 contribution on June 17 to Right to Rise, the super PAC that has raised $103 million to support former Florida Gov. Jeb Bush's presidential bid. 
Tread Standard LLC is almost completely anonymous. Registered in Delaware on April 30, the company provided no mailing address to Right to Rise, though it was required to do so. Who's behind this group, anyway?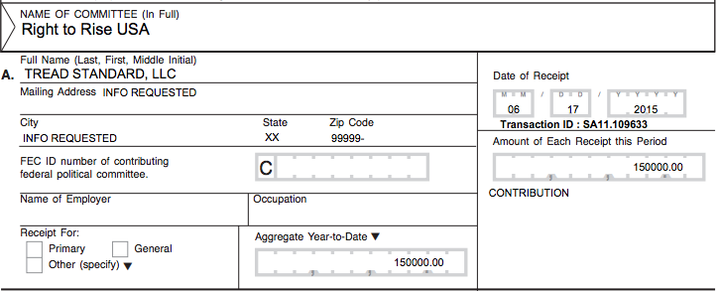 It wasn't supposed to be this way. The Supreme Court's controversial 2010 Citizens United decision paved the way for the now-ubiquitous super PACs, opening the door to unlimited corporate, union and individual contributions to election campaigns -- provided the donations are independent from candidates' own spending.
Writing for the majority, Justice Anthony Kennedy stated that "With the advent of the Internet, prompt disclosure of expenditures can provide shareholders and citizens with the information needed to hold corporations and elected officials accountable for their positions and supporters."
Yet just because super PACs must disclose their contributions to the Federal Election Commission doesn't mean it's possible to know who their donors are. Limited liability companies (LLCs), corporations, unions, nonprofit groups, and other non-human donors have already contributed tens of millions of dollars to super PACs.
Shedding Light On Super PAC Donors
An online search can sometimes trace super PAC donations back to a person or a known publicly traded or privately held corporation. But donors can still shroud their identities and keep the public in the dark by setting up an unidentifiable shell LLC.
Tread Standard LLC's donation is reminiscent of W Spann LLC's $1 million contribution to Restore Our Future, a pro-Mitt Romney super PAC. In that case, the media eventually figured out that former Bain Capital director Ed Conard created the anonymous shell company.
Tracing barely identifiable companies or nonprofits' contributions back to their true source can reveal some interesting connections. Right to Rise, for example, has also received $100,000 from a Phoenix, Arizona, company named DFX LLC. Unlike Tread Standard LLC, this company did disclose an address: 3200 E. Camelback Rd., Suite 295, Phoenix, AZ, 85018.
It turns out that DFX LLC shares its address with the Pivotal Group, a private equity and real estate investment firm headed by Republican Party donor Francis Najafi. So far this year, Najafi has given $2,700 to Bush's campaign and $100,000 to America's Liberty PAC, a super PAC supporting Sen. Rand Paul's (R-Ky.) presidential campaign. The Pivotal Group declined to comment when asked whether DFX LLC was connected to anyone working there. 
Jasper Reserves LLC, a company registered to the address of the West Virginia law firm Bailey & Glasser, also made a $1 million donation to Right to Rise. Bloomberg Politics reported that coal billionaire Chris Cline was behind the donation. The PAC also received $100,000 from Walker Investments LLC, a company controlled by James E. Walker III, head of the Fir Tree Partners hedge fund.
Meanwhile, Unintimidated PAC, which supports Wisconsin Gov. Scott Walker's presidential campaign, received $25,000 from a Boston business called New Media Investors SP, LLC -- a company that Jenzabar CEO Robert Maginn, the former head of the Massachusetts Republican Party, uses as an investment vehicle. Maginn has also personally donated $15,000 to Right to Rise and to a handful of Republican presidential candidates, including Bush, retired neurosurgeon Ben Carson and Cruz.
Similarly, Stand for Principle PAC, one of five super PACs supporting Sen. Ted Cruz's (R-Texas) presidential campaign, raised almost all of its money from V3 231 LLC, a New Jersey-based company that gave it $250,000. Public records show that the company is tied to the Williamsburg, Brooklyn-based wireless entrepreneur and developer Chaim "Ben" Nash. 
Nash, a member of Brooklyn's Hasidic Jewish community, previously ran a hotel property development company called V3 Hotels. That company worked to develop the property at 231 Duffield Street in Brooklyn that would later become Hotel Indigo. V3 231 LLC -- a combination of the development company's name and Hotel Indigo's street address -- was a V3 Hotels subsidiary that developed that particular hotel property. The New York Times first reported Nash's connection to the donation on Monday. 
The pro-Marco Rubio Conservative Solutions PAC received $150,000 from Collum's Administration & Maintenance LLC, a subsidiary of the family-owned South Carolina company Collum's Lumber. The PAC received an additional $200,000 from Travel Retail Group Holdings LLC. Guess who's behind that company? Benny Klepach, head of DFASS Group, the world's largest airline duty free travel store chain.
Using Nonprofits To Avoid Disclosure
Super PACS can also get around disclosure by receiving contributions from nonprofits, which do not legally have to disclose their donors. Six-figure donations from the nonprofits Fair Share, Inc. and Environment America almost entirely funded a super PAC called Fair Share Action, which in turn gave $1 million to Priorities USA Action, according to the Associated Press.  
The Huffington Post reported on Monday that the heads of the global investment firm Susquehanna International Group -- Jeffrey Yass, Arthur Dantchik and Joel Greenberg -- are behind a nonprofit called Green Orchard, which donated $100,000 to a super PAC that will likely support the re-election campaign of Sen. Pat Toomey (R-Pa.).
While it's possible to trace these contributions back to a human donor or a larger, more prominent company, nonprofits can also spend directly on elections, rather than contributing to super PACs.
REAL LIFE. REAL NEWS. REAL VOICES.
Help us tell more of the stories that matter from voices that too often remain unheard.