 "Disco deals with black, white, gay, straight. We are spinning basic black music, with some great White producers as well. Most of the spinners and promotion people are gay... Let's wake up, we can see the party, we can hear the music. We can enjoy each other having a good time. Join in on the fun, let yourself gooooo!" --1979 Newsletter for the Greater Pittsburgh Record Pool.
The 1970s in Pittsburgh are remembered with muscular pride as a decade when the National Football League and Major League Baseball were ruled by teams from the Steel City. When the city wasn't at work, it was gazing out at working class heroes like Jack Lambert and Willie Stargell who were sacking and slugging Three Rivers Stadium into ecstasy. But the hardworking people of Pittsburgh did a lot more than just sing and clap their hands to Sister Sledge's disco classic "We Are Family." When the lights went down, they got up and danced. And when they were dancing, there was a good chance that the man spinning records had the all-to-appropriate last name of Kicks. His first name was Terry.
Popular memory associates disco music with New York City and celebrity-drenched clubs like Studio 54 or underground spots like the Paradise Garage. While there might not have been puddles of celebrities soaking the city's dance floors in the '70s, Terry Kicks, along with DJs such as Gene Molnar, Lizz Jankowski, Rick Jankowski, Bruce Harr, Michael John, and Bob Shorthouse, among others, presided over a disco music scene that was every bit as electric as what was going on elsewhere. It wasn't just at Three Rivers Stadium that people chanted "We Are Family," it was also in the clusters of nightclubs glittering throughout the Mon Valley. Terry Kicks first learned the art of spinning from his father, George. During World War II, Kicks Sr. was stationed in the Philippines. Terry believes that when his father returned to the family's home in Braddock in 1946, "all he wanted to do was make people happy," because he had been deeply traumatized by the experience of war. Trading his military title for the name DJ Poge, Kicks Sr. began his rhythm therapy by spinning all over the city -- at VFWs, American Legions, church socials -- playing big band music and polkas, as well as records other white DJs wouldn't touch because of the color line: Tito Puente, Chubby Checker, Little Richard. Early on, his father taught Terry that, "Music doesn't have a color." Every Friday afternoon, George would go to the Braddock Record Store, pick up a stack of 45s at a quarter a piece, and use Terry and his brother Andy as guinea pigs. "He'd see if we'd jump to it," Terry remembers. "If we did, then he would play it that night." During the 1960s, it was the DJ who created dance music. In Keep on Dancing: My Life and the Paradise Garage, the "godfather of disco" Mel Cheren describes the pre-disco era, "There were no producers who specialized in creating music especially for people to dance to, no groups whose main claim to fame was their ability to get people on their feet... One of the most important jobs of the early DJs was to wade through the ocean of material being released each month, seeking out the most danceable songs." Terry's turn came on a Halloween night in 1969. As if the night wasn't scary enough, after 23 years as a DJ, Terry's father said that he'd had enough. Kicks Sr. was supposed to play a dance at West Mifflin High School, so he passed his collection of 45s, two RCA record changers, the switch box that connected them, several guitar amps, and the keys to his 65 Chevy Station Wagon, to Kicks Jr., who was then a freshman at Westinghouse Memorial High School. With understandably shaky hands, Terry played a mix of R&B, soul and rock for five hours for the packed gymnasium. Terry's first big gig during the pre-disco era was at the Zodiac in White Oak. The Zodiac was owned by Bob Mac, whom Terry considers to be "the greatest club owner ever in Western Pennsylvania." At the Zodiac, Terry would mix songs by household names like War, the Commodores and James Brown along with obscure records like "Mind Over Matter" by King Biscuit Boy, "Nowhere Road" by Chris Youlden, "Fever in the Funkhouse" by General Crook, "Do It Over," by the Olympic Runners, and "Stuck in the Middle with You" by Stealers Wheel. This era of dance music is absent from histories of popular music that jump quickly from classic rock to disco. Most of the records played in the clubs weren't on the radio. "If it was on the radio, we didn't play it," Terry proudly asserts. But these records weren't lost on the dance floor, "All you had to do to these early dance records is speed them up for the dancers. You had to work the record to get the audience to dance to it." In addition to blurring the lines between rock, soul and funk, the common factor linking these records is the fact that they are all possessed by a pounding kick drum. When that beat was summoned by the three 5000 watt amps anchoring one of Bob Mac's notorious sound systems, the room would go crazy. "When Bob Mac put a sound system in," Terry recalls, "he put a system in. The sound system at the Zodiac would put out every club in Pittsburgh now." Adding to the sonic assault, Bob Mac was the first club owner to install multi-colored chaser lights in the dance floor and walls that would pulse on beat with the music, making the club feel a bit like the inside of a disco pinball machine. On the dance floor at the Zodiac, 3,000 people from all over the region would come together as family for a hard night of dancing. But the edges of the dance floor, where the tables and chairs were, told another story. The unspoken rule at the Zodiac was that different parts of the city -- Homestead, McKeesport, White Oak, Duquesne, etc. -- owned specific tables. If you crossed into foreign territory, you were in trouble. But what if you happened to be attracted to someone from another part of the city? That's what the dance floor was for, "The dance floor was safeground," Terry says. "If a girl brought a boy from another part of the city up to a foreign territory, then he was cool and wouldn't get beat up."
While the first disco beats began to be heard in New York City in early 1973 with songs like "Girl You Need a Change of Mind" by Frank Wilson and Temptations vocalist Eddie Kendricks, it wasn't until 1974-75 that disco made its way to Pittsburgh. Terry says that the first really big disco record here was Gloria Gaynor's 1975 hit "I Will Survive." There was a very big difference between the commercial disco capitalized on by the mainstream music industry, and the sounds percolating in the underground. In the 1970s, African-American female vocalists like Taana Gardner and Linda Clifford dominated DJs playlists. Along with Salsoul, one of the most important labels putting out disco music at the time was West End Records, founded by Mel Cheren. "We played grooves out of West End tracks," Terry says. The West End sound, which came to be known as "Garage" in reference to the Paradise Garage which was co-founded by Cheren, had deep roots in African-American musical traditions, combining R&B rhythms, Afro-Caribbean percussion, gospel-driven vocals and jazzy instrumentals. On any given weekend night during the late '70s, fifteen thousand people between the ages of twenty-one and forty were spread out in disco clubs throughout the region: Backstage Holiday House on Rt. 22; 2001 on the North Side; 2002 in White Oak; the Disco Factory in Plum Boro; The V.I.P. in Bridgeville; #1 Park Avenue in the South Hills; the Hollywood Showbar in East Pittsburgh, just to name a few. And these clubs were packed five nights a week, from Wednesday through Sunday. At the high point of his career, Terry was playing seven nights a week and making $4000 a month. On Friday and Saturday night, clubs like 2001 and 2002, owned by Bob Mac and Joe Martinelli, would open at 7 p.m. for the under 21 crowd and close at 11 p.m. They would reopen at 1 a.m. for the 21 and over crowd, and swing till 6 in the morning. By 1977, things were in full hustle. In 1979, an event was held during the Three Rivers Arts Festival called "Partisco Disco," which drew thousands downtown to an outdoor disco. Terry says that everybody got a kick out of seeing each other dancing for the first time in shorts and in the bright light of day. And when on the dance floor, people knew what to do. Like his father, Terry was also a dance instructor. In addition to giving private lessons, when he wasn't spinning, club owners would pay him $75 to give lessons during the night. The whole club would line-dance for several songs, doing moves like the Swing, L.A. Hustle, and the Rope, and then break up into small groups of friends. Terry learned to dance from his father, who was also a dance instructor. "I watched every Fred Astaire movie at least forty times," Terry recalls. Kicks was also a popular dancer on the local televised dance show, The Terry Lee Show, a kind of local Soul Train, on channel 53. "Today, people are lazy, nobody wants to work on their dancing. Nobody wants to practice. They just care about getting laid or getting drugs," Terry laments.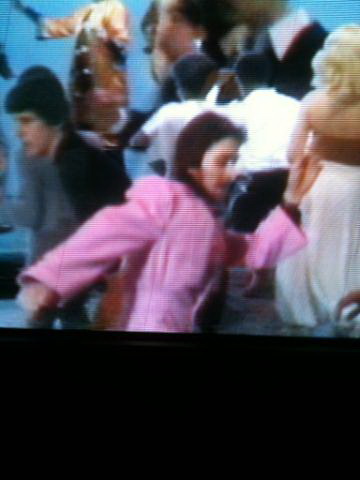 Terry Kicks on the Terry Lee Show, 1976
These good times were enabled by the fact that, in the 1970s, thanks to the unions, working people in Pittsburgh made pretty good money. Keep in mind that clubs had strict dress codes, and a stylish outfit, probably picked up at "Our Father and Sons Boutique" downtown, could cost between $100 and $200. "Nobody wore polyester suits like you see in the movies," says Terry. "If you wore polyester, you would be laughed out of the club. We wore silk, satin, cashmere. We looked good." Many of the people dancing the night away spent their days at tough work sites like U.S. Steel, Westinghouse Electric, Westinghouse Airbrake, Union Switch & Signal, Mesta Machine. A strong sense of community permeated the discos because people were dancing side by side with people they sweated and punched time cards with during the day, and who they saw walking the same streets in closely knit working class neighborhoods. They didn't simply want to dance; they needed to dance. As the disco group Sparque sang in their 1981 West End hit, "Let's Go Dancin':" "Working hard just ain't no good Do something else if we only could The only chance we get to come alive is after our nine-to-five." The Reagan era devastated this vibrant dance music culture. "When Ronald Reagan became president, the city flatlined," Terry says. When Reagan started going after the unions and hypnotizing the nation with a trickle-down theory that in reality flowed up, combined with the dislocating effects of deindustrialization, the working class communities that filled the clubs began to fragment. Hundreds of thousands of people moved away (which explains why there are huge, passionate Steelers fan clubs all over the U.S.) and there wasn't nearly as much disposable income floating around as there was before. Well-paying steel industry jobs disappeared and unemployment rose to depression-era levels. Deindustrialization turned the upbeat declaration "We Are Family" into a bitter question. Following the familiar arc of a VH1 Behind the Scenes or E True Hollywood Story, Terry's career, like that of his friends, declined during the 1980s. Terry successfully managed to spend his money as quickly as he got it -- on records, on clothes and, most preciously, on a black 1964 Ford Galaxy 500 convertible with white leather interior, rebuilt by himself, that got an impressive one mile per gallon. Looking back, Terry says, "I never thought it would end."
Terry never stopped playing disco, but club owners realized that they could save money by hiring "juke box heroes," DJs who would undercut established DJs and play whatever the manager told them to play, which meant whatever was popular. Terry enjoyed a brief renaissance during the '90s thanks to Joel Bevacqua, aka DJ Deadly Buda, who introduced raves to Pittsburgh in 1991. Joel, now a DJ and mixed media designer in Los Angeles, says that, "Terry has an exciting sound that combines a lot of different mixing techniques that he has learned over the years. He has a large library of music, so there is always a good mix of real new edgy tracks, straight ahead commercial, and some classics that most other DJs are just not going to have access to. We would always ask him to play some disco late night to add some warmth after we pounded the crowd with hardcore techno for about 6 hours."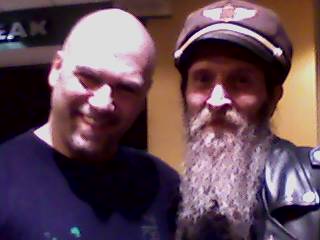 Terry Kicks (right) with New York DJ Danny Krivit
Terry may have let his beard grow out, and may have traded the Pink Panther suit for a black leather biker jacket -- his father was also a biker -- but he is just as dedicated to dance music today as he was in the '70s. In addition to being a self-described "biker, DJ, mechanic, lunatic," Terry runs the BPM Record Pool. For a long time he made a yearly journey to Miami for the Winter Music Conference, until the event became all about money. Alex Carmenates, aka DJ Cubanito, the CEO of Salsamania, a Houston company that produces and promotes Latin music all over the world, and regular writer for
Dance Music Authority
magazine, says, "I love Terry because of his enthusiasm and profound love for dance music. He is one of those truly genuine and sincere persons rarely found in this business of ours, the business of dance music. Most of us in the industry know that when Terry speaks, everyone listens. That's the reason why some people secretly hope that he didn't attend the WMC. However, I feel that the WMC wouldn't be the WMC without Terry. I've come to expect Terry's candid and relentless comments about what is wrong with our dance music industry. Terry, like most of us, know the answers to many problems in our industry and he is trying to collaborate in order to implement the cure and vaccines for them." Terry still gets behind the decks to play out whenever he can, all vinyl of course, and recently celebrated his 40th anniversary as a DJ. I asked him if he ever plans to retire, and told me, "I could never retire, I love DJing too much."
Popular in the Community