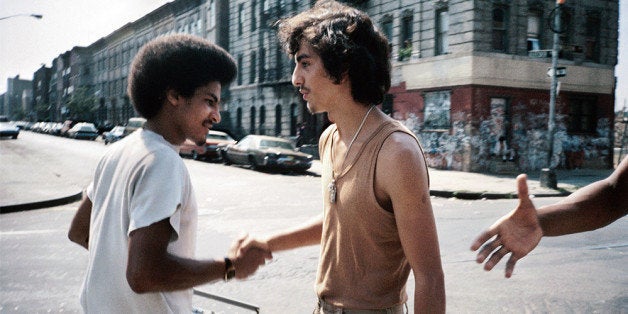 How does one even begin to map the complicated and multi-layered history of a New York neighborhood like Bushwick?
This is the goal of photographer and queer artist Meryl Meisler whose first monograph "A Tale Of Two Cities: Disco Era Bushwick" juxtaposes the worlds of the '70s disco era scene in NYC and '80s Bushwick, Brooklyn through photography. The book has not only generated international acclaim but also earned Meisler a forthcoming profile on WNET.
Locally, Bizarre Black Box Gallery featured "A Tale Of Two Cities: Disco Era Bushwick" this year in conjunction with Bushwick Open Studios. The Huffington Post chatted with Meisler this week about her work, her years in NYC and why she decided to engage in this kind of work as a cultural historian.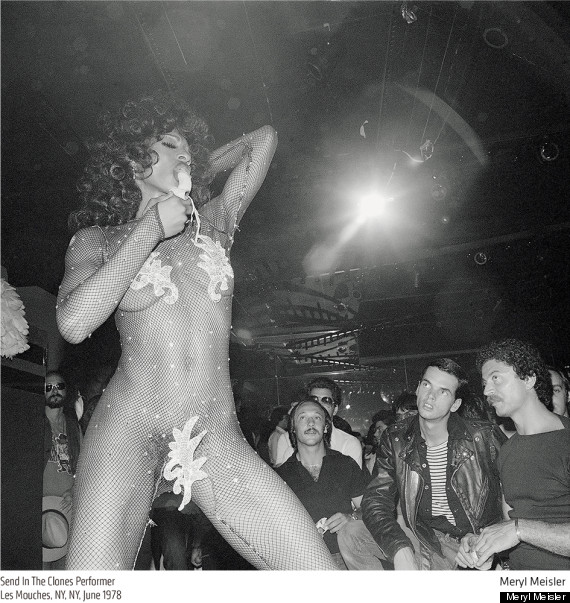 Why did you decide to make this book?Meryl Meisler: I am a printer's daughter; printing literally gave me life, food, shelter, sustenance and unconditional love. As a Jew, "people of the book," perhaps it is inscribed for generations deep in my DNA strands. I have a great respect for authors, writers and count many as my family and friends. When I started digging into my Bushwick '80s work, upon invitation by Adam Schwartz to co-curate "Up From Flames: Mapping Bushwick's Recovery 1997 – 2007," I realized how beautiful these "snapshots" of Bushwick in the '80s were. I kept digging, printing and then showing them more and more. I knew they belonged in the form of a book and submitted a proposal to several publishers; none were the "right fit." However, I didn't envision it as this book -- combining the Disco and Bushwick images -- until Bizarre Black Box Gallery opened and invited me to have an exhibit there in June 2014 to coincide with Bushwick Open Studios.
When I saw the disco ball in Bizarre's club area and then in the restroom, a synapse ignited. It was through Disco and the 1977 Blackout that I first learned about Bushwick. I was en route to a private party at Studio 54 on the night of what turned out to be the black out of 1977. In the blackout's aftermath, the news blasted about a neighborhood called Bushwick, the scene of rioting, looting and fires for seemingly endless days during and after the blackout. Four years later, there I am, a public school art teacher in Bushwick.
Now, the red velvet ropes once barring the "The Bridge and Tunnel Crowd" are cast wide open. Bushwick is the hot club scene. I knew, seeing that disco ball spin in Bushwick, this was the time and place to show the work together. Jean-Stéphane Sauvaire, owner of Bizarre, started Bizarre Publishing and said he wanted to publish a book of my Bushwick '80s photos to go along with the exhibit opening in June. I explained my idea of combining the Disco with Bushwick images. He was intrigued and asked to see the disco photos. I had to find them first, I explained. I'd never shown them to anyone. Why? Well, they were really wild times and I was a photographer for the American Jewish Congress during the Disco Era and then began my public school art teacher career. I probably would have been fired from both jobs.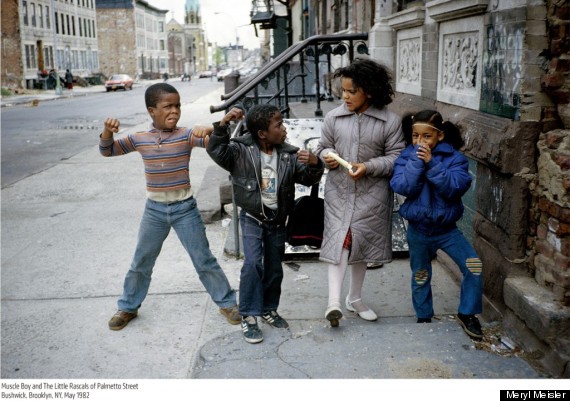 What exactly is being documented through this book and exhibition? What are you trying to accomplish?The book and exhibition bring together two seemingly disparate worlds -– the golden age of Disco in NYC and the castaway Bushwick of the '80s. They were physically and time-wise very close to each other, yet opposite ends of a spectrum of life -- my life as adult in NYC, a true Tale of Two Cities.
Bringing the Bushwick images to the Bushwick community has been my goal. I am thrilled that portions of this huge body of work have been exhibited at The Living Gallery and The Black Box galleries in Bushwick and been well-received. The opportunity to have the work in a Bushwick club that reminded me of the amazing Disco culture I experienced was simply divine.
To me, an exhibition and a book are two very different experiences, both to be best experienced physically and viscerally in the viewer's own time expanse or restraint, with other people or not, at one time or over and over again. In this case, the book and exhibition compliment one another and can each stand-alone. I love that at Bizarre the viewer could experience the exhibit amidst music and merriment.
Why is this kind of work as a cultural historian important?Time is fleeting and change is a continuing spectrum that refracts the complexity of human existence. We live and grow in our individual petri dishes, influenced by everything we see, feel, learn, experience and do. The arts and humanities hold up a mirror to reflect upon our cultural influences, what to keep, what to change and to see ourselves in the spectrum of the human condition and history. We can celebrate commonalities and recognize the importance of respecting difference.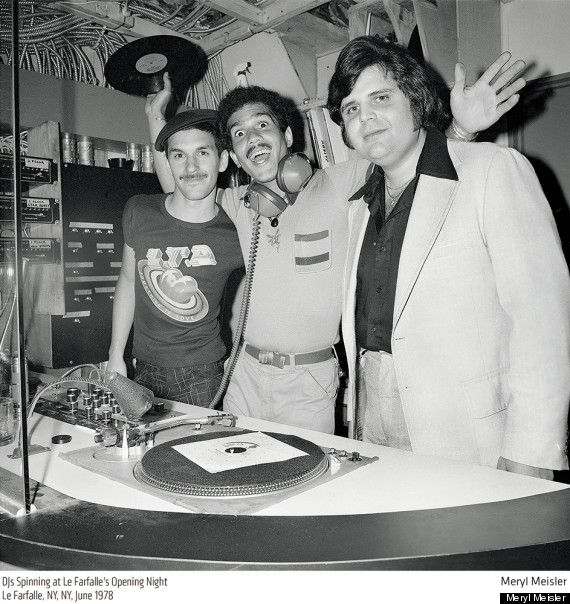 How do you see what you've documented in the '70s and '80s scene influencing Bushwick today?As the saying goes "we stand on the shoulders of giants who came before us." These photographs are very recent history, practically yesterday for those who lived it. Whether a person is a visitor, recent or long time resident, or someone whose family left years ago, Bushwick is a small neighborhood that has experienced a roller coaster ride of highs and lows in the past century, and is on the rapid rise again.
Bushwick today sounds like a fairy tale dream come true. Vogue magazine writes, "As far as buzz goes, few neighborhoods garner as much attention -- globally -- as Bushwick. Believe the hype…" and declares Bushwick #7 among the 15 "coolest, most stylish neighborhoods in the world" among their fashion list of "2014's chicest city-strutters." The New York Times reports, "Bushwick Takes the Spotlight" with its rising luxury condos and internationally famous/infamous art and drag scenes. "The artists have created an enclave where vibrant street art is rampant, and galleries, restaurants and bars have followed, lending an appeal for people in their 20s and 30s seeking the latest trends in art, music and lifestyle" and draws international tourists. Go figure.
Bushwick gentrification is in stealth mode. Ashes, debris and history are dusted away, white washed, polished and sanitized as quickly as possible, for whom? What is being lost and forgotten in the process?
"A Tale Of Two Cities: Disco Era Bushwick" is available for purchase here.
Popular in the Community