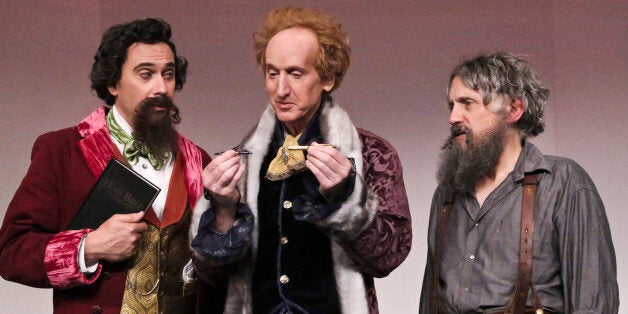 At some point in our lives, we've all asked ourselves the same two questions: "Why are we here?" and "Does God exist?"
Scott Carter's new play "Discord" explores these questions, rather comedically, through the eyes of Thomas Jefferson (played by Larry Cedar), Charles Dickens (played by David Melville) and Leo Tolstoy (played by Armin Shimerman) -- arguably three of the greatest writers and intellects of all time.
It's quite a feat to throw three historical figures in a room together and ask them to figure out the meaning of life. Carter, an executive producer and writer for Bill Maher's "Politically Incorrect" and "Real Time," is up to the task.
He uses a formula similar to Sartre's "No Exit" and locks the scribes in a room which -- you guessed it -- has no exit. It soon becomes clear that each man had died, albeit at different times, and entered this room directly after his demise. Eventually they discover what they all have in common: each man was brazen enough to write his own gospel.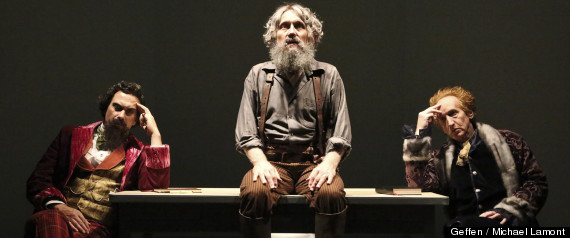 Larry Cedar, David Melville and Armin Shimerman in "Discord: The Gospel According to Thomas Jefferson, Charles Dickens and Count Leo Tolstoy".
Thus begins the discourse and discord, if you will, in which we hear all three characters' individual takes on the authenticity of the Bible, the nature of God and free will. Tolstoy obviously takes the cake on the latter.
In summary, Dickens argues in favor of a more supernatural God complete with miracles, Jefferson remains steadfast as a devout follower of reason (which according to Dickens is "Booooooring") and Tolstoy advocates non-violent, yet anarchist ideals. Every conversation and argument is sprinkled with witty repartee and chuckle-inducing references to the writers' iconic works.
If you're unfamiliar with the writings of these literary geniuses, or conversely, you failed to stay awake during that "Intro to Philosophy" class in college, the play can still be enjoyed for one reason: it makes you think (and laugh). Whether or not you agree with the play's notions isn't really the point. It opens your mind, forces you to address your own thoughts on free will and morality and leaves you wondering, "What does happen when we die -- if anything at all?"
"Discord", directed by Matt August, is showing at the Geffen Playhouse in Los Angeles through November 16.
Related
Popular in the Community