When I was younger, I always wondered why there were chapels built into airports. "You don't go to the airport to pray, you go to fly," I thought. As a seasoned traveler I now know exactly why it would be critically important to pray during the modern airport experience, something I often refer to as "Hell:" Pray for short uneventful lines; pray you don't have to undress at the security screening; pray your flight takes off on time (or that it takes off at all); pray your favorite bottle of cologne didn't actually come in a 4 ounce package instead of a 3.5 ounce package because it was really expensive; pray you don't leave that gift from your mom at security because the agent is going to take it home.
The advent of the so-called "Discount Airline" has given travelers even more to pray about. The discount on airlines such as RyanAir (in Europe) and AirAsia (in Austral-Asia) is meant to refer to pricing, which each airline deems to be the flight's "base fare," being substantially lower than competing airlines not falling into the "discount" category. But the price of the fare itself is really only the beginning of a traveler's concerns when flying on a discount airline.
This is the story of one airport prayer that went unanswered:
It's a Sunday in November and I've got two flight segments on Air Asia from Penang to Kuala Lumpur, Malaysia and onward to New Delhi, India. I've paid for a 20kg allowance checked bag, and booked a 3-hour difference between my flights, plenty of time to traverse the Kuala Lumpur Low Cost Carrier Terminal (LCCT) between the two flights. I've packed all my liquids in their appropriate places and I'm not carrying any food items on me (Air Asia forbids you from bringing your own food onto their planes, they force you to agree to it when you e-sign your check-in form - they sell you food onboard to make profit). I had checked in online for both flights (Air Asia charges a fee to check in at the counter but technically you're forced to show them your passport at the counter for international flights so a second check-in, and the lines that come with it, is always mandatory -- you just don't have to pay for it if you go the online route first). I'm as prepared as I can be for the adventure ahead of me.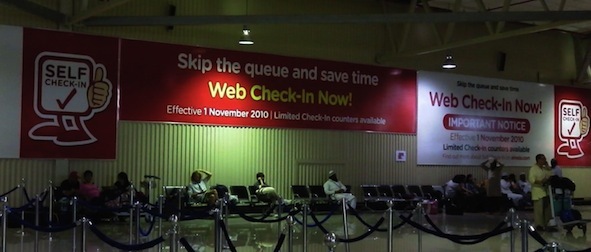 The initial problem comes when my first flight's departure time is changed from the original 2:00pm (when I bought the ticket) to 3:00 p.m.
"Winter Scheduling!" says the Air Asia counter clerk.
This cuts my time to transfer flights down by 1 hour. Why this is critically important is because Air Asia will not check your baggage all they way through to your final destination no matter where you're flying. Since the airline only sells tickets point to point, it insists on checking baggage point-to-point, meaning each passenger on a two leg journey, must pick up their luggage at layover airport's baggage claim, have it rescreened, re-check in to their final destination, and have themselves rescreened.
When I described my fears to the Air Asia clerk of a delayed first flight causing me to miss my second flight due to their baggage policy he explained there was nothing he could possibly do. This was my sixth Air Asia flight during the filming of 30 Postcards in Asia, and five out of five of my previous Air Asia segments had been late in excess of 30 minutes. There was no reason to believe this flight would be any different.
My checked baggage weighed in at 23kg (3kg over what I had already paid extra for), but the clerk put it through without blinking, possibly because he pitied my upcoming mad dash through the LCCT. Kuala Lumpur International Airport (KLIA), Air Asia's hub, is divided into two opposite segments, and the discount airlines all take off from the oldest, most run-down, and user-unfriendly of the terminals (a trip from LCCT to the main KLIA terminals takes 20-30 min by taxi and costs about $18).
My screening procedure is painless (they didn't even make me chug the water in my water bottle). However gloom was on the horizon when my flight was in fact 1 hour late. This closed my self-designed transfer gap from 3 hours now down to 1, and since I didn't buy Air Asia's Insurance Policy if I missed my flight I'd have to buy a new one and sleep in the Kuala Lumpur Low Cost Terminal for what I'm sure would have been a very pleasant 24 hours (Air Asia's booking engine automatically increases the price of your ticket by an amount equal to their 3rd party insurance premium, unless you uncheck the box labeled "insurance" - it's so the airline itself can claim no responsibility for their flights or baggage carriage should something go wrong).
The moment I got a hold of my baggage in Kuala Lumpur I raced with all the strength of my two legs down the length of the terminal building (Air Asia drops off airline passengers on the tarmac and has them walk to the terminal entrance and then to baggage claim, sometimes as far as the length of the terminal building itself - there is no bus). I cut the line to the screening devices everyone must go through to enter the check-in area, threw my baggage into the screening device, and was moving so fast I slipped and fell on a spilled soft drink next to the screening machine (someone probably just dumped it out on the floor knowing liquids are forbidden). This did not slow me down though, I ran into the international check-in section to turn in my baggage for the second leg of my trip, but was told I was in the wrong section (that day international check-ins to India were not in the international check in section). Running to the other side of the terminal my remaining time shrank to 45 minutes till take-off. I placed my baggage on the scale: 23.6kg.
"Sir, either you take 3kg out or I'm going to have to charge you [$40.00] to check you in," the agent said with a stern look.
"But I just flew from Penang on your airline and everything was fine. I'm going to miss my flight because your incoming flight was an hour late if this baggage doesn't go through right now," was my common sense response.
"Sir, if you miss your flight it's your fault."
Air Asia's luggage allowance for carry-on bags is one piece at 7kg, a weight I was already at. The luggage allowance for my checked bag (that I already paid extra for) was 20kg. I couldn't take out any food from my checked bag because food is forbidden on the plane (unless you buy it from Air Asia). There was no physical way for me to be in strict compliance with Air Asia's policies, unless I did something I'd always wondered if anyone had ever tried before.
I asked the agent if there was any limit to how much I weighed as a person, and her response, "no sir," gave me the green light to start putting on 3.6kg worth of my own clothing. As fast as I could pull it from my tightly packed rucksack I put pants on over shorts over pants, and shirts over shirts over shirts. I tied a few articles of clothing around my neck and a couple around my waist. I stuffed my short's pockets with socks and underwear, and out of respect for Muslim sensibilities, stopped short of wearing a pair of underwear on my head as a hat. A half-moon shaped crowd of airline passengers formed around me watching as I performed what must have appeared to be a page from a schizophrenic travel book.
"Are you on the Amazing Race," one onlooker asked.
"No, I'm just trying to fly Air Asia," I replied.
At 19.9 kilograms, my luggage cleared the desk clerk (who I later found out is punished by Air Asia's management if it's discovered she put a customer's bag through over the "paid for" weight class as a courtesy). In full 3.7kg regalia (almost 8lbs if you're using the English system) I ran as fast as I could through the ticket checkpoint, the immigration checkpoint, and the screening checkpoint. The security man who patted me down didn't seem to care that I was wearing an obviously unnecessary amount of clothing.
"Good luck sir, " he said.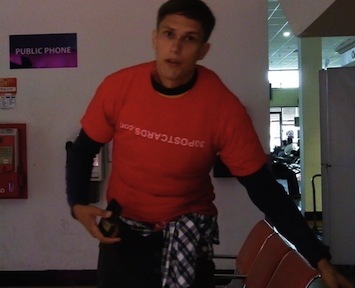 I raced past all the airport's dining possibilities wishing I had time to stop for a simple bite to curb my intense hunger, but I was already dangerously close to missing the flight altogether. Of course that would have been if the flight had departed on time, which it did not (seven for seven late flights on Air Asia). If only I could have gone back to get some food, but at this stage, sweating to death in 8lbs of clothing, I was a security glass separator away from all the food stalls sitting just on the other side.
Hours later I was sitting on the plane as the "pay-for" food cart came down the aisle in my direction. "Has my baggage made it onto the plane?" I thought.
"I pray it does," but I wouldn't know the answer to that until my arrival in New Delhi. Did I buy some food from Air Asia to satiate my intense hunger? Honestly I wasn't really in the mood to give Air Asia any more of my money.
The take-away message from my story is this: the discount in "Discount Airline" isn't simply paying less money on the base fare. It's discounted customer service and discounted travel options: discounted legroom, discounted comfortability, discounted common sense, and discounted truths! It can be a discount on your sanity and often the discounting of rational thought. The true cost of flying Air Asia (and similar discount airlines - no need to single out one of many) is in no way reflected in any of their pricing schemes, billboards, or misleading advertising.
I hate clichés, but honestly with discount airlines you get what you pay for. You hardly ever get what you pray for.