JetBlue and Southwest Airlines are starting to look less like innovative upstarts -- complete with low fares and unusual perks -- and more like their stodgy competitors. As they age, they may have less room to treat workers well, and employees are starting to respond.
JetBlue's pilots voted to unionize Tuesday, ending the airline's status as the biggest U.S. carrier without organized labor groups. The airline, known for its friendly staff, TVs at every seat and cheap fares, is mirroring the legacy carriers more closely as it increases in size, expands its fleet and introduces plans for a premium cabin on lucrative routes between New York and Los Angeles and San Francisco. The vote for the union, which came after two previous decisions to reject unionization, shows pilots don't want to be left behind as the company expands.
"The unionization of the pilots at JetBlue may signal the blurring of the distinction between the legacy carriers and the low-cost carriers, which have made profits by having direct flights and also by having lower wage structures," said Gary Chaison, an industrial relations professor at Clark University. "The legacy carriers have essentially said, 'We're going to cut costs no matter what,'" Chaison said. As a result, JetBlue, Southwest and other discount carriers have lost some of their ability to undercut more established competitors.
Southwest Airlines, JetBlue's big brother in the discount carrier space, is going through similar growing pains. The company will soon begin flying internationally, and, in a classic big airline move, it merged with AirTran in 2010. Southwest is now in the midst of labor negotiations with the union that represents its baggage handlers, ramp agents and other employees -- negotiations that some are calling the most tense in the airline's history.
While Southwest officials acknowledge that changes in travel preferences have pushed the company to change its business model a bit, they say that hasn't jeopardized the company's employee-first culture. Brandy King, a Southwest spokeswoman, wrote in an email to The Huffington Post earlier this month that this round of contract negotiations isn't necessarily more tense than in previous years, but given that most other airlines filed for bankruptcy or went through some kind of restructuring in the mid-2000s, Southwest's contracts are far more generous than those of their competitors, "making it difficult to remain a low-cost carrier."
"The industry has changed drastically over the last decade, and we are working to adapt our workforce to the new way of flying," King wrote.
The two airlines have grown substantially over the past couple of years -- JetBlue is now the fifth-largest U.S. carrier, and Southwest has moved beyond offering just point-to-point service between smaller airports -- putting their famous folksy cultures at risk. One of the major sticking points in Southwest's contract negotiations is a corporate interest in adding more part-time employees. The company argues more part-timers would allow it to more effectively compete with most other airlines that already have a larger part-time workforce. Union organizers say the move would bring in workers less interested in "career" jobs and less invested in the company's future.
Not having a union representative at the table may have put JetBlue pilots at a disadvantage already. The company's pilot compensation package comes in below many competitors' totals, according to data from KitDarby.com, an aviation consulting firm. In January, JetBlue struck an agreement with its pilots aimed at fixing that discrepancy, agreeing to raise the base rate of their pay by 20 percent over the next three years.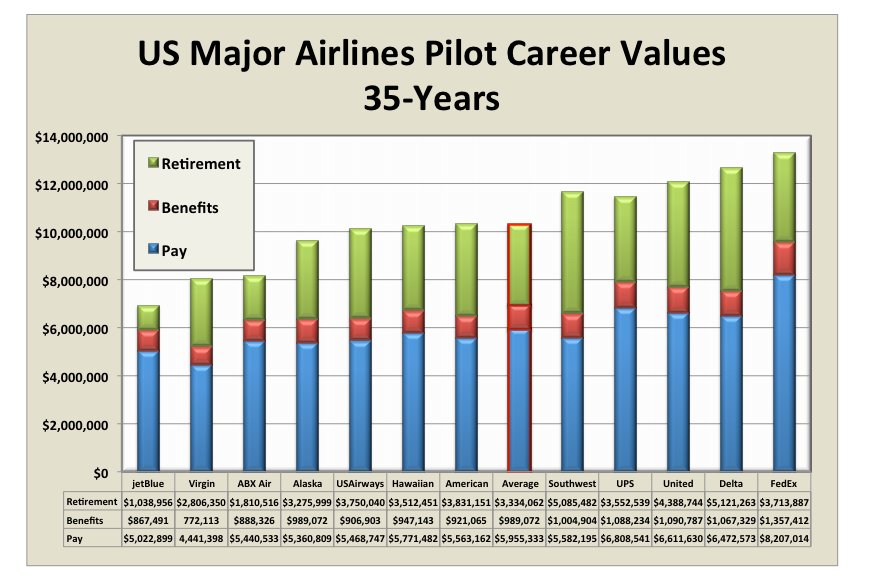 Given that the airline posted record profits last year, JetBlue's pilots likely wanted a fairer share of the pie, said John Budd, a labor relations expert at the University of Minnesota. The decision to unionize might change the company's cost structure, he said, but it "shouldn't make them an anomaly in the industry."
"We see this not only in the airlines, but in lots of industries," Budd said. "You join a little startup, it's informal, people are looking for something exciting, probably working really hard, but you feel like you're a part of something new and fresh. But you start to get bigger and things become more formal, less personal, you start to look like the other players in the industry."
Being bigger also means it's harder to win customers. Both Southwest and JetBlue made names for themselves by undercutting competitors with cheaper fares. In response, so-called "legacy" carriers cut their fares, too. Now there's less room for the discount airlines to grow.
With Southwest and JetBlue looking more like other airlines with more routes, fewer rock-bottom prices and older workers, the companies are becoming more susceptible to things that typically plague the industry: fuel price spikes, economic downturns, and the cost of taking care of an aging workforce. Now that those concerns are becoming more a factor, JetBlue's pilots are joining together to protect themselves, Chaison said.
"Essentially the pilots are saying, 'We are the most highly paid people, management looks at us as a labor cost with very deep pockets, so when the hard times come we want to be at the table,'" he said.
Calling all HuffPost superfans!
Sign up for membership to become a founding member and help shape HuffPost's next chapter