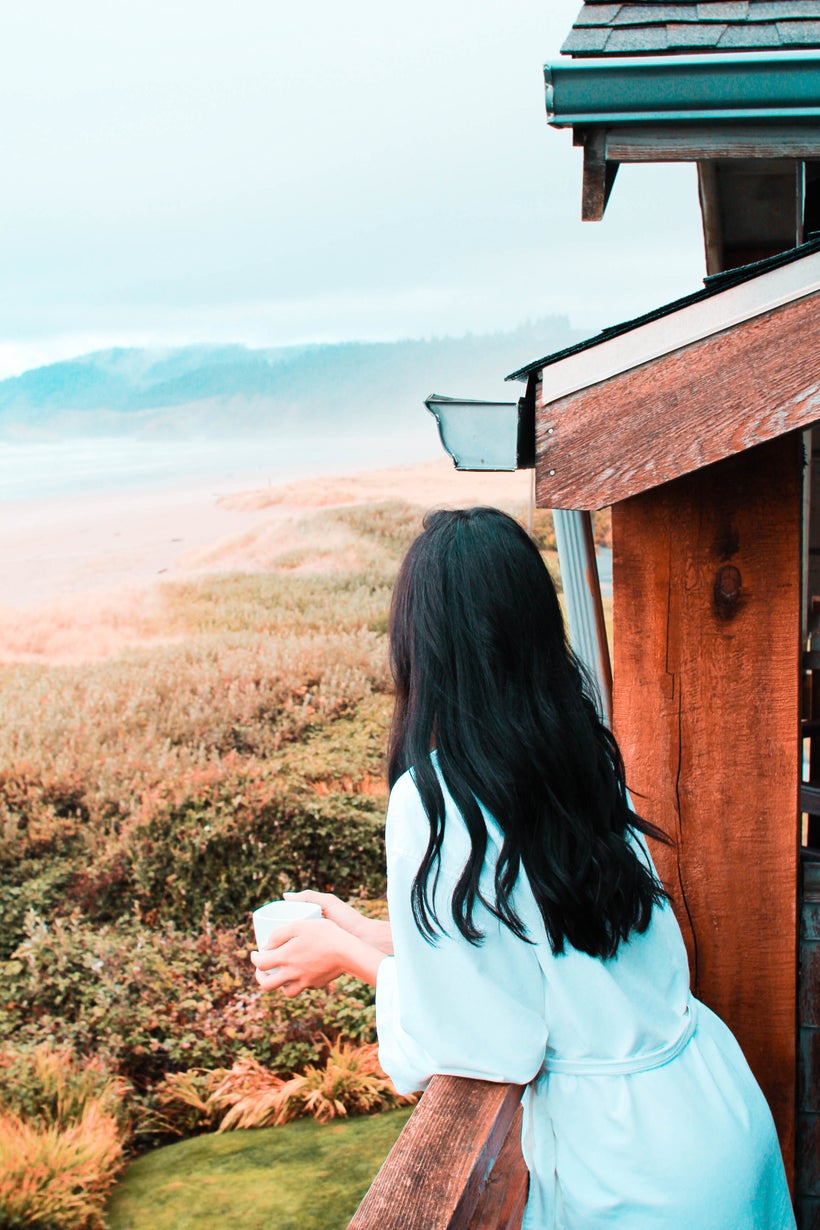 It's rare that I start writing a piece on a place I visit while still there, but as I sit on this beach on my last day, my hiking boots digging into the soft sand while the sun disappears into the ocean, there seems to be no better time.
I pull my sweater tighter around me - the winds get quite chilly in the evenings - and start to try to find the right words for the feeling Cannon Beach gives me. This was my second visit to the coastal town of 2,000, the first last year after hearing from my best friend it was the most peaceful place she had ever been to - that was enough for me to book a flight. I like to discover new and unlikely places that can become tradition for a family or a couple over the course of their lives, and though the entire state of Oregon is beautiful, finding a small but worthy destination was the motivation for my trek here.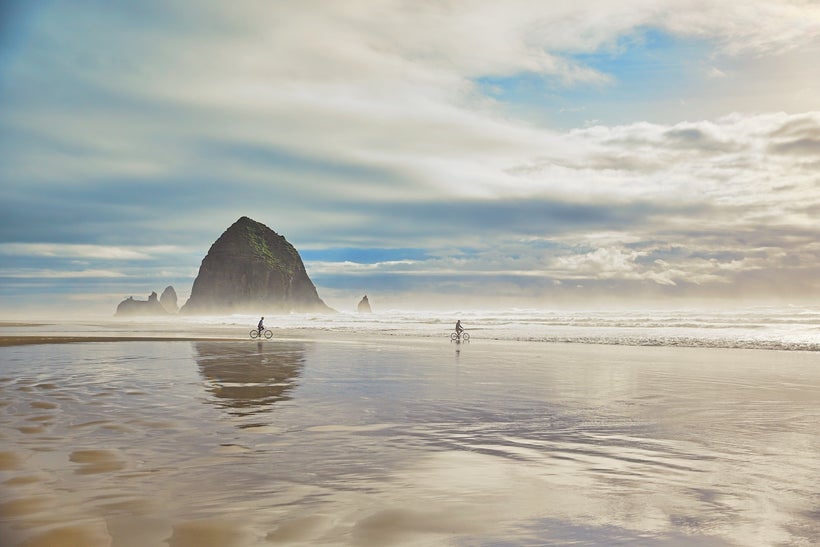 Peace is the reining word in Cannon Beach, which is what originally drew me to this 3-mile long oasis eighty miles from buzzing Portland. I have always loved the ocean, but what made me fall in love with Cannon Beach was the crisp fall air. Autumn is arguably the most beautiful time to visit, when the weather is still warm and welcoming, every flower box in town is exploding with color, and mornings are warmed by a glistening sun. The Pacific Northwest can be unpredictable, with frequent rainy days sprinkling the week unexpectedly, but the short showers don't seem to disrupt daily life here.
This time I came more informed, having done some due research and seeking to visit a few unique places to write home about. Cannon Beach is for travelers who have been coming for generations, and the kind of destination you hope no one really finds out about. It's perfect as it is, thriving and steady-paced, but not touristy or crowded. You know, the type of thing that can really disrupt peace.
Start by flying into the Portland airport for the easiest access. For the road trip down, I grabbed the keys to a brand new 2018 Chevrolet Equinox, threw my overnight bag in the trunk, and got on the road. The drive only takes about an hour and a half, but you want a safe SUV or crossover as the one-lane road becomes windy, narrow and wet. I connected to the car's Wi-fi, sent the Nav my directions to Surfsand Resort, turned on the seat heaters, and settled in for the ride.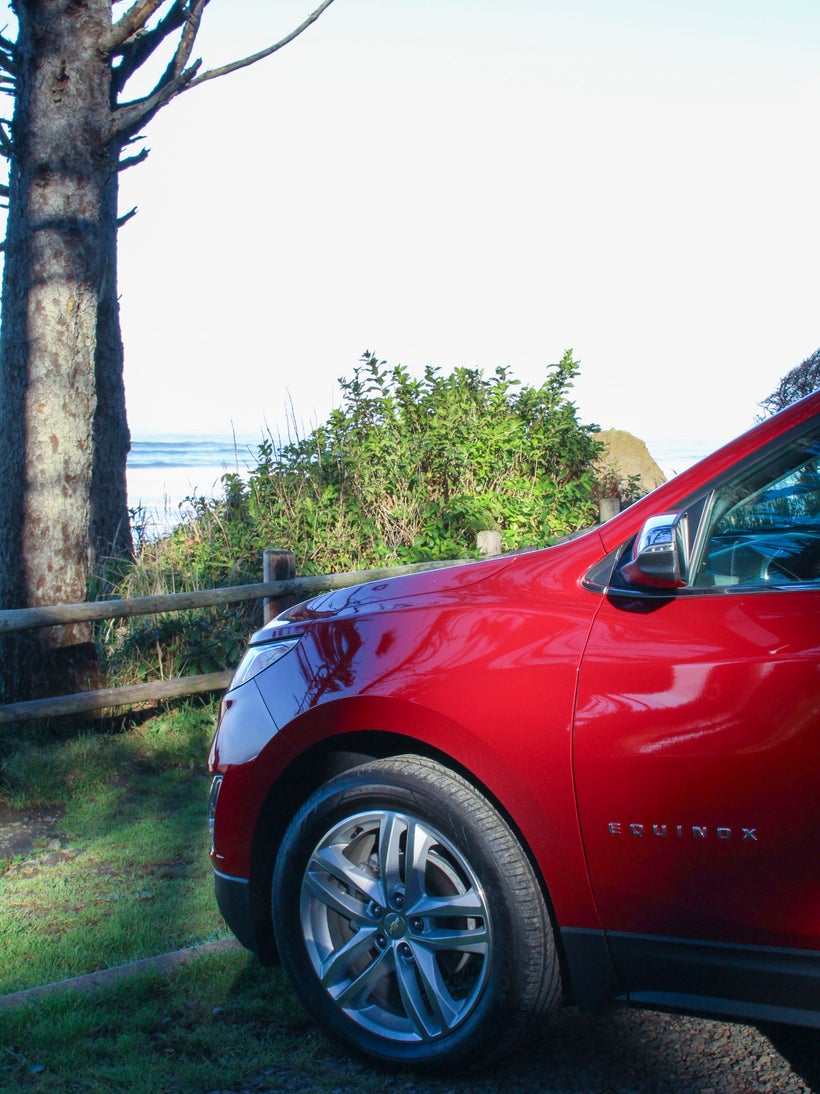 Driving early in the day is best, as days as short here in the fall and you can take in the scenic countryside and small towns leading down to Cannon Beach. Pack a picnic and stop along the way for a stop at one of the farms for fresh , and leave enough time to drive through Seaside. Pull over at one of the viewpoints, pop open the trunk, spread a blanket, and enjoy views of coastal Oregon while enjoying lunch.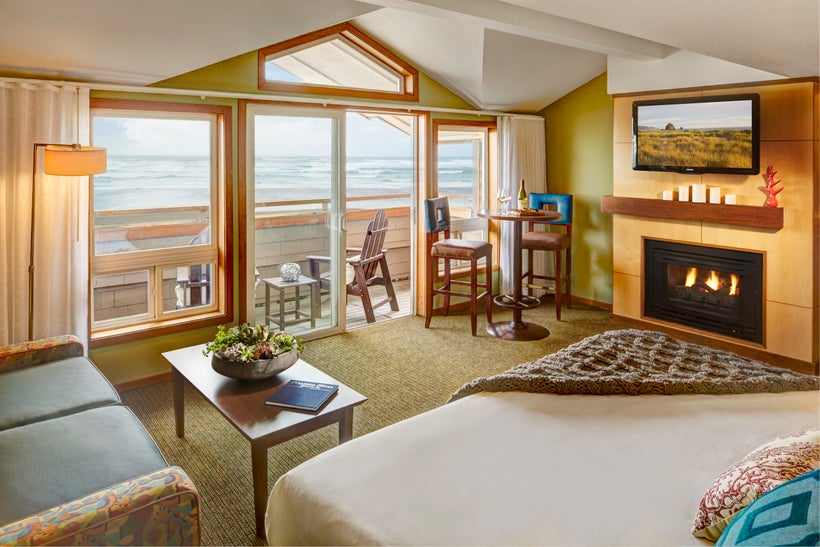 The sun had set as I pulled into town, but I could already smell the salty air when I got out of the car and looked up to take a deep breath. I chose this hotel because I wanted to hear the waves from my bed in the mornings and at night, and my excitement grew by each step toward the sand. Located right in front of the remarkable Haystack Rock, Surfsand Resort sits at an enviable location for anyone familiar with the area. The 327-foot tall sea stack is known to be the fourth tallest off-shore monolith in the world, drawing tourists from all over the country to appreciate its magnitude. My room turned out to be right in front of it, making my stay even more magical.
Back in the 1890's when railroad lines were built between Astoria and Seaside, settlers began to come down to the area for summers and a community began to emerge. Cannon Beach's well documented history includes the Oregon lighthouse that came to be known as Terrible Tilly. In 1978 the government decided ships needed more guidance from the coast, so a lighthouse was built offshore, which you can see from the balconies at Surfsand Resort. Due to the tumultuous Oregon sea, many deaths and ship wrecks occurred, eventually leading the lighthouse to be deactivated.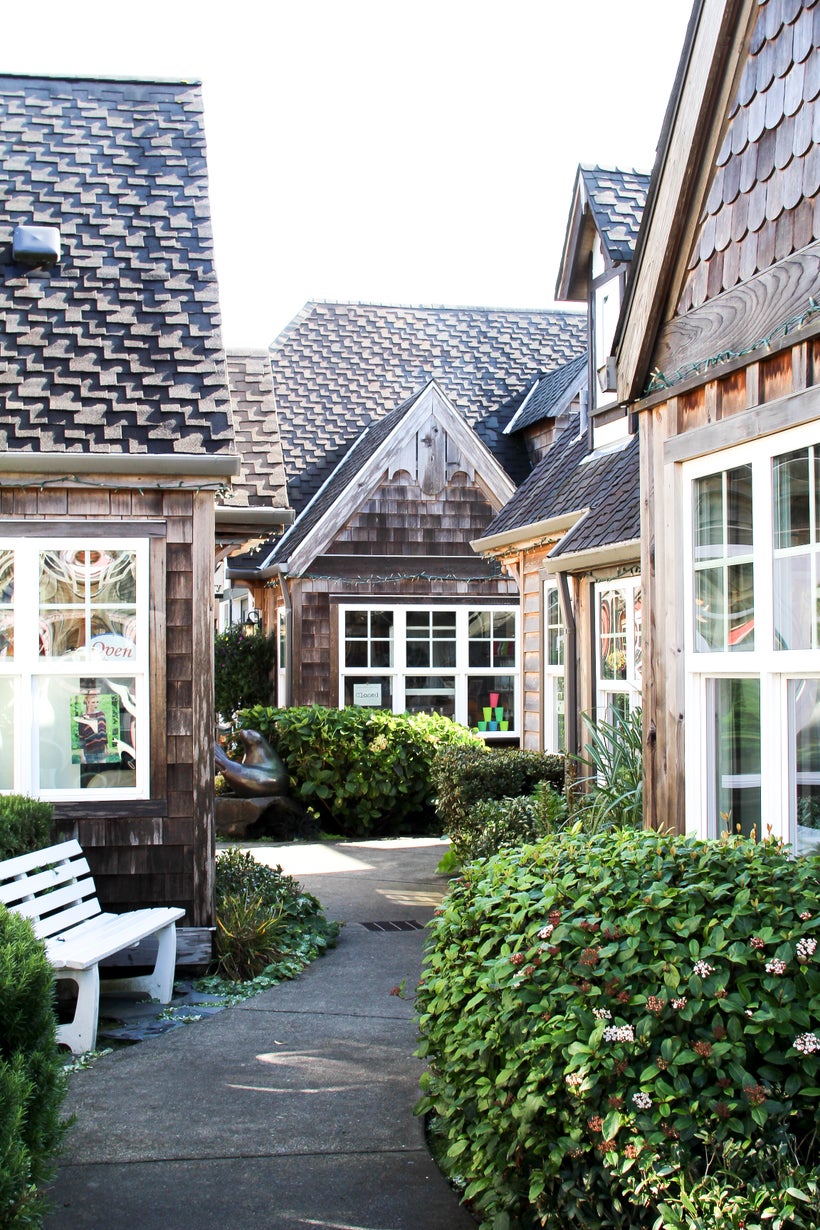 Although this historic and scenic stretch of coastline sandwiched by Tilammok and Hug Point is enough reason to visit, modern-day Cannon Beach is full of amenities, wildlife, arts, live music, local food, and culture (you may recognize it from 1985's The Goonies' truck scene, and from Twilight's key moment when Bella finds out the truth about Edward).
Within walking distance of Surfsand Resort I found the best menu in town at Wayfarer Restaurant and Lounge. Serving locally sourced food and with a grand view of Haystack Rock, it's hard to beat breakfast and lunch here, and I even had room service delivered to my room at Surfsand Resort.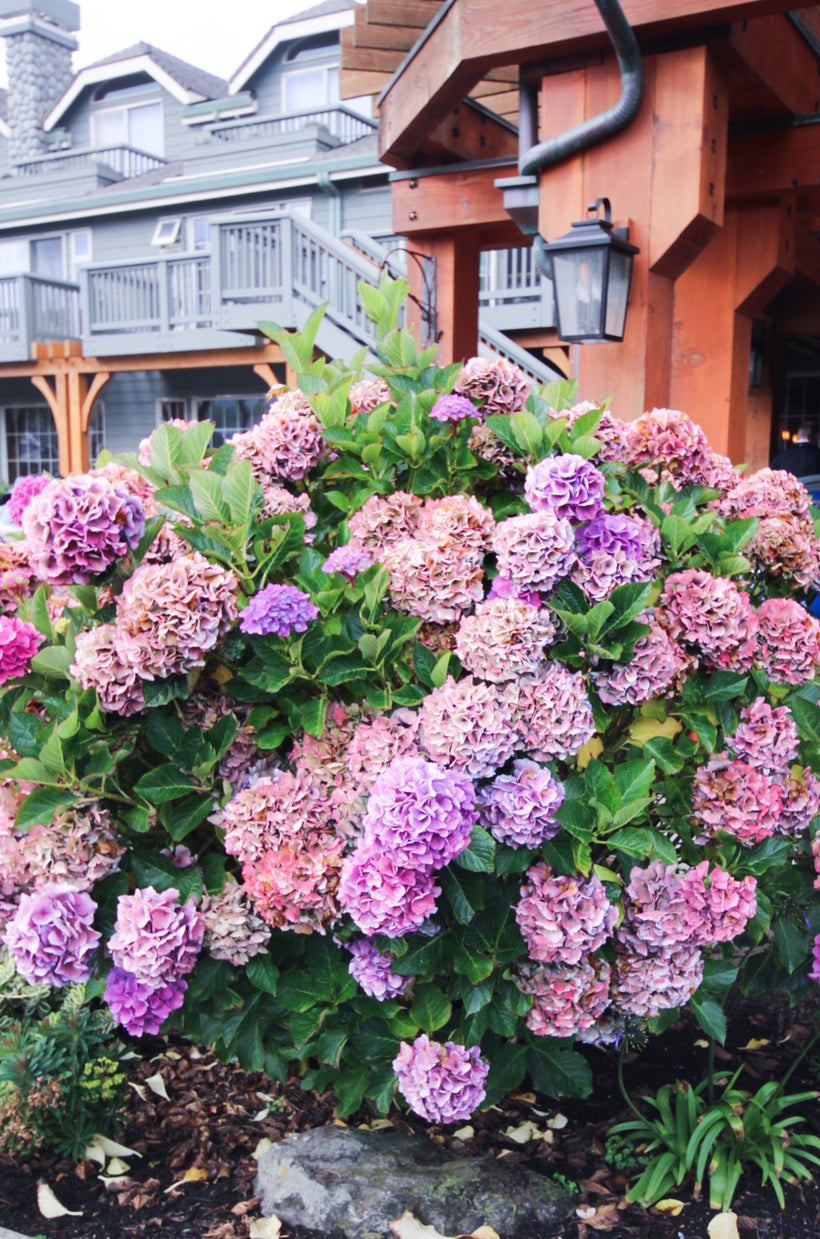 Down the road is the luxe Stephanie Inn, a 4-star hotel with walk-out oceanfront suites, spa services, seasonal menu, creative cocktails, and a great Northwest wine list. Visitors' favorite pastime is sitting out on the oceanfront patios at sunset, and watching the resident bunnies frolic on the lawn.
Though the Fall is the busiest of the seasons, winter visitors have made it a tradition to book rooms for storm watching, and staying inside by the fire nursing Limoncello nightcaps as nature's force thunders outside.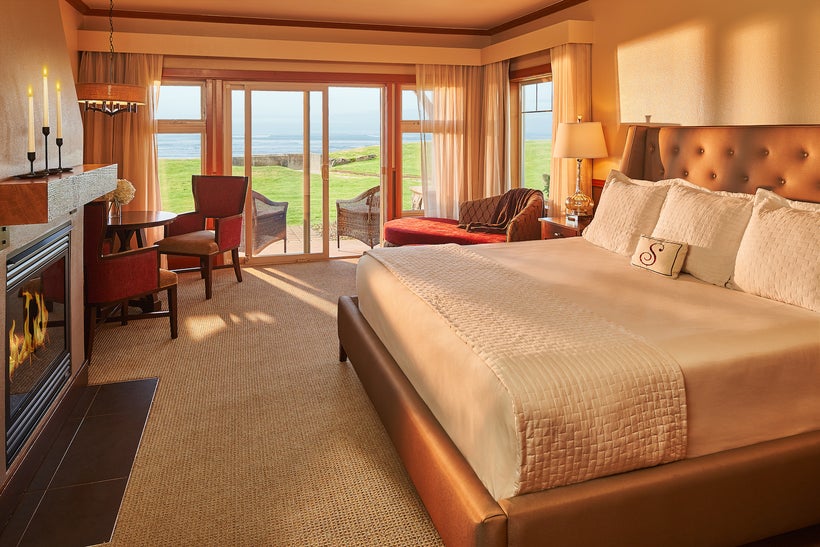 Spend a few hours walking down Hemlock Street and admiring the weather-aged shingles and charming coastal architecture, and be sure to poke into the art galleries and take something home from a local artist. Many artists find their way down to Cannon Beach in search for inspiration, and the community fiercely supports local talent. Modern Villa Gallery and Jeffrey Hull galleries are my personal favorites, and each of their pieces speak to a different feeling and perception of the area - I, of course, purchased several in an attempt to bottle the feeling of this special place.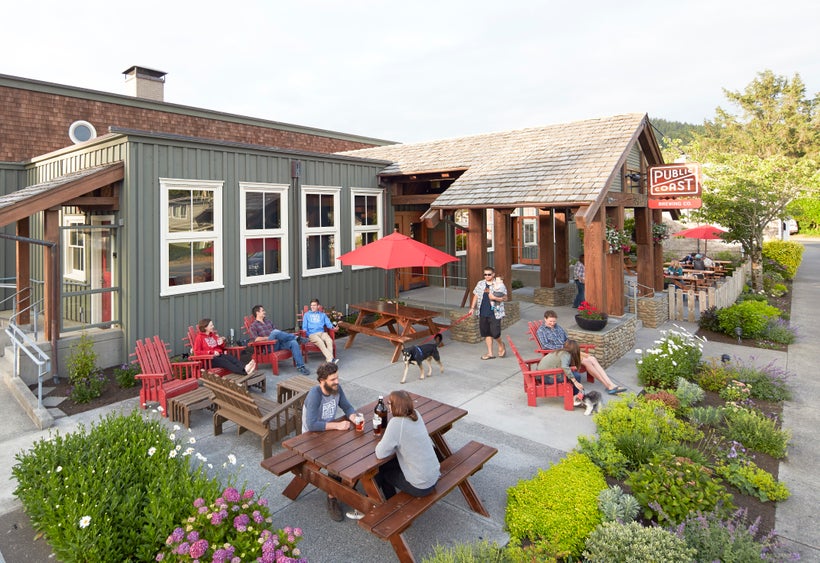 In the afternoon, head over to Public Coast Brewing for a craft beer and pub style fare. Owner Ryan Snyder opened the family-friendly brewery with the intention of making it a local hangout for discerning tastes with non-fussy personalities, and the buzzing atmosphere shows it achieved just that. Order another '67 Blonde Ale, my personal favorite aside from the housemade Root Beer, and stay late for the live music shows before heading down to the beach fires made each night by the staff at Surfsand Resort.
The spirit of Cannon Beach very much stems from its origins, back when it decided all of its beaches should be open to the public. That openness and welcoming essence still lives in the smiles of the barista making your coffee, the singing elderly man framing your art the old fashioned way, and in your hotel neighbors sharing their marshmallows when it's time for beach S'mores.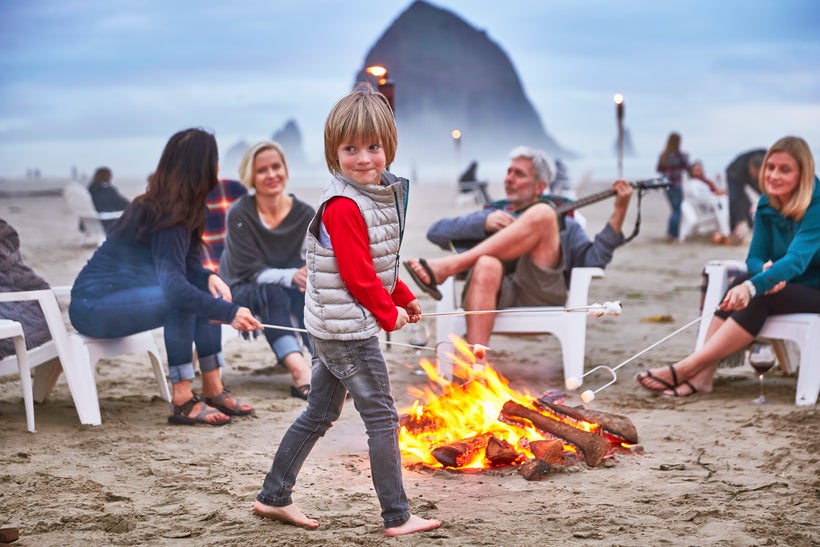 Come along with me on my travels!
Calling all HuffPost superfans!
Sign up for membership to become a founding member and help shape HuffPost's next chapter
This post was published on the now-closed HuffPost Contributor platform. Contributors control their own work and posted freely to our site. If you need to flag this entry as abusive,
send us an email
.