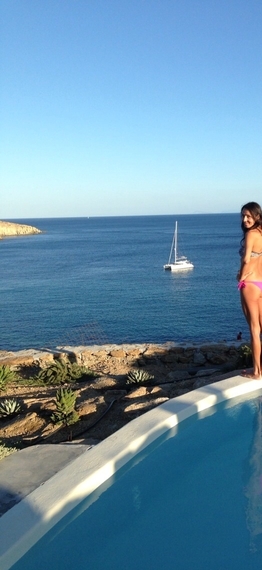 I fell in love with Greece years before ever having set foot in the country. I still recall the exact moment. I was sitting quietly at home, sipping a glass of crisp white wine. I was watching a movie on TV called Shirley Valentine. In the film, a middle-aged housewife named Shirley travels to Mykonos, with its white washed walls, sparkling beaches, and charming Greek men. She soon discovers that her life on the sun-drenched Greek island is much happier than her life back home. So she does what many of us have fantasized about doing, but most never dare to do. She remains on the island, refusing to return home.
This was the premise of my birthday party this year, to head to Mykonos like Shirley Valentine, and discover all the reasons why you'd never want to leave the island! It didn't take much time to understand why one might want to purchase a one-way ticket. Here are my top picks when visiting (or permanently staying) in paradise.
Paradise Villa (+30 21072 47678)
Part of the boutique group Once Upon a Villa, Paradise Villa takes luxury to a whole new level! Their villas offer a high-end alternative for groups that are traveling together, and want something more private and interesting than a hotel. Paradise Villa offers four villas, perched on a hill above Paraga and Paradise Beach. Our group rented two of the four villas, and ended up having the entire compound to ourselves! The two spacious villas included eight beautifully furnished bedrooms, two infinity pools, a private beach, fully equipped kitchens, a BBQ, and an outdoor dining room. It was the perfect way to kick off my birthday weekend... .and ensure that I would never want to leave the island!
(When you're not cooking at the villa be sure to eat here)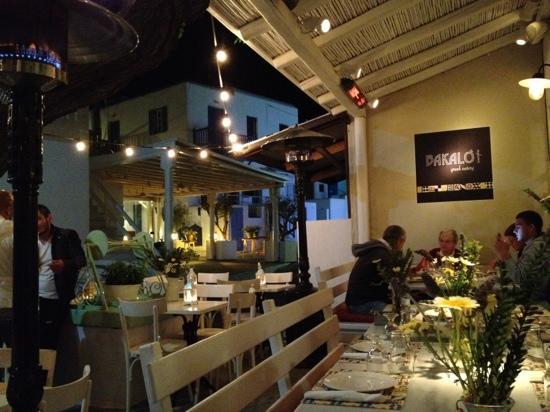 Also located in the town center, in a traditional Mykonian home, is Bakalo. The restaurant serves authentic Greek cuisine. Be sure to try the homemade spinach pie sprinkled with sesame seeds and served with a tangy Greek yogurt. For an entrée try the tender giant kalamari stuffed with spinach and rice. For a fun twist to an authentic Greek dessert, try the semolina, almond, and lemon verbena halva.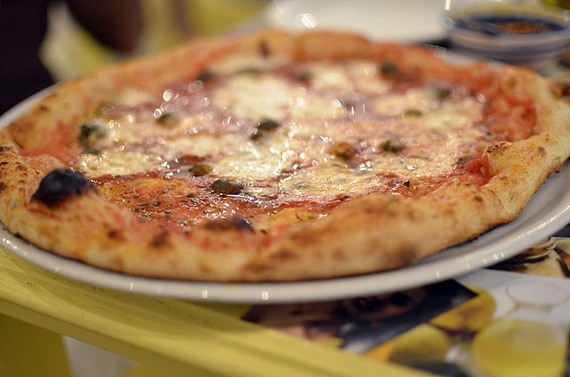 This charming Italian restaurant with Greek influences is located in the heart of the town center of Mykonos. It's a popular spot for many of the celebrities that visit the island, including one of my favorite comedians, Kathy Griffin. They offer a fun cocktail menu that is perfect for the island fun atmosphere of Mykonos. Be sure to try the "Gina" made with lemon grass, lychee, fresh lime and vodka. Start with the warm Kalamata olive bread and a light appetizer of beef carpaccio with shaved Parmesan, arugula, and olive oil. The grilled fresh fish of the day is a nice choice, simply prepared with a little lemon and olive oil. Their wood fired pizzas are perfect for sharing with a group, and the flavors are inventive.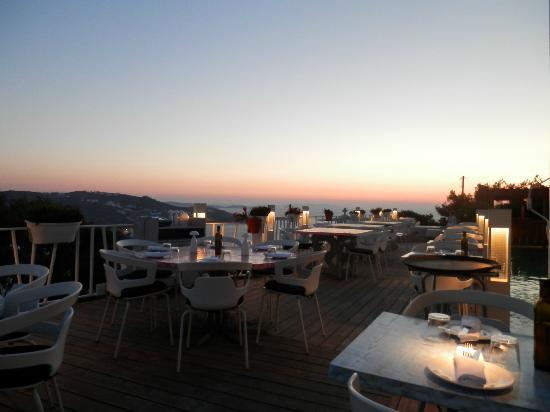 Marechiaro (+30 22890 23010)
For a truly romantic dinner, Marechiaro offers gorgeous views of the island, in a quiet setting just outside of Mykonos town. The tables are all located on a sprawling patio, with spectacular views at sunset. The house-made bread is baked to perfection in their wood-fired oven, and topped with oregano and olive oil. The appetizers make sophisticated use of classic Greek ingredients. Be sure to try the octopus salad with potato and olives, as well as the sea bass tartar. The Cycladic tomato salad is sublime, with the sun-soaked flavor of the tomatoes and earthy olive oil shining through. If you love truffles as much as I do, the black truffle and basil pizza is also a must!
(When you want to explore the island)
Scala Shop Gallery (+30 22890 26992)
If you are curious to learn more about the culinary traditions of Mykonos, pay a visit to Scala Shop Gallery and speak to the owner, Mykonos native Dimitris Roussounelos. Roussounelos isn't just a gallery owner. He is also a culinary explorer, who intimately knows what life and food was like on the island centuries ago. One needs only to look beyond the trendy clubs and hip boutiques to understand that the wind-scorched barren landscape of Mykonos is hardly fertile ground for most produce. If you ask, Roussounelos will tell you about the island's most typical products including: pork sausages with herbs, louza cured pork fillet, and kopanisti, a local spicy soft cheese. The list is not long. However, what the island lacks in fertile grounds it makes up for in wind power. With about 60 windmills, 17th-century Mykonos was home to a milling industry that even the Russian navy relied on to turn its wheat into rusks to feed their crew. One can still enjoy the traditional bread and rusks of the island by visiting Yora's wood-oven bakery, the oldest one still burning in Mykonos town. A telephone number and address for Yora's is all but impossible to find. But, if you ask Roussounelos (or any local) they can easily point you in the right direction. Visiting Yora's and Scala Shop Gallery will reveal a different side to the tourist-driven island.
Dive Mykonos (+30 22890 24808)
For water enthusiasts like me, snorkeling or scuba diving in Mykonos is a must. Dive Mykonos offers a well-organized program, which takes divers to a variety of reefs located around the island. As their website explains it, "Mykonos is an island saturated with sunshine and drenched in natural beauty -- the barren, rocky landscape rising haphazardly from the sandy shores is only the beginning..."
Diving unveils yet more of the wonders of Mykonos -- encounter archaeological artifacts, capture the rock wonderland with macro and close up photography, and marvel at the array of marine life whilst hand-feeding the fish - in locations with visibility ranging from 100 feet to 130 feet in depth, -- a virtual paradise for diving enthusiasts." The boats depart daily, three times a day, from Paradise Beach.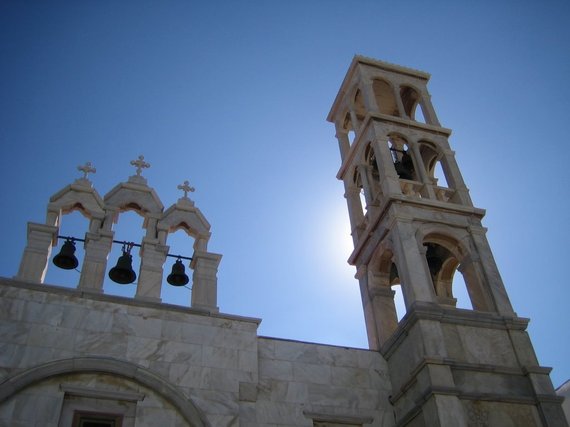 Panagia Tourliani Monastery
Situated in the charming village of Ano Mera, is the Panagia Tourlani Monastery from the 16th century. This monastery, with its impressive bell tower and marble fountain, houses a collection of fine Byzantine icons and other treasures from the Middle Ages. For many years the monastery had a different name, but was renamed after a mysterious icon of the Holy Virgin Mary was found in Tourlos, something that happens very often in Greece. The monastery was then renamed Panagia Tourliani (the holy Tourlos). Although the monastery is no longer inhabited, it is open daily to visitors from 9 a.m. to 1 p.m., and in the afternoon from 1:30 p.m. to 7 p.m. There is a dress code for visiting the monastery, which consists of pants for men and a long dress or a skirt for women. Ano Mera is seldom visited by tourists and is one of the few remaining unspoiled parts of the island. It's the perfect place to light a candle, and enjoy a few moments of solitude.