The meaning of online influence has been batted around for years in social media marketing circles. The company that can unlock the true definition of this elusive concept will probably become the leader of the next generation of online marketers. The fight pits pundits, marketers and scientists against each other in the battle to achieve supremacy. Some companies rushed to market with products that claimed to measure influence, only to be unmasked as simple measurers of popularity. Others took their time to develop a deeper understanding of how ideas spread through the social universe, and are on track to take their insights to the next level.
One problem influence measurement platforms run up against is the fluid nature of social media. A topic may be trending one day, someone may be popular the next, or themes may change almost hourly. By the time a marketer develops a response, the social universe has moved on. What a difference a year makes in this field, though. It was only last year that the Portland, Oregon firm, Tellagence, introduced its first product, Tellagence for Twitter, at DEMO Fall 2012. Using behavioral analytics to analyze conversation relationships and help brands achieve a more exponential reach through social media, Tellagence blew away competitors like Klout, Kred, PeerIndex, and Traackr. The key to their success was helping marketers identify critical relationships which could expand their influence.
Tellagence has taken the next step with its recent release of a product designed to help marketers understand the context of language that audiences use. Tellagence Discover is a powerful social research and analytics tool that enables marketers to segment an entire market in Twitter using a single word. While other social media platforms can be quite static, Twitter is constantly evolving. The one constant, though, is language, or what is being discussed. Instead of traditional targeting by what a brand thinks people are talking about, imagine being able to target based on the context of what is actually being discussed.
Although Twitter boiled the use of language down to 140-character messages, Tellagence has developed a method to analyze the use of language. This understanding of Twitter conversations can be used to identify themes, interests, and marketing strategies. By identifying true online audiences, marketers can optimize online messaging and content strategy. Discover's social prediction technology means that marketers can identify the right audience for specific social content distribution, and define who in the genuine audience will be motivated to pass on branding messages.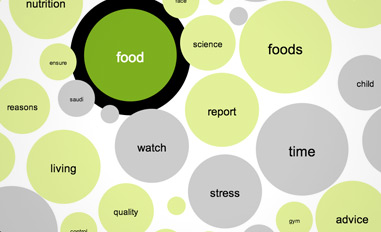 Discover identifies themes within client-defined topics, such as health or food, as seen in Figure 1. The product then pulls 250,000 tweets, or seven days' worth of data, that match these topics. From those it highlights the top 500 themes that have emerged within the topic, with 10 dominant themes emerging. Within those themes Discover can identify the strength of that combination of words when used together. Themes allow the marketer to identify different audiences and begin building content to appeal to their needs. Marketers can also identify themes which users do not associate with their brand, so they can build around those areas as well.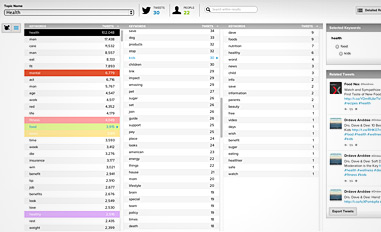 A grid view of results matches colors of top themes with colors from the visualization for easy identification of possible approaches, as seen in Figure 2. Users can view the number of Tweets that mention the word and the number of users who created those Tweets. When a theme is selected, the words that associate with it appear in the second column, with the number of tweets and users recalculating. For further clarification, a user can drive down three levels.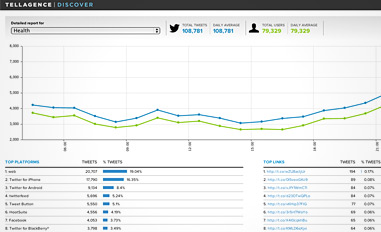 Discover also informs users of the top platforms such as web or Android, links, hashtags, cities and countries associated with a topic, as seen in Figure 3.
Tellagence was included in their chapter on "The Future of Influence Marketing," saying that the company's strength lies in predicting how information moves across communities, who the key influences are that will drive that journey, and which relationships offer the biggest likelihood of amplifying that message.
Tellagence is still limited by its ability to only follow the Twitter world, but who knows what they will be offering a year from now that will bring yet another dimension to the world of social influence marketing.
As a matter of full disclosure: I do not have any professional affiliation with Tellagence or any of Tellagence employees. I am not receiving any financial benefits from Tellagence. The opinion stated in this post belong solely to me.
REAL LIFE. REAL NEWS. REAL VOICES.
Help us tell more of the stories that matter from voices that too often remain unheard.