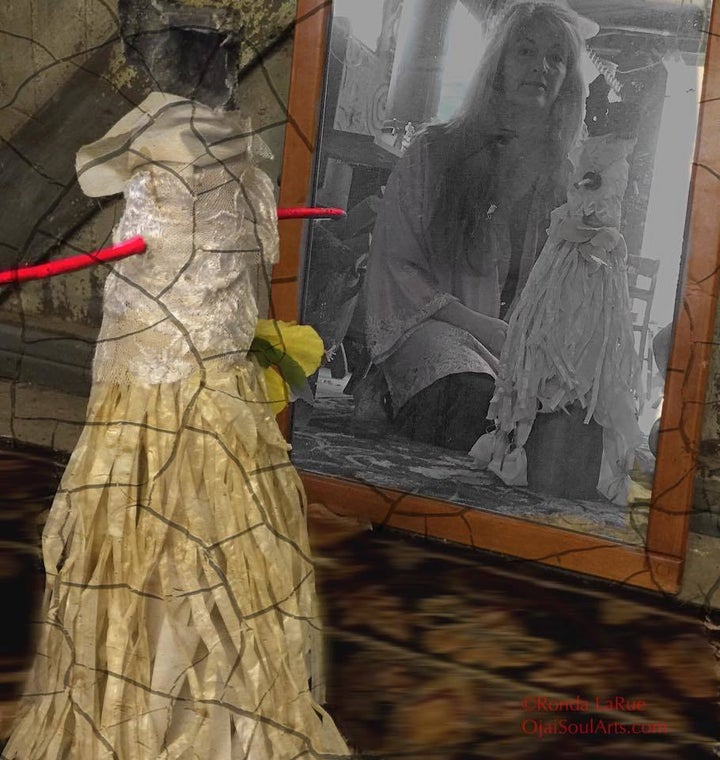 I was thirteen when I went through my first divorce. Up until that point the most painful injury I'd endured was deep road rash on my knee after skidding through gritty gravel on a dead end street in my neighborhood.
Thirty-three years later, my second divorce reopened the wound from the first time I lost my family to divorce.
It's taken 5 self-discovery years for me to realize in order to release a lingering sadness over losing my husband and his family I'd called my own for seventeen years, I needed to heal my thirteen-year-old self who felt abandoned and alone in the world.
One night after my ex started his new life without me, I washed a Xanax down with wine and realized for the first time just how devastated my mother must have felt during her divorce when I was thirteen. She was panicked and angry during their separation, often venting her vitriol about my dad to me. By the time their divorce was final, her anger hardened into a bitter callus.
I was scared to death I'd end up like her.
As I spun out of control during the soul-searing agony of my own divorce, a portal opened to my unhealed wounded thirteen-year-old self.
In my determination to become the perfect post-divorce picture, I'd done numerous burning bowl ceremonies, tapping, journaling, chakra meditations, gratitude practices, letter writing, pillow punching and anything else I could grasp in an attempt to eliminate what felt like a soul-stone blocking the flow of my true essence.
The healing I'd been searching for in therapy, self-help books and coaching, came in the shape of a cardboard mailing tube, a broken sandcastle, a river rock, white gauzy fabric and a glue gun.
On my wedding not-a-versary in May, I ventured down Highway 1 alternating between lanes of optimism and skepticism to Ojai, California for a small personal Soul Arts Retreat at the home of author and spiritual teacher, Ronda LaRue.
As a life coach, I've seen the guru behind the curtain at personal development events sell their great and powerful 10 step system guaranteed to heal anything that ails you. But the minute I stepped foot onto the grounds covered in crunchy drought parched leaves I knew something important was available to me if I paid attention.
The work with Ronda had similarities to the Internal Family Systems Model (IFS), an integrative approach to individual psychotherapy developed by Richard C. Schwartz, Ph.D. In IFS the mind is viewed as a composite of relatively discrete sub personalities, each with its own viewpoint and qualities.
Each time we say, well, there's a part of me . . . , there actually is a part of us that has her own feelings and opinions.
In therapy, I'd become familiar with 3 parts of myself; Shadow, the withered, fearful woman; Breezy, the 20-something who wants to make beach glass jewelry; and Sandra, the confident wise woman with flowing white hair.
After the group's morning discussion, Ronda showed us into her rustic art studio while advising us to tune into our hearts as we selected items to physically represent the parts of self that emerged during the introspective process she shared with us.
I was pretty sure I'd be working with Shadow, Breezy and Sandra. But a half broken sandcastle statue gripped my gut and led me to create an entirely unexpected transformative healing experience.
The broken sandcastle represented my shattered fairytale dreams of being married forever. It was a symbol of disillusionment, now a head glued on top of the cardboard tube. A gown took shape with layers of white material and lace wrapped around the cardboard body. I then impaled her hollow heart with a stick I painted bright red.
I'd created the wounded bride. And I was prepared to burn her.
I coldly declared to our small soul-searching group, she's dying. Ronda quietly suggested that I have a conversation with my wounded bride and consider asking her what she needed from me before I set her on fire.
The next night was pure alchemy. My wounded bride asked me to comfort her, not destroy her. By this time in my process, my thirteen-year-old hurt child revealed herself. Things were happening so quickly I didn't have time to glue gun together a creation representing my young self. I just grabbed a large grey river rock and called her thirteen.
My thirteen and forty-six-year-old divorced selves met for the first time. My heart ached for them both as they witnessed their shared pain.
As I tucked myself under the blanket of night, I wrapped my arms around the cardboard sandcastle creation as if she were a treasured doll. The rock lay in my palm absorbing my body's warmth.
I slept more deeply than ever before.
My thirteen-year-old relived the agonizing alone-in-the-world emptiness from the last night she spent in what had been her happy childhood home. The hollow feeling from the loss of her family forced out soulful cries beyond her years. She was back in that dark empty house, collapsed on the shag carpet of the family room as the shadows of her favorite childhood trees betrayed her innocent memories. They lunged menacingly toward her, finding their way inside her vulnerability and placed a small stone in her soul. One that would grow with her over the years, at times becoming inflamed when boyfriends moved on, friendships deteriorated and parents died.
But in this version of that night, as her tears fell she became aware of a comforting presence behind her. Warmth soothed her as she sought refuge in the arms of the forty-six-year-old wounded bride who now took on the role of the wise woman healer.
They sat together through the emotional storm. The villainous shadows retreated; taking with them the stone they'd placed in my soul so many years earlier; the stone that needed permanence, consistency, ever-lasting love and forever.
Although my body and brain felt heavy when I woke in the morning, my spirit was lifted. The soul-stone appeared to have passed. I felt liberated from the years of inflammation due to loss and need.
My forty-six-year-old softened and asked to be free from the binding garments of the past. I carefully removed the stick from her heart. I twisted off her broken sandcastle head and peeled away the layers of lingering pain.
The items were released ceremoniously in a fire. All that remained was the cardboard body with a mane of flowing white material atop her head, much like I envisioned Sandra, my inner wise woman.
On the last night I slept under the sky illuminated by a full moon. The next day, I left Ojai a changed woman.
Popular in the Community