A petite glass peacock appears so delicate that it might melt in the sunlight. In other display cases are equally ephemeral glass creatures: a crowing rooster, a prancing horse, a winged mythical beast that appears ready to take flight.
I'm entranced with these objects in the Municipal Museum in Zelenzy Brod, where the Czech craft of engraving, cutting and painting glass has been entrenched for centuries.
But the centerpiece exhibits here are the deceptively simple cast-glass works of the master artist couple Stanislav Libensky and Jaroslava Brychtova. Adorning the walls are his charcoal drawings, which Brychtova, a sculptor, translated into glass. Each object, looked at from a different angle or in different light, plays with space and takes on myriad hues and shapes. From the front, one piece appears to be a rectilinear form embedded with a swirl. From the side, it resembles a pair of face-to-face breasts. Standing beside any of the sculpted works Libensky and Brychtova collaborated on is a lesson in how glass is a living medium that interacts with its environment.
There is no mistaking the work of renowned art glass designer and architect Borek Sipek who creates magical transformations of whatever he touches, whether it's the Prague Castle, large scale projects in Bangkok, Shanghai and Beirut, inspiring furniture that pepper his interiors, or the contemporary glass masterpieces produced in his Novy Bor studio. That's where I watch his staff - including one master craftsman who Sipek has collaborated with since 1986 - meld layer upon layer of elongated leaves to a slightly tapered geometric vase. This transparent piece contrasts with the dramatic colors in a glass object that resembles a tree trunk impaled with thorns. Shelves are crammed with other fantastical works that could easily populate the whimsical landscapes in Lord of the Rings.
On another day, I'm drawn to an octopus with dangling tentacles, a floating sea horse and a bulbous jellyfish. This detailed seascape populates the surfaces of several bowls, tumblers and wine goblets designed by Karen Feldman, owner of Prague-based luxury glassware shop ARTEL. To say that she doesn't always stick with the classic patterns is an understatement. Bright crimson ladybugs and dragonflies resemble 18th century botanical drawings. Reeds seem to sway in an invisible breeze. Colors, such as azure, purple and fuchsia, are hardly traditional. And, yet, what's noteworthy about Feldman's work and her luxe crystal shop is that she maintains the Czech artisanal tradition: everything is crafted by hand. And she manages to successfully blend the contemporary with the classic since Feldman takes her inspiration from a motley array of sources. As I browse the shelves, I find designs that evoke the 1960s Mod fashion and others that are a take on the Baroque style. Some items bear highly geometric patterns while others carry a more abstract interpretation of the organic. Even the store's decor has some roots in the past: the wall displays glassware in rugged wooden troughs that were once used on a farm.
The locals have been making glass since the 17th century in Kamenicky Senov, a Czech town that's home to the oldest school of glassmaking in the world. (The citizenry are also famous for the quality of their engraved glassware.) Above my head in the Museum of Glass dangle elegant crystal chandeliers - all locally made - that bend and curl the streams of light penetrating the windows. In a corner sits a glass chair, complete with a cushion covered in glass beads, from the late 19th century. (It was part of a set of glass furnishings custom made for a Maharaja in India.) As I wander from room to room, I inspect glasses embellished with gold foil and others engraved with people snuggled under a tree and other scenes of everyday life. I'm not surprised to find a portrait of Libensky on the wall of a second floor room that's dedicated to works from an international glass symposium that's been held every year since 1996. One goblet displays a stem that curls upon itself, while a tall tumbler is etched with playful reindeer. Since I'm drawn to the contemporary and the unexpected, it's this room that I find the most engaging.
With a central six-pot furnace pouring out heat at some 2,200° F and the surrounding glory holes each set at 2,600° F, I guess it's not surprising that the room is stifling even with the wide-open windows lining the catwalk. I'm wandering high above the appropriately named hot shop at Ajeto in Lindava, a factory producing luxury glassware, including those designed by Karen Feldman. Here, I gaze down on a craftsman transforming a liquid-like mass of glass into an elegant centerpiece. Even the walls of this factory have the fingerprint of creativity: they are mostly lime green. Curious you might think, but the director told me that this color was picked for its calming effect as well as its mental benefits. Next door, an old barn has been retrofitted as the dimly lit Glass Tavern where visitors can snack, grab a beer, and practice glass blowing. I stroll through the glass doors etched with a floral motif and exit onto a scenic patio that fronts a spacious pond.
I find it difficult to pry myself away from the exhibits at the Museum of Glass & Jewelry in Jablonec. I'm visiting just one of the three buildings comprising this museum that boasts seven centuries of Bohemian glass and costume jewelry. (The jewelry collection may be one of the best and biggest in Europe.) Glass decorative works even make an appearance in the otherwise unremarkable stairwells. The tall glass windows on one floor are etched with an abstract creation while on another floor a giant necklace of colorful glass beads is strung across the wall. On the fifth floor, an interactive exhibit is perfect for families. You can handle the different glass pieces and understand the dramatic differences between an item that's sandblasted, or decorated via acid etching, applied threads, acid frosting or other techniques.
The objects on display span the gamut, from goblets used by Queen Elizabeth II to funky eyeglass frames by Simona Kafkova. But, of all the display items, perhaps the most creatively odd is a glass woman with spiky hair, a luscious ruby red apple in hand and, if you look very closely, a wee transparent vagina. A contemporary Eve, for sure, created by Milan Vobruba. Who knew art glass could be so surprising?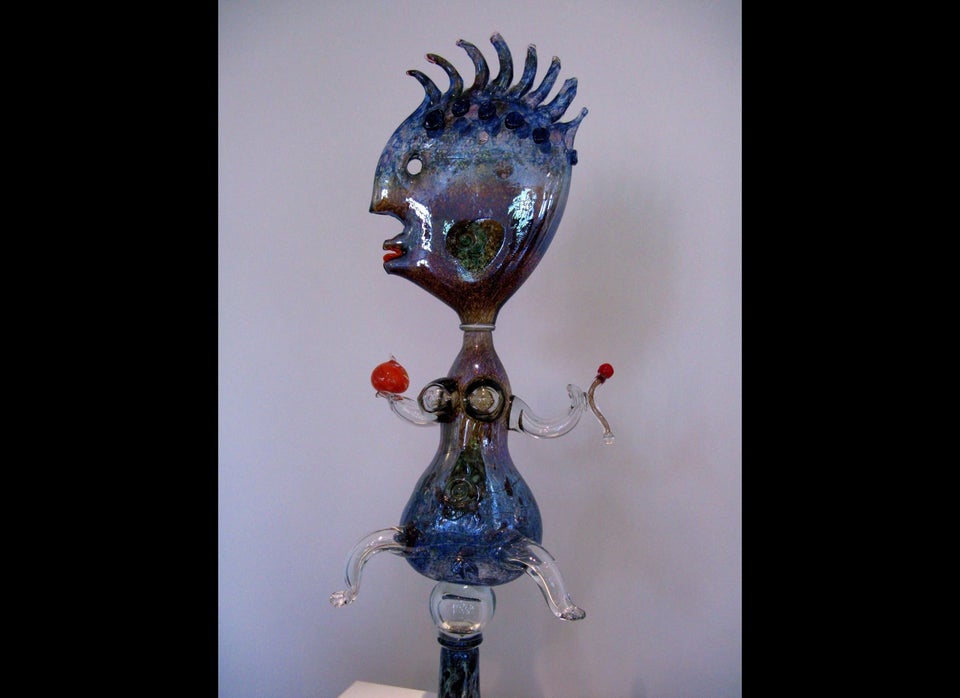 Glass Art In The Czech Republic
Popular in the Community