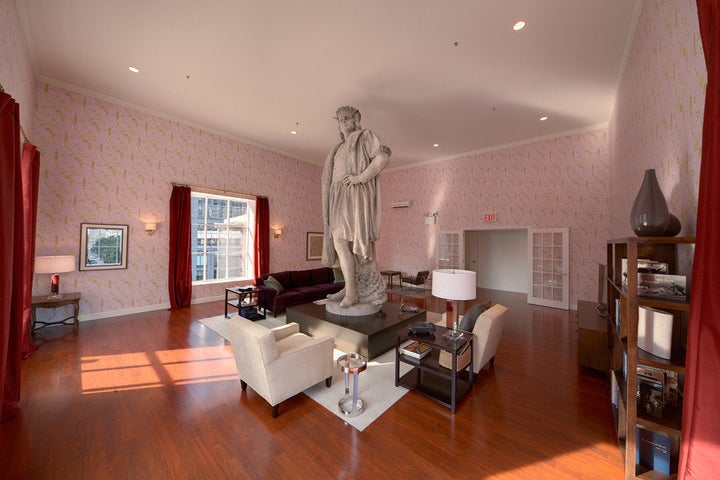 Commissioned by the Public Art Fund, Nishi's "Discovering Columbus" places an 810-square foot, fully-furnished living room in the sky, where visitors can ascend six stories to view the statue in unprecedented proximity.
The room is complete with a flat-screen television and wonderfully quirky wallpaper featuring cartoon images of Marilyn Monroe, Michael Jackson, hot dogs, and the Empire State Building. All complements of Bloomingdale's.
The statue's domesticated new housing feels seamless, as if one has just sauntered into any one of the city's countless luxury apartments, save for the massive 13-foot monument of Christopher Columbus in the middle.
Mayor Bloomberg, who personally visited the installation twice, was on hand at Wednesday's display:
It is really interesting. It's different and it gives you a chance to up front and close view somebody that really had an enormous impact on the world. The view and the art work will knock your socks off, as they say. Being there is an exhilarating, once-in-a-life chance to take in some of New York City's busiest streets and park in an entirely fresh vantage point and with entirely new eyes. You'll also get a chance to see a statue close-up that really is an icon and none of us have seen face to face, until now.
The mayor commented on such criticism and said, "People who say that must have a lot better eyes than I do. You can't see it from the street and here you get a chance to walk up and get your eyes ten inches away. We would have had to cover it and do the restoration anyway. If you think about it, it wasn't going to be available from the streets, and it even can't be seen from the streets. I suggest you go up and take a look."
"Discovering Columbus" will be open to the public for free till November 18. Timed tickets are required.
PHOTO GALLERY
"Discovering Columbus" By Tatzu Nishi
REAL LIFE. REAL NEWS. REAL VOICES.
Help us tell more of the stories that matter from voices that too often remain unheard.
BEFORE YOU GO