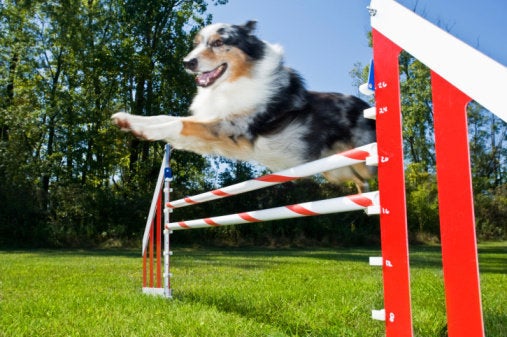 I cry sometimes. I do.

Being a veterinarian that practices integrative medicine means that many of the cases referred to me often have really serious diseases. Before I knew about integrative medicine, it was easy to tell someone that nothing else could be done. I would get sad but I didn't cry much. I believed that nothing more could be done. Heck, I went to Colorado State University, one of the top veterinary schools in the United States. Some of my professors wrote the textbooks. I really believed that if it was known, then I knew it or someone that did. That whole idea seems so ludicrous to me now as I realize how vast the activity of Life really is and how little we really know about physical and mental healing at all.

I chose veterinary medicine because I wanted to help people help their animals live better. After three decades of practice, I still do. In those first days of my practice, if I did what the books said and my patient failed to respond or died, I knew my responsibilities were completed and there was nothing else I could do.
When faced with a case that had no apparent answer, it was logical to believe that those professors in my veterinary school or somewhere else would eventually develop technology to help those patients and one day the profession would proudly announce the discovery of a new breakthrough. I would tell myself that regularly. It made it possible to sleep at night when I'd used every tool in my toolbox and still lost a case. That information soothed pet guardians as well. There was truth in the statement and in knowing that "we had done everything we could," but there was also sadness and loss in the failure that burned quietly at the core of my being.

In the 80s a series of crazy life changing events lead me to discover something wonderful.

A Los Angeles client of mine moved to New York. When a mutual friend told me that her lovely Golden retriever had lymphoid cancer and she was being ripped off by a "quack alternative medicine doctor," I got upset. I couldn't sleep and I thought about her all the time. I felt responsible for her and was angry that someone would take advantage of such a sweet, trusting person. I felt that it was my responsibility to do something effective to handle the situation. I decided that this "quack" should not be practicing and became determined to end his professional career.

After deciding to get the offending "quack's" medical license revoked, I felt better.

I decided to begin by calling him. I wanted to know how he worked to convince people of such nonsense as I believed holistic medicine to represent. My parents were science-based people: my mother was a dental educator and my father was a microbiologist. Many of my friends were children of members of the medical community. These people were my heroes and not one of them did "crazy, voodoo crap like acupuncture, homeopathy, herbs or reiki." These people did "modern medicine," which came from science and used the best of our knowledge to help people. I was, and still am a science guy. That path made sense to me and I had no experience with alternative, holistic, complementary or integrative medicine. Why would I even be interested in such "old, ancient, outdated" stuff?

Thinking that I knew all about it totally prevented me from looking objectively. THAT is a major scientific error. It's called "bias." Bias means deciding what you will find before objectively researching and looking at an area where phenomena are reported. I was blind and biased, but I thought I was bright and ethical. My ego and emotions took precedence at this point and not my curiosity and interest in the field.

Oops.

I called the veterinarian. I said, "I understand you cure cancer." I knew this question would expose him for the fraud I knew him to be. He responded, "No, absolutely not. We don't cure cancer. Frankly we don't even treat cancer. What we do is support individual patients' immune systems and sometimes remarkable things happen."

That response took me by surprise. He did not promise to cure cancer, and while his answer was and is totally true, I just thought of it as a clever way to hook people into bringing their pets into his office. I saw this not as a truthful and powerful statement but as a clever thread in a web of lies.

Eventually I flew to New York to spend a week investigating the doctor, and found things that literally made me faint. I spent a day in a seminar he held for his clients and saw him resolve a woman's terrible migraine headache with acupressure. The skeptic in me just knew it was some carnival-like set-up to fool people. I just couldn't bring myself to believe he was genuine even though he was incredibly likable. "What a scam," I thought to myself.

Then he presented a case complete with documentation from the top referral small animal hospital in New York. This case was a cat with a massive brain tumor diagnosed with state of the art brain imaging and found to be too severe for treatment. The cat was blind and semi-comatose on presentation to his office. After receiving dietary therapy the cat regained its sight and later had new x-rays taken only to reveal the tumor was 50 percent smaller. I had never seen anything like that before.

I still knew he was a dishonest, unethical, although likable "quack," and I was determined to get him removed from my glorious profession.

On Monday I went to his clinic to observe him work. The first case was a terrible oral tumor that was recovering after receiving cryosurgery -- freezing the tumor to kill it. I had not seen this type of surgery for this kind of disease before and was amazed at how well the cat was doing. I also noticed the intensely honest communication and loving connection he had with both the people and then cat. My heart melted a bit.

At that point I felt a bit bad about killing him professionally, but still I held my resolve.

The next case was a paralyzed German shepherd dog which was treated by top specialists. The dog was carried in on a stretcher and a neurological exam showed the dog to be
non-functional. I knew after such a long time that euthanasia or hopeless surgery was the only option, but the "likable quack" began applying acupuncture needles to the dog. The dog lay there happily, and then the needles were removed at which point the patient simply got up and walked over to the owners. They smiled broadly. I could not even process what I had just seen. What if I was wrong about this guy? How many dogs had I put to sleep "because there was no more we could do?" I simply passed out rather than face the fact that the man I thought was a crook was actually a gifted healer.

Fortunately, that veterinarian was not only likable, but he had fast reflexes: he caught me before I fell and hit my head in his examination room.

My life changed.

The first thing I learned was that I did not have access to all the tools I needed to do my job. The second thing I learned was that the tools were often nearby and that if I searched I could find people that had answers that were not in books yet.

I started reading different books. I went to my first "holistic" veterinary conference and joined the American Holistic Veterinary Medical Association. At that first meeting I found the most amazing people who would share their knowledge into the wee hours of the morning. I had never seen anything like this in my entire life.

I began publishing what I observed. As a scientifically oriented person I felt it was important for clinicians to share their findings.

Eventually this evolved into "Seek Truth and Healing Follows," a motto that currently drives all my activities. I was elected to the board of directors at the AHVMA and activated the research committee there. I spent four years writing a 1,000 page textbook for conventional veterinarians called "Integrating Complementary Medicine into Veterinary Practice," and a host of case reports in the Journal of the American Holistic Veterinary Medical Association. I felt it was important to share these findings so that others would not have the false idea about alternative medicine that I did.

In my busy American Animal Hospital Association accredited practice I see all sorts of dogs and cats. Young ones, old ones, happy ones, cranky ones and every one of them working to live their lives at the highest level of survival possible. Some of their stories change my life and approach to medicine. It's an amazing journey going to work every day, and sometimes I cry. I do. But most of the time I smile and work joyously, feeling lucky to have such wonderful Beings in my life.
What health concerns for your companion animals would you like to see covered? Any topics in integrative veterinary care of particular interest to you? Almost nothing makes me happier than to help people support their pet's optimal health and to witness that special bond they share. Leave a comment below and let me know what you'd like to see presented.
Popular in the Community