I had the privilege to attend the LIFT Conference this year. Being a complete foreigner to the world of techies and entrepreneurs, I definitely had no clue of where I was heading to. Ultimately the purpose of these exciting gatherings is to learn, exchange knowledge, ideas and opinions, and I was definitely ready to absorb it all!
So briefly, what is the LIFT conference? It is an event hub (the biggest in Europe!) about digital innovations and technologies. Upon unfolding my brochure within the halls of the CICG, I was impressed by the panel of speakers! From teen "hackers" to in vitro burger generating scientist, international social good-doers and CEOs. Trust me, it is a pretty awesome list! In addition to the presentations, there were exhibition stands where startups can showcase their products and services. Thus coming to a historic moment in my life, I was able to approach and see an actual 3D printer! (On a completely random note, I sincerely believe that households around the globe will definitely shelter this item in the very near future. They are simply way too cool and useful!)
At this conference, I was able to meet numerous inspiring people and had the opportunity to nonchalantly interview them. Among the first people whom I've talked to were the Bawa brothers, Taha and Omar. These two co-founded Goodwall which is technically an online humanitarian social network service. Or in other words, a "Facebook-Linkedin hybrid" to do good. Their road to success was definitely paved with numerous challenges, however as they've told me, perseverance was the superglue holding the whole start-up ambition altogether. Trust me, we have one or two things to learn from these two young men since they've already managed to secure a cool CHF 1.2 million in funding (approximately $1.35 million). This is a testament that people share their "vision to be able to use technology to leverage the impact of different individuals, organizations and entities within the social sector" as quoted by Taha, the eldest brother.
He also mentioned that one of the biggest challenges at the beginning was to personally believe in this vision because critics will always try to break one's conviction. In times of major doubts, it is important to have somebody to rely on, someone who will manage to nudge or literally push you out of that gloomy-grey zone. That person for Taha is his brother Omar whom he described as the persistent and Facebook-spamming guy behind this project. Partnering up with your own sibling to build a startup seems to have been the right combination for Goodwall and their collaboration has proven to be very beneficial.
With Taha's savings which he earned from an internship, they both managed to create a prototype of Goodwall's internet platform which has successfully attracted investors. The next obvious step was to build the winning team. Taha has explained that the selection process was the most difficult part. However, once you have that dream team behind you, anything is possible.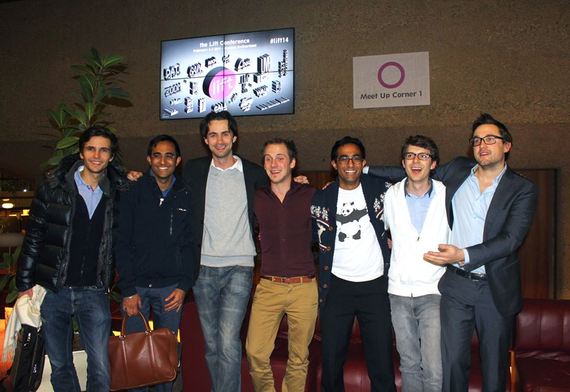 As a social enterprise (i.e., business of doing good), Goodwall sustains itself by the premium it charges to organizations, academic institutions and other business entities who wish to join in this very dynamic and interactive networking service. Goodwall in return will enable them to interact easily efficiently between their followers and recruit any potential candidate for their projects, job offers, internships, etc. On the other hand, signing-up is free for those seeking to build a humanitarian CV. Oh, and did I mention that Goodwall vows to plant a tree for every new sign-up?
Taha's and Omar's wish above all is to help change the mindset of people today to do good and to inspire people to be altruistic. After all, the global issues that the world is currently facing today are meant to be solved together.
The LIFT Conference and the people I've encountered have deeply inspired me and have helped me coin my own definition of an entrepreneur. An entrepreneur is someone who dares to swim counter-current and a dreamer, a good communicator with a dose of courage for it is not easy to present a gravity-defying and lucrative idea in this world where conformism is much preferred to being quirky or eccentric. All entrepreneurs dream big and technology is definitely their trustworthy ally.
Thank you to the LIFT14 team for this event! I hope to see you all next year!