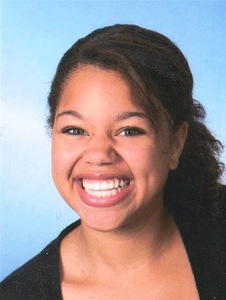 "Zoe, you can't sit here," Mark said.
"Why not?"
"This is a whites only row," he replied
It was junior year and I just wanted to find a seat at play rehearsal. I played Baroness Schraeder in my school's production of The Sound of Music while Mark played the self-assigned role of class clown. He laughed until he saw the shock and outrage on my face.
"I meant to be funny," said Mark, "You shouldn't take things so seriously."
Eventually, he apologized and I realized he genuinely had not anticipated the impact of his joke. He had crossed a line that he did not know existed. I soon saw that an angry or irrational reaction might be as bad as the joke itself. This moment called for education in clarifying cultural misunderstandings, which became a major part of my life when my family moved to Switzerland at the beginning of my sophomore year. Mark, a white child growing up in Basel, did not have the same understanding of race as an American teenager who grew up with a cultural history that includes segregation, discrimination and the painful struggle of the Civil Rights Movement. He actually thought that I might find some humor in his joke. In the interest of education and community, I explained calmly why I did not laugh along with him.
In that moment of my junior year, I saw the American in my sensitivities. I lived in America for the vast majority of my life, but I never thought of my country as defining or vital in my personal construction of identity. However, being a part of an international school community of people from different parts of the world does not dissolve the idea of nationality. Instead, such international diversity has a tendency to make students more aware of their native lands. As a member of an international community, each student at ISB becomes a representative of their own country, which has made me more patriotic while simultaneously helping me become more globally aware.
Since moving, the idea of community has been totally redefined for me. This new definition produces greater responsibilities for me to learn about other cultures and to be open to educating people about my own. This may mean abandoning anger at a racial joke, while not entirely shrugging it off either.
When I arrived in Basel, I integrated myself quickly in the interest of becoming part of a new community. Shortly after my arrival, my classmates elected me to be a member of the group of student representatives who reported to the school's administration. I also travelled far outside of my comfort zone to more adequately engage with Basel. I realized my private school existed in a bubble. So I joined a cheerleading team for the town's football team to meet residents who attend other local public schools. Initially it was a challenge since I was new to the language. I often communicated with body language and occasional phrases in broken Swiss-German. Yet my teammates were welcoming and patient as I slowly grew comfortable with my German. Eventually I introduced team-building exercises to that I had learned back in the States, which not only boosted our spirit but also helped our routines run cleaner.
I have had my share of awkward moments in jumping into a foreign community. For example, when I went to lunch with my friend, Sophie. A waitress took Sophie's order in perfect German. I decided to show off how much German I had learned. "Gruezi! Ich möchte den Chicken Fried Rice, und können wir mehr Servietten haben?" I asked.
The waitress replied in English: "Sure, I'll be right back with your food." Sophie could not stop laughing, calling my accent "obviously foreign." I laughed, but still felt a little disappointed in the waitress's reaction. Perhaps Mark had similar feelings in discovering that his joke was not funny but offensive.
Zoe Armstrong, a 2015 graduate of the International School of Basel, will be a freshman at Brown University in the Fall.
Support HuffPost
The Stakes Have Never Been Higher
Related
Popular in the Community