When the name Sam Maloof came up twice in one day recently, I realized I didn't know much about him -- I had a vague image of a rocking chair in my mind. A quick Google search later I discovered that not only was Maloof considered one of the greatest woodworkers of all time, but that his house, woodshop and gardens are open for public tours in Rancho Cucamonga, CA, just 35 miles east of where I live and work.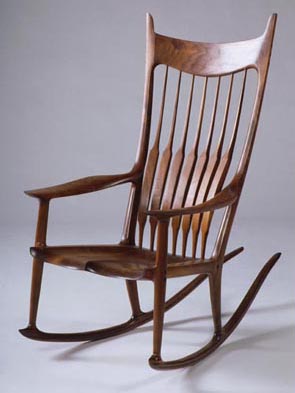 image courtesy of Wikipedia
Maloof was born in 1916 in Chino, CA, the son of Lebanese immigrants. Encouraged by his wife, Alfreda, Maloof began his woodworking career around 1948, giving up a job in graphic design for his first furniture commission. Completely self-taught, he had no formal training in woodworking whatsoever. Within 10 years, his name was known to woodworkers and collectors around the world.
In the 1960s Maloof turned down an offer of $22 million for the rights to mass-produce his original designs. He believed passionately in the handmade object:
We marvel and exclaim about the machine, and yet nothing has been designed or made, nor ever will be, as wondrous as the hands of man. What it produces has no element of surprise or feeling that an object made by hand may have. It leaves no room for change.
In 1985, Maloof became the first craftsman to receive a MacArthur Genius Fellowship. His furniture is in the collections of the Smithsonian, the Metropolitan Museum of Art, the Boston Museum of Fine Arts and the White House Craft Collection.
One of the first things you learn when you enter the Maloof property is that the house you are about to tour wasn't always in its current location. The original site had been in the path of the Foothill Freeway expansion project, but fortunately could not be torn down because it was on National Register of Historic Places. A new house was built for Sam and the old house and woodshop were moved to the new site in 2001 to be preserved as a living museum. Sam lived and worked there until his death at age 93 in 2009.
Since we had arrived a few minutes early for our tour, the docent took us for a quick look at two climate-controlled storehouses where raw planks and boards are stored, and the woodshop, where Sam's hand-picked assistants still make his furniture. The shop, filled with saws, lathes, tools, patterns, partially made furniture, wood and saw dust, offered us a tantalizing glimpse into the magic that turns raw wood into functional art.
Meandering through the compound on wooden pathways surrounded by lush vegetation, we started our formal tour at the original house, which was built by Maloof. It is immediately apparent that this was an artist's house -- lived in, worked in, added on to as time and money allowed. The downstairs floors are made of unmortared brick, because Sam liked the sound they made when he walked on them. No two doors are alike -- the handmade sculptural locks and latches for each are a marvel in and of themselves.
The 26 rooms meander maze-like and vary in size, shape and function. A spectacular wooden spiral staircase that Maloof built climbs from the main floor to a sleeping loft above. Suspended in a two-story atrium is a handcrafted wooden canoe that Maloof commissioned from a craftsman to fit between the balconies. The house contains the largest collection of Maloof furniture anywhere, as well as the Maloof's collection of pottery, rugs, blankets, art, toys, kachina dolls, masks and contemporary art.
Sam's wife of 50 years, Alfreda, who managed the business side of Maloof woodworking, died in 1998. Sam remarried in 2001, to a collector, Beverly Wingate. Beverly still lives on the site and has developed a beautiful six acre garden with California natives and Mediterranean climate compatible plantings. Dedicated in 2004, the garden is Certified Wildlife Habitat. A self-guided tour of the gardens is open to the public and free of charge.
As part of the the Getty Foundation's upcoming Pacific Standard Time collaboration, the Huntington Library will present The House that Sam Built: Sam Maloof and Art in the Pomona Valley 1945-1985, from September 24, 2011 - January 30, 2012. The exhibition will showcase about 30 important Maloof pieces spanning more than three decades of his career in a display integrated with approximately 80 works by about 30 of his friends and colleagues who worked in other media.
Click here for more information about the Maloof Foundation and tours.
Related
Popular in the Community