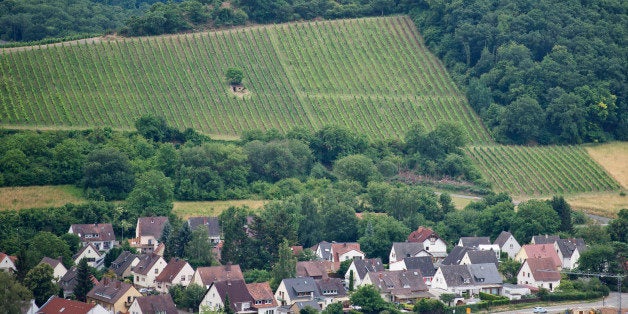 The rolling hills of the Hauptstuhl, Germany remain engrained in my mind, thirty years after I left, before the Berlin wall came down. From the young age of age until the age of 11, I called this thousand-person village home, as did my best friend, Sven. The smells of fresh bread, curing meats, livestock and the metronome-like arrivals of the town train symbolize, to me, the inclusive society. The population hasn't changed in three decades, and the next generation carries on legacies of the former.
I remember telling Sven about American universities and how I would head to one as soon as my primary education was complete. Sven informed me that he was bound to the country to serve, first, and it would help inform him of what next would look like. I've never forgotten that moment by the tracks. In 1994, Sven went to fulfill his mandatory service obligation in civil protection, which was by law equal to military service. Today, this consists mostly of medical ambulance organizations and organizations for disaster relief including volunteer Fire Departments, or other emergency assistance and crisis management agencies such as the Red Cross. He served a year before going off to university. His stipend helped pay his way.
In 2003, while living in Germany again, Sven and I crossed paths, in the same town as before, and he was now the Chief of the Fire Department. Same town, same house. Educated, informed, and serving as a town leader. The epitome of citizenship. That is the Big Idea!
It's also the reason I applied to be an inaugural Ambassador for the Franklin Project under the auspices of the Aspen Institute. Our roads are different, Sven as a Fire Chief, me as a career Air Force Officer, but uniquely the same: Focused on serving our society. Just imagine what a year of national service can do for today's millennials. Imagine a trained, educated and informed youth, with a voice on the local, regional, and national stage. Imagine service transcending party lines and delivering tangible, measurable results. Imagine Sven and I in a baseball dugout at the age of 15, discussing not where we are going to college, but where we are going to serve, and why we chose that path.
Now put it in context of your home town. Imagine National Service positions that answer community requirements like education, roads, infrastructure, homelessness, bridge building, park revitalization, just to name a few. Imagine them filled by youth raised in that community imparted by leaders of that community with life skills, leadership and project management. Imagine local universities and community colleges providing admission benefits and debt forgiveness as recognition of this national service and recruiting these leaders into its programs to make it the university or college of choice. Imagine local businesses recruiting local leaders who were locally educated to lead the next disruptive breakthrough. And imagine that business not concerned about talent retention, because this generation is a leader in the local community, vested in sustained growth, and committed to citizenship. This is the Big Idea!
It's also not far off. In the Northern Virginia area, we're leading an approach to make this not an imaginary dream, but a stark reality. We've asked Governor Terry McAuliffe to lay out a challenge to the other state governors to promote national service positions when he hosts the governor's forum in early 2016. He's already agreed and also signed a creed to make Virginia a state who gives hiring preference to National Service. Additionally, we're meeting with local leadership to identify critical needs for their regions, cities and municipalities. We're facilitating dialogue between service providers to ensure the needs are understood and linked with those leaders who can execute. Last, we're bringing the Big Idea to community colleges, universities, veterans' organizations and businesses to modulate the message: citizenship is a rite of passage, and perhaps the greatest endeavor you can undertake at any age. It's not what you do, it's who you are. Sven would be proud.
This post is part of a series produced by The Huffington Post and the Aspen Institute's Franklin Project in conjunction with Giving Tuesday. The series, which will run for the month of November, features pieces written by Franklin Project Ambassadors, local leaders who are working with community stakeholders in 25 states toward the Franklin Project's vision of making a year of national service -- a service year -- a cultural expectation, common opportunity, and civic rite of passage for every young American. For more on service year opportunities and organizations, visit https://serviceyr.org.
REAL LIFE. REAL NEWS. REAL VOICES.
Help us tell more of the stories that matter from voices that too often remain unheard.