My latest book had just been published and was selling nicely. I was up to date with articles I wanted to write. I was ready for a new creative project. Despite an aversion to getting my hands dirty, I decided to create a garden using plants that thrive on neglect and need little water. I have a small, sloped, patch of rocky soil that was already home to a few plants and empty pots.
Succulents and cacti grow wild here in Topanga, California. I think cacti are ugly and way too prickly, but succulents can be lush and (I heard somewhere) you can just snap a bit off and re-plant. Every time I went for a walk in the hills, I'd break off a bit from the prettier succulents I passed and re-planted them in my little garden.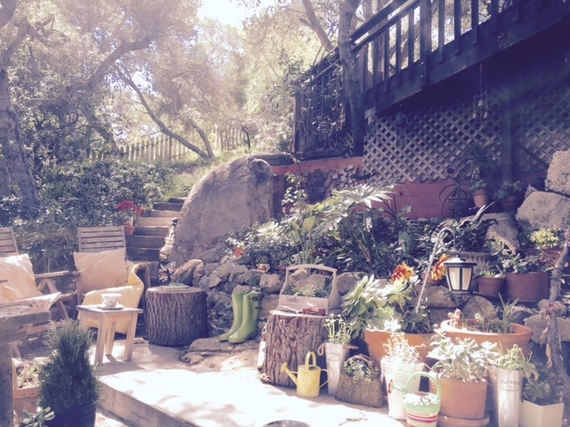 I got my hands dirty and I liked it. If I saw a particularly attractive succulent growing in a neighbor's garden, I'd knock on their door and ask if I could take a cutting, promising they'd never notice where I took it. Everyone said yes. I'd potter in my little garden every day and discovered a love for nature and growing things. Once you start looking, you'll notice cool old containers people put out with the garbage, especially when they move house.
Then I found two matching garden chairs for my husband and me at Topanga Vintage Market - $50 for the pair. My serenity spot was complete. We sit there in the afternoon with a cup of tea, holding hands and feel, well, serene as we gaze upon our succulents.
My blood pressure has dropped and I credit gardening and my new-found serenity. It sounds chintzy (it probably is), but I've dotted a few silk flowers around for color, along with some metal art. I haven't been able to successfully grow a flower. Yet. Although many succulents bloom. That's how versatile they are.
I went to a party and got chatting to Sean and Carolyn Barth, a smart and funny couple. When Sean asked me what I'd been up to, I hesitated before confessing I had discovered the joy of succulents and gardening for fear he might stifle a yawn and excuse himself to find someone more interesting.
Not only do Sean and Carolyn know and love succulents, they are members of the Los Angeles Cactus and Succulent Society. There's a society? For succulent lovers? I was giddy with excitement. There are such societies all over America. And the world. Meeting local growers is one of the best ways to learn how to cultivate plants in your area.
The LACSS meets the first Thursday of every month. Guests are welcome and refreshments are provided. First-timers are given a complimentary succulent or cactus. Members (annual membership $20) and guests bring cuttings to give away and plants are available for sale, around $2 each. Pretty pots, too. You don't have to join and can just turn up and attend for free every month. There's a monthly competition and a guest speaker. Also, an expert can tell you what's ailing your plant and how to cure it.
Carolyn and Sean go to markets and thrift stores looking for bargain containers. The couple that gardens together, stays together. That's what I told my husband.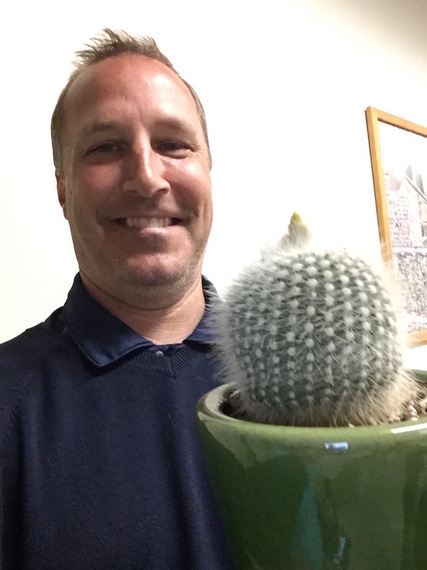 Sean was beside himself with pride when he won first prize in LACSS plant of the month competition. The judge invited questions from the audience. Not wanting to start a riot at my first meeting, I waited until the interval to ask why Sean won when there were bigger and, to my eyes, better cacti that were beautifully staged (society lingo for "nice pot") but didn't even get an honorable mention? Sean's cactus (notocactus rudibuenekeri - albissimo) is more difficult to grow, apparently. Sean is pretty hard core when it comes to nature and growing things. He works with a non-profit to plant and care for enough trees to create a protective canopy over urban Los Angeles.
I've also learned that there's more to growing succulents than snapping off a clipping and sticking it in the ground. It's best to let it dry out for at least a few days so it forms a callus before planting. A wet clipping put into the soil is susceptible to rotting. Succulents don't like continuously moist soil and it needs to be well drained. But they do need watering. Rather than waste precious water while the faucet runs until hot, I collect it in a bucket and use that for my plants.
The LACSS Annual Drought Tolerant Plant Festival takes place the weekend of June 11 and 12 at the Sepulveda Garden Center, Encino, where the society holds its monthly meetings. Six thousand people attended last year. There's no entrance fee and there are stalls and workshops for all the family, as well as plants for sale.
I'm a proud new member of LACSS. For an extra $10, I could have had a badge with my name engraved on it. But I'm not ready for that level of commitment. Although I have started looking fondly at cacti and never expected that to happen, so who knows where this might lead?