I like to daydream, especially while I'm walking the streets of New York City. Enchanted by the city's every mood--romantic, dramatic, frantic--I've seen the city have its good days and its bad days. Like an exciting relationship, my affair with New York City has always been, well--feverishly curious.
Today, I'm strutting along West 51st heading toward Broadway, when I spot a unique storefront in my peripheral vision. It's a shoe repair shop, but none like I've ever seen before. The front windows are plastered from the inside with actor's headshots, Broadway show posters and unusual shoes on display. Giving into my insatiable curiosity, I walk in.
Sure enough, once I'm inside the shop's ambiance makes me forget everything else, leaving me feeling like I've walked back into some sort of 1970's retrospective. Maybe it's the smell of Old Spice, or the red barber chairs that face the window at the shoe shine station waiting for a customer, or maybe it's the sounds of leather tooling pinging in my ears. Or maybe it's the cobbler who sits pounding on the heel of a shoe, his singular focus reminding me of a bygone era when people worked with their hands. Though I'm tempted to say something, I leave him about his business and continue looking around.
At the cobbler's left hand, a huge stack of shoes are precariously balanced on his table awaiting repair. On the opposite wall, I notice the headshot motif of the exterior extends to the inside of the shop as well, the shop walls adorned with headshots of quintessential Gotham celebs like Sarah Jessica Parker, David Letterman and Robert De Niro to name a few. Behind me, shoe molds are crammed from floor to ceiling with custom patterns stashed between the shelves.
But in front of me, sitting up on the counter like some sort of shoe royalty waiting for me to curtsy, are the most stunning pair of half-calf white ankle-boots with sparkling gold embellishments. A bizarre giddiness consumes me and I move closer until I swear I can hear the boots whispering, "Hey! Put me on and I'll show you what I can do!"
Just then, a male customer walks in carrying such a large bag that his knees are threatening to go out. I step aside as he drops the bag on the counter, trying to catch his breath as if he's been walking with this load for miles. Still panting, he pulls out a pair of pink and silver vintage-looking heels from the top of the bag.
By this time, the cobbler has left his post and stands behind the counter where the wheezing man hands the shoes over in desperation, clearly wanting them to be fixed.
The cobbler takes them from him without a word. The cobbler, come to find out, is none other than Sam Vasili, known by his clients as Dr. Shoes. And this is how the conversation goes down:
Dr. Shoes: That's a crazy shoe. Who made this shoe?
Customer: They're from the Broadway show, Honeymoon in Vegas.
Dr. Shoes picks up the shoe, examines it--and knows exactly what's wrong.
Dr. Shoes: When do you need them by? How does 3 p.m. sound?
I can't stand it any longer. So I walk up to the counter and without missing a beat ask Dr. Shoes what's wrong with the shoes.
In a thick Eastern European accent that's a little hard to make out at first, Dr. Shoes tells me that the shoe has fallen apart, that the materials aren't "proper," and he must prepare them so they can return to the stage.
Now I'm thoroughly hooked.
As Dr. Shoes whisks the shoe to the back of his shop to begin the intricate restoration process, I look around with fresh intel and begin to decipher what lies behind the veritable hall of fame represented by the signed playbills, headshots and theatrical posters. Sam Vasili has fixed their shoes! One in particular captures my attention.
"To Dr. Shoes--You Make My Feet Sing!"
"You worked on Kevin Klein's shoes?" I ask.
"Yes. When he was performing Shakespeare in the Park." He chuckles, "He's short, but he has the biggest foot. His foot is bigger than John Goodman!"
"You see those--?" He points to a rolling cart filled with black boots. "Those belong to the Rockettes."
"Are you serious?!" I grab one of the iconic boots, feeling the leather and laces under my fingertips, and raise it up like I'm lifting a Golden Globe.
"The soles were completely redone, the straps reinforced, then I leveled all the heels," he says proudly. "The Rockettes are different heights, so we have to level the heels so they are all the same."

He smiles and points to the white half-calf ankle boot sitting on the counter--the one that had just whispered to me moments before. "This pair happens to be from the Broadway show, Aladdin. This is Aladdin's shoe."
Well that explains the whispering, I thought. And then I realized I'd just discovered one of Manhattan's many secrets--a magical shoe shop! And I'd just had the good luck of making the acquaintance of the one and only Sorcerer of Shoes.
Having forever harbored an addiction for the beauty of a well-crafted shoe, and realizing that shops like Sam's were rare indeed, I couldn't resist the lure and began spending more and more time with Dr. Shoes.
This is what I learned...
Long before he became Dr. Shoes, Sam Vasili was a little boy in Odessa, Russia, who began his magical craft by making paper shoes. When he was a bit older, he learned the craft of cobbling from his grandfather who had provided for a large family of eleven children by being a shoemaker.
"I've always had a passion for shoes. I began working in a shoe factory in Russia. I learned how to make molds and patterns. At that time, shoes were made by hand. Unfortunately, they don't make them in the same way anymore."
In 1975, Sam came to New York. He was twenty-nine years old and decided to get a job as a taxicab driver, which he did for several years. But one fateful day, one of his friends, knowing that Sam had experience as a cobbler, asked him if he wanted a job working in a shoe repair shop. Sam agreed and found himself back where he belonged--fixing shoes.
Fourteen years later, in 1989, Sam had the opportunity to buy the repair shop and re-launched it as Vasili Theatrical Custom Shoes & Boots. Since then, he has dedicated his life to repairing shoes that grace the Broadway stage as well as those who traipse up and down the streets of Manhattan.
"The business has changed over the years with most shoe repair shops closing due to the economy, they can't pay the rent. Most of my business comes from repairing theatrical shoes and fixing everyday shoes. The pavement in New York is tough on shoes; so if you have expensive shoes, put protectors on them. You can also waterproof your shoes when it's a rainy season."
And sometimes, the repairs are a little bit of show and a little bit of everyday business. Once, a costume designer came in and asked Sam if he could help with Harrison Ford's shoe. They were shooting the movie, Regarding Henry, where Harrison Ford plays an attorney who survives a shooting but loses his memory. His character is also left with a distinct limp as he traverses the streets of Manhattan. The problem was, Harrison Ford kept changing his limp, compromising the continuity between scenes.
So, the costume designer came to Sam asking if there was anything he could do. Sam creatively added a heavy piece of metal to the hollow heel, manipulated the shoe a bit and then stitched it back together--his contraption worked! The costume designer, the production team (and probably Harrison Ford!) were all happy.
Sam repaired all of Sarah Jessica Parker's shoes for Sex in the City. He even added red protection soles on the shoes, which he recommends to all women who walk the streets of Manhattan. But, as mentioned before, Sam's magic isn't just for the stars of stage and screen.
"I have regular guys that come in and want to be taller, so they bring me their shoes. I add 1 - 1 ½ inch cushions to the heels. Women come in mostly to fix their high-heels."
Most customers come in with their favorite pair of shoes, praying that Sam can somehow work his magic to save them. They hand over their shoes and like an anxious parent ask, "Well, what do you think?"
Sam always gives them the same comforting response, "If they are comfortable and you like them, you have to fix them. If they are not comfortable, you'll have a pain in the back, a pain in the head and a pain in the butt!"
In all my visits to Dr. Shoes, spending time in his lair, I always emerge with some sort of philosophical treasure, a life lesson. But perhaps the biggest takeaway has been this:
That you should always "choose your shoes wisely" and "never take your shoes for granted."
After all, a good pair of shoes may lead you down a mysterious path, to a magical place, where a sorcerer lives who will forever enrich your life.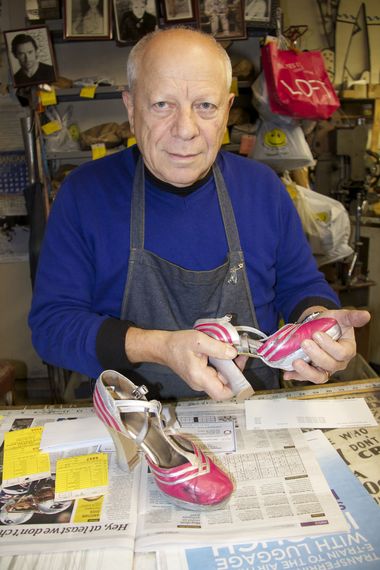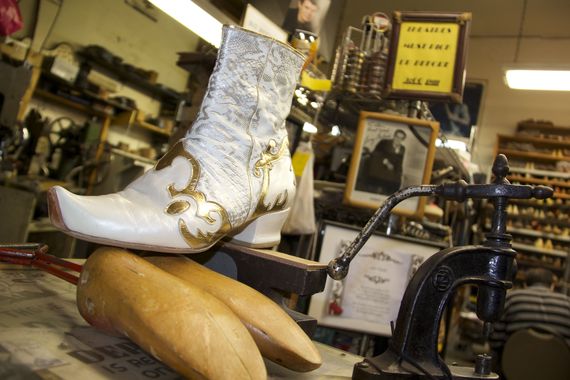 Author's Website: Yvonnerusso.com
https://twitter.com/YvonneRusso
Sam Vasili Shoe Repair 255 W. 51st St. NY, NY 10019
REAL LIFE. REAL NEWS. REAL VOICES.
Help us tell more of the stories that matter from voices that too often remain unheard.